Sadia aims for the stars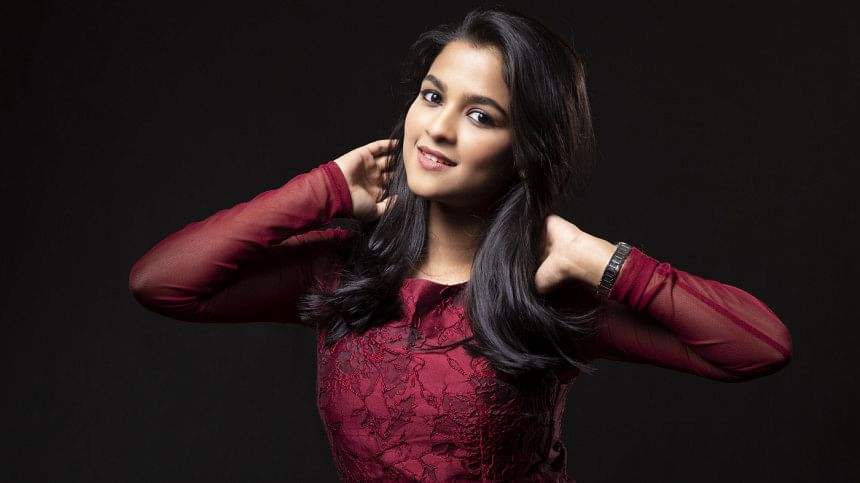 As a child, Sadia Ayman wanted to be a little bit of everything. Her first wish was to become a business woman, following her family tradition. The goals kept on changing with time, from doctor to fashion designer and so on, till it finally landed on the dream of becoming an actor.
"After I began working in showbiz, I realised that this is my own place," shared the artiste, who is also pursuing her studies in law at East West University.
Sadia's charm flared as she appeared on the screen with some of the romantic projects, including Mizanur Rahman Aryan's "Phooler Namey Naam", which was the first big break in her career. The actress stole hearts after donning Sara, in Shihab Shaheen's web-film, "Mayashalik". Now, she is all set for her silver screen debut in Gias Uddin Selim's "Kajolrekha", which is expected to release this Eid-ul-Azha.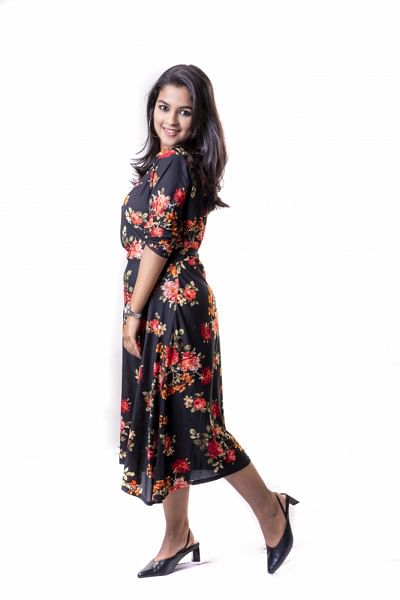 "I am extremely lucky that in the initial years of my career, I got the opportunity to work with such great filmmakers," said Sadia, whose fans adore her for being simple both on and off the screen. "I always get to hear from my fans that they haven't seen simplicity in actresses for a while, and that they find it in me. I hope that I will always be the same."
Sharing a fan moment, she mentioned that a junior from her university texted her saying, "I got admitted to East West for you, and it is really upsetting that I haven't met you yet."
The actress shares an experience while shooting for her debut film with us. "We shot the film deep in nature, where some of the deadliest creatures from snakes to leeches roamed freely in the surrounding areas. It was really dangerous and frightening for a person like me, who is afraid of snakes. I even had to get into the pond for a shot, where there was a snake." Upon witnessing the snake, Sadia jumped out from the pond screaming.
To develop her acting skills, Sadia prefers watching films and reading books. She mentioned that she likes to watch romantic-thriller projects more. When it comes to books, Sadia shared that she is an avid fan of noted writer and filmmaker, Humayun Ahmed. "I am a huge fan of him. If he were alive, I would definitely wish to work in one of his directorial projects," asserted the actress.
Sadia will be seen in more than ten tele-fictions, which will be released on the occasion of Eid-ul-Fitr.