A promising summer season in cinemas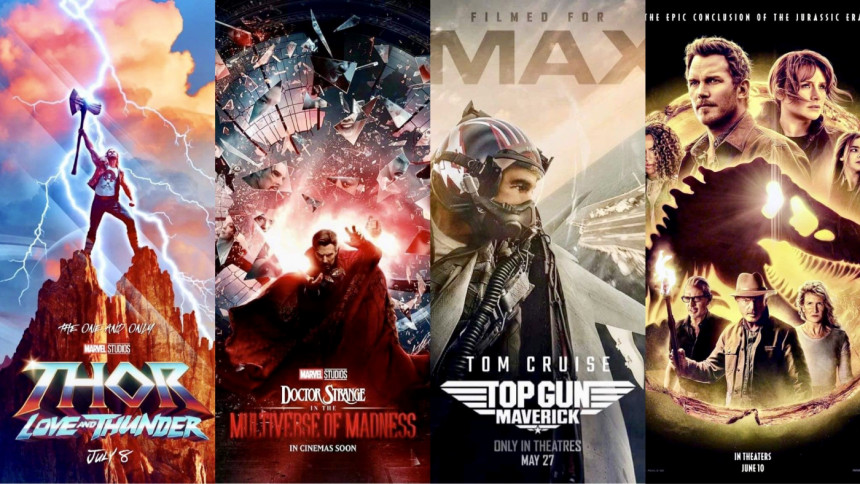 This summer, film studios are armed with a variety of spectacular movies. 
Sony, Warner Bros, Universal, Disney, and Paramount as well as Lionsgate and NEON's participation at the CinemaCon 2022 has unveiled exciting and highly-anticipated films.
Fans of superheroes will be spoiled to the hilt as Marvel Studios and DC have many offerings. "Doctor Strange and the Multiverse of Madness" welcomes you into an inter-dimensional adventure that picks up after "Spider-Man: No Way Home" and "WandaVision." There's also Taika Waititi's "Thor: Love and Thunder", the sequel to "Thor Ragnarok". Natalie Portman will reprise her role of Dr Jane Foster, the astrophysicist who joined forces with Thor in the first two films. It will be a moment of incomparable delight to witness Foster wielding the Mjolnir for herself.
Dwayne Johnson takes the mantel of Black Adam in the upcoming DC film of the same name. It is a spin-off from "Shazam!" and features Noah Centineo, Aldis Hodge, Sarah Shahi and Pierce Brosnan. 
After being delayed for two years, "Top Gun: Maverick" is slated to release on May 27. With Tom Cruise back in the cockpit along with new recruits, it's safe to say that the long-awaited sequel to the classic 1986 movie will be an event of a lifetime.
Jordan Peele's "Nope" will undoubtedly be his yet another razor-sharp take of the horror genre. The Russo brothers directed a fast-paced and riveting spy thriller, "The Gray Man," starring Ryan Gosling and Chris Evans. "Men" is an original thriller from "Annihilation" writer-director Alex Garland. It's set in the English countryside and follows a woman (Jess Buckley) as she attempts to embrace her woeful depression in the aftermath of a personal tragedy but things quickly get intense as she realizes someone seems to be following her. 
Period dramas like "Downton Abbey: A New Era" and "Mrs. Harris Goes to Paris" will be here to sweep the audience off of their seats. Family friendly movies include "Lightyear" and "Minions: The Rise of Gru".
The June release, "Jurasic World Dominion" sees the return of Bryce Dallas Howard and costar Chris Pratt, as the pair team up with original Jurassic Park actors Laura Dern, Jeff Goldblum and Sam Neill. 
Cannes Film Festival is right around the corner and this year's selection has some brilliant titles like the humane story of "Aftersun", South-Korean drama "Broker", avant-garde film "Crimes of the Future" and a biopic on the rock and roll superstar "Elvis".
The Bangladeshi film industry has also made a huge comeback after being stagnated for two years due to Covid-19. "Shaan" is a heartfelt story about a man who joins the police force to serve his nation. The film, starring Siam Ahmed and Puja Cherry, is reigning over theatres. Cherry is also the star of another film this summer - "Golui" – opposite Shakib Khan. It is a story about two star-crossed lovers and their fight against all odds to be together. The Shakib Khan starrer "Bidrohi" also opened in theatres to much fanfare. If sources are to be believed, the budget of these three movies is around seven crores.