'Priyotoma' sells tickets worth Tk 27 crore in a month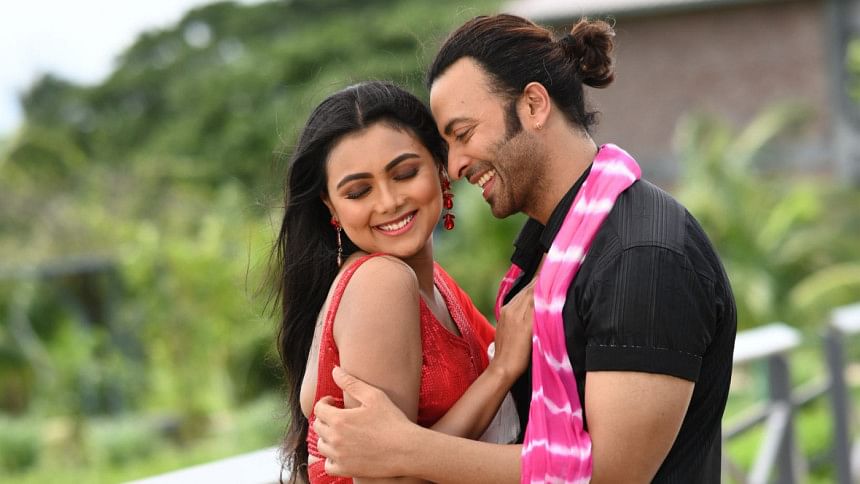 Directed by Himel Ashraf, Shakib Khan starrer "Priyotoma" has garnered almost Tk 27 crore in ticket sales, spanning four weeks since its release. Stepping into the fifth week, the film is still running in 46 halls across the country, multiplexes and single screens included.
Speaking about the matter, Himel Ashraf mentioned, "The gross collection from the fourth week was Tk 2 crore 35 lakhs. In the initial week, Tk 10 crore 30 lakhs was collected from 109 cinema halls, followed by Tk 8 crore 55 lakhs in second week and Tk 5 crore 75 lakhs in the third week."
"On the fourth week, the cinema has collected around Tk 26 crore 95 lakh", continued Himel. He also added, "Despite it being a month since 'Priyotoma' released, it is still at the top of audience preferences. The film has 14 shows every day in cineplexes across the country with 7 shows in Blockbuster and 4 shows in Lions Cinemas."
Multiplex authorities told The Daily Star, "Eid releases have been ahead of Hollywood films so far. Other Bangla films along with 'Priyotoma' have been exceptional, going houseful almost every day".
Awlad Hossain from Hall Owners' Association also echoed similar sentiments. He also added that the film has brought back hope to the single screens, and if this stream continues, it will bring about a positive outcome for the local industry.
Released this Eid ul Adha, "Priyotoma" is a Versatile Media production. Late Farooq Hossain and director Himel Ashraf jointly wrote the screenplay and dialogues for the movie. Apart from Shakib Khan and Idhika Paul, the movie also stars Shahiduzzaman Selim, Elina Shammi, and Don, in pivotal roles.