Nazrul in film: Lesser known facts about our National Poet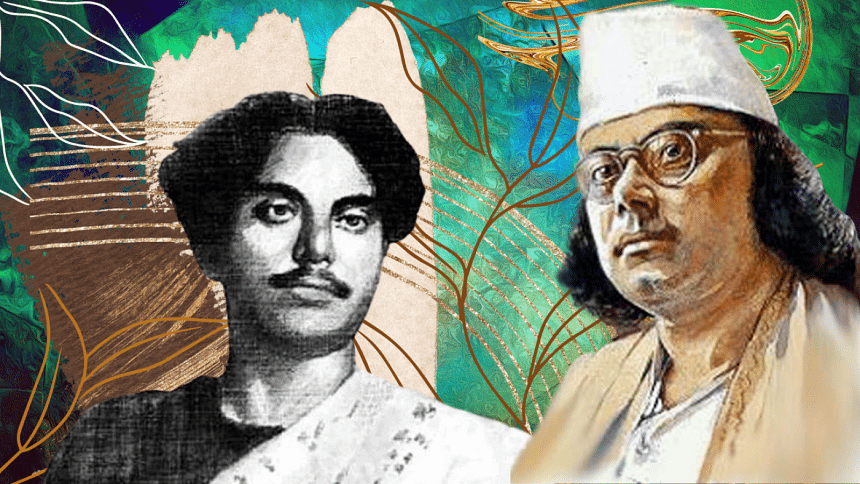 An indomitable voice that was raised in every crisis, against oppressive authority, he never feared expressing his inner thoughts.
Today marks the 124th birth anniversary of our National Poet, Kazi Nazrul Islam. His philosophy of life vastly reflects upon his works. His contribution in music and literature is well-defined, however, a major portion of his ideology is yet to be researched. Not only did he lend his voice to films, he directed music, wrote lyrics and even wrote screenplays for films. He even acted in a few films himself.
In 1934, he made his directorial debut. He jointly directed the film "Dhrubo", with Satyandranath.
He also worked as a music director for the project. The film contained 18 tracks out of which 17 songs were penned by him. Nazrul also lent his voice to three of the compositions in the production.
He also performed in a comic role in the film, "Haal Bangla".
In 1938, a film was made based on his creation "Bidyapoti". Nazrul also served as the music director of several movies of his time.
Some of the title of the projects are– "Patalpuri" (1935), "Groher Pher" (1937), "Gora" based on Rabindranath Tagore's novel of the same name (1938)-- interestingly he also did a rendition of Tagore's song. 
The projects for which he wrote the screenplays include "Shapure" (1938), which was later filmed in Hindi as "Sapore". The poet was also associated with that production.
In 1942, he composed 8 tracks, written by himself for the film "Chowrongi". 
From Zahir Raihan's "Jibon Theke Neya" ("Karar Oi Louho Kopat") to Humayun Ahmed's "Chandrokotha" ("Potho Hara Pakhi"), there are numerous films which features the maestro's compositions. 
BTV produced a series based on Nazrul's novel "Mrityu Khudha". A film was also made on the same novel.
Over the years, occasionally, several adaptations of Nazrul's works have been produced for television, however they were somewhat poor presentations. 
Moreover, silver screen projects based on Nazrul's works are a handful in number.
In 1971, Khan Ataur Rahman directed the film "Shukh Dukkho" inspired from Nazrul's "Padma Gokhra". Filmmaker Mustafiz also took the same story and directed "Mayar Badhon" in 1976. 
Nazrul's "Jiner Badshah" was adapted for the silver screen project which featured Bappa Raj.
After about three decades, three of Nazrul's works were adapted as the films "Meher Negar" (2005), jointly directed by Mushfiqur Rahman Gulzar and Moushumi, featuring Ferdous and Moushumi, "Rakkhushi" (2006) by Matin Rahman, starring Rozina, Ferdous and Purnima and "Priya Tumi Shukhi How" (2014) by Gitali Hasan. These films were produced by Impress telefilm.
Two children's films were also produced by Bangladesh Shishu Academy, from his poems, "Lichu Chor" and "Khuki O Kathbirali".
Quite a number of documentaries were also made on Kazi Nazrul Islam from several organisations from Bangladesh, India, and Pakistan. International media BBC and Canadian filmmaker Philip Sparrel also worked on his documentary.
Nazrul's works did not get enough space in our films, though there could be a vast dimension of art visualised from his works -- be it novels, short stories, poems or songs.
An interesting fact about the poet is that in 1941, under the patronage of Sher E Bangla A K Fazlul Haque, Kazi Nazrul Islam formed the film production house, Bengal Tigers Pictures. He was accompanied by Abbasuddin Ahmed, Ustad Mohammad Hossain Khosru, Humayun Kabir, S Wazed Ali, Mohammad Modabber, Azizul Islam, Sarwar Hossain and Azizul Haq among others.
The genius that was Kazi Nazrul Islam, despite being lauded for his work, is not nearly as represented in popular media as his legacy and caliber dictates. To keep the great man's name alive in the forthcoming generations, we have to make sure that not only his music and poetry, but all other works are showcased properly.