I vouch for Awami League with my life: Mahiya Mahi
Today, Dhallywood star Mahiya Mahi bought the nomination form for Awami League, as she plans on standing for the role of Member of Parliament (MP) in the Chapai Nawabganj-2 constituency. The actress collected the nomination form from the offices of the President of Bangladesh Awami League, around 3:30 pm today, December 29.
Speaking to The Daily Star, Mahiya Mahi said, "I am already a member of the central committee of Bangabandhu Sangskritik Jote. At the same time, I have already been working for the people of my area and I want to continue to do so in the future. This is why I have decided to stand for the post of MP. I am proud to have been able to buy the nomination form from a party like Awami League. We try to follow in the footsteps of the leader of our nation, our honourable Prime Minister. For a long time, I have working for my constituency on a small scale. Now, I want to do even more. I have cherished the ideologies of Bangabandhu and have been inspired by him to work for my people."
Mahiya Mahi continued by saying, "Since my husband is involved in Awami League politics, I have been directly inspired by him. It was him that told me that if I want to serve the people on a grand scale, stand with them side by side, then I must stand in the election. Our honourable Prime Minister has done so much work to build a digital Bangladesh."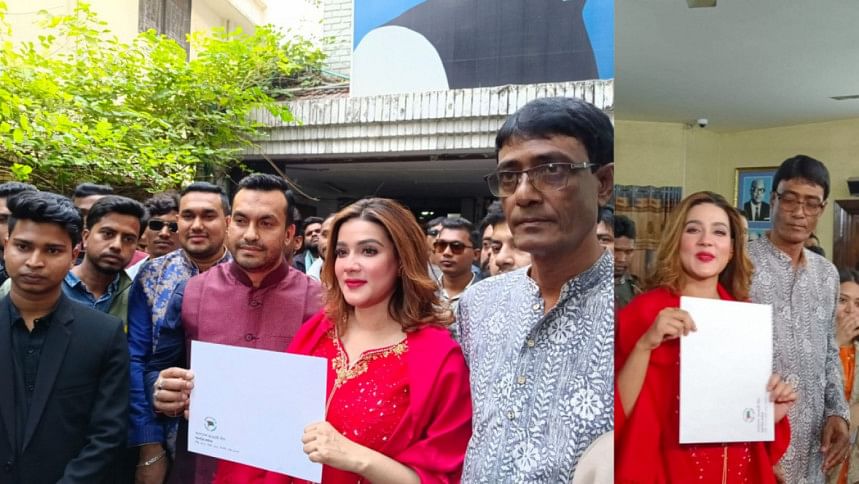 "Look at how easily one can file a General Diary (GD) using an app, while sitting at home. She has a vision to build an even better Bangladesh and is continuously striving towards that goal. Seeing her has also inspired me. That is why I bought the nomination form, so that the people of my area do not fall behind," she continued.
"Our Prime Minister has always liked and supported women's leadership. The first driver of the Metro Rail, that was inaugurated yesterday, was a woman. Following the footsteps of our honourable Prime Minister, I want to have the opportunity to work on a larger scale. With this nomination, I believe I can do that. Irrespective of whether I am nominated or not, I will always work for the people here." 
Due to the seat of Chapai Nawabganj-2 being vacant, the by-polls will be held on February 1, 2023.