Dhallywood's eventful 2022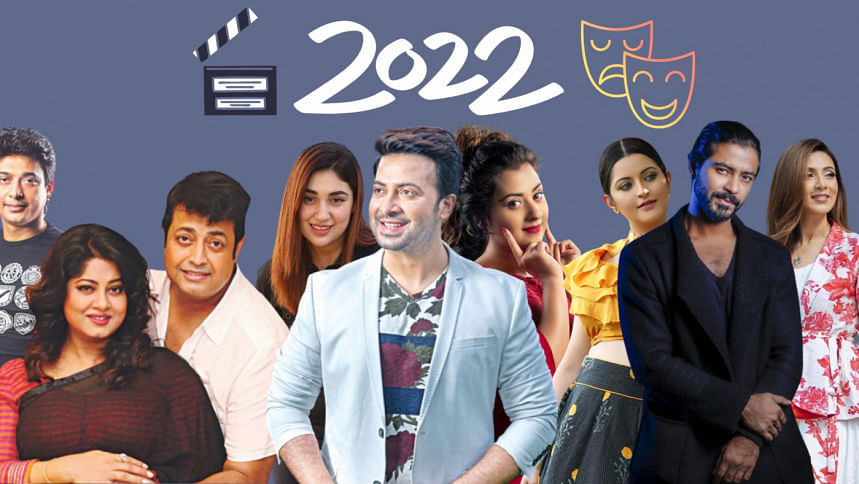 Starting with the Shakib-Bubly controversy, to the power conflict between Nipun-Zayed, 2022 has been an eventful year for Dhallywood. As the year ends, let us look at some of the most-talked about events of 2022.
Shakib, Bubly, and Apu's love triangle
Shakib Khan and Shabnom Bubly shocked fans when they announced that they had a 2-year-old son— Shehzad Khan Bir—together. The incident provoked controversies related to Shakib Khan, Apu Biswas, and Bubly. 
Afterwards, Bubly announced that they were married on July 18, 2020. Amidst all the controversies, Shakib Khan kept quiet and said both Apu and Bubly were in his past. Later on, there was also a war of words between Bubly and Apu Biswas on Facebook. Finally, the drama was concluded when Bubly posted a video on Facebook, disclosing everything about their marriage. 
Omar Sani-Moushumi-Zayed Khan 
Beloved cine-couple, Moushumi and Omar Sani found their relationship in jeopardy, when the latter claimed that Zayed Khan had threatened him at gunpoint, after Sani had slapped him during the reception of Dipjol's son.
Sani also claimed that Zayed had harassed Moushumi, while Moushumi has denied the claims. Later, it came to an end with a video-message from Moushumi. 
Nipun Akter vs Zayed Khan
Since January, Nipun Akter and Zayed Khan had been battling for the General Secretary position at Bangladesh Film Artistes Association.
Originally, Zayed had been elected to the post, however, the Appellate Division (AD) terminated his candidacy, due to bribery allegations. After the termination, it was declared that Nipun would be taking over the post.
In response, Zayed served a legal notice to Nipun. Finally, after many hearings, the AD passed the order that Nipun would take over the post.
Mim-Pori Moni fighting over Razz 
The on-screen romantic chemistry between Bidya Sinha Mim and Sariful Razz—in "Poran" and "Damal"—stirred conflict in the conjugal life of Razz. It began when Pori Moni accused Bidya Sinha Mim of 'mingling' with her husband, Razz. Pori would write, "Can't you be satisfied with your own husband?" Later, Mim decided to stop making films with Razz going forward. 
Dighi's TikTok shenanigans
Prarthona Fardin Dighi made headlines when she wrote that she was a 'victim' of a 'syndicate'. She claimed that Raihan Rafi had excluded her from his film, "Shurongo", even after a verbal agreement. Later on, Rafi responded by saying that Dighi should work on her fitness and stop using TikTok. 
Ferdous' Indian visa
Ferdous Ahmed was the talk of Tollywood for his film "Hotath Bristi". However, the Indian government revoked his visa a few years back. He was unable to visit India, which he considers his second home. Finally, after resolving the issues, he signed on for "Mir Jafar Chapter 2".
Sarika's divorce
Actress Sarika tied the knot with Badruddin Ahmed Rahi on February 2, 2022. However, after a few months, she filed a case against her husband for allegedly torturing her and demanding dowry.
Purnima's second marriage 
Popular actress Dilara Hanif Purnima tied the knot with Ashfaqur Rahman Robin on May 27 in an intimate ceremony. The news came as a shock to her fans, as the announcement came after the marriage. 
Shonibar Bikel
Even four years after its international theatrical release, Mostofa Sarwar Farooki's feature film "Shonibar Bikel" had still been denied clearance from the Film Censor Board of Bangladesh.
The film was based on the terrorist attack in Dhaka's Holey Artisan Bakery in 2016. However, the censor board denied the film clearance, on the grounds that it may deepen the religious divide in Bangladesh and distort the country's image globally.
In reaction, 130 cultural activists and artistes gave statements expressing their concerns regarding the censor board's actions. They demanded that the film be cleared by the censor board and be released for the Bangladeshi audience.
While the film is yet to receive clearance, the unity among artistes impressed the nation.