"I have screenshots", says Omar Sani, "he was drunk", retorts Zayed Khan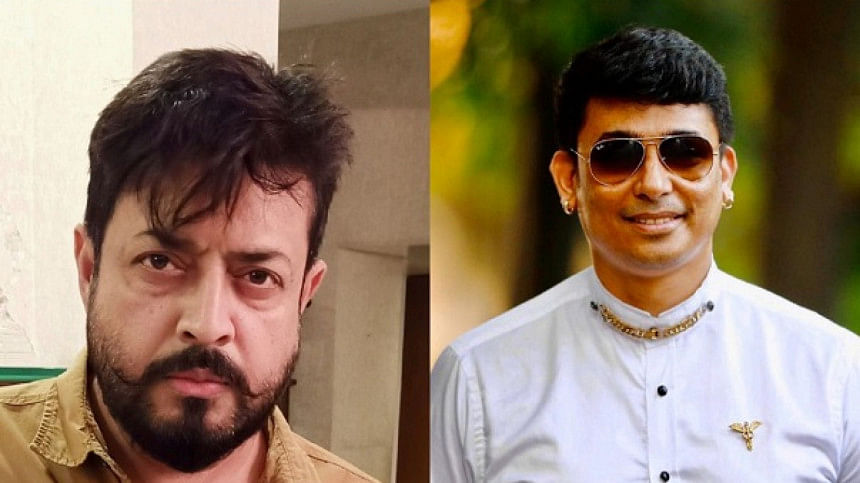 Actor Zayed Khan was accused of threatening to shoot Omar Sani with a pistol, last Friday. Omar Sani claims that Zayed Khan threatened him at Monowar Hossain Dipjol's son's wedding reception.
Zayed Khan has also been accused of harassing noted actress and Omar Sani's wife, Moushumi.
The Daily Star spoke with Zayed Khan and Omar Sunny to find out more about the allegations and counter-allegations in this regard.
"This is a conspiracy to discredit me. Conspiracies are being hatched against me repeatedly prior to the Shilpi Samity verdict to defame me," says Zayed Khan. "There is no opportunity to enter the convention center with a pistol. This is a complete lie."
Zayed khan was sitting with actress Rozina and Anjana, when he saw Omar Sani enter the venue. According to him, Sani was drunk. "I saw him speak to Dipjol for 5 minutes and then he left without having dinner," adds Zayed Khan.
Zayed Khan also asserts that after a day of the reception, he has come across the fact that Omar Sani is calling his colleagues and peers, claiming that Sani had slapped the actor and in rage, Zayed pulled out his pistol.
Zayed Khan also denied Sani's allegations regarding Moushumi. "If I say something bad to Mousumi, let her tell everyone. She is well connected to journalists, and has the stand to put forward her own statement," mentioned Zayed Khan. "I don't have the audacity to misbehave with Moushumi. I demand to see evidence that founds their claims."
Omar Sani countered Zayed's statement, while in conversation with The Daily Star. "Zayed Khan has been harassing Moushumi for a while now. My son and I have warned him about this," he says. "He used to bother Moushumi through various mediums, including WhatsApp. I also have screen shots of his conversations."
Sani also stressed on how Zayed Khan has been behaving in the same manner with other female artistes or workers in the media industry. "How dare he comment on my wife's choice of colour while deciding to put on a saree! I had been looking for him for a while and could not control my anger when I saw him at the wedding."
"I slapped him, and said a lot of mean words to him. Many decide to let his actions slide, but I could not let this pass so easily," he further adds.