I have always idolised Shabnur ma'am: Puja Chery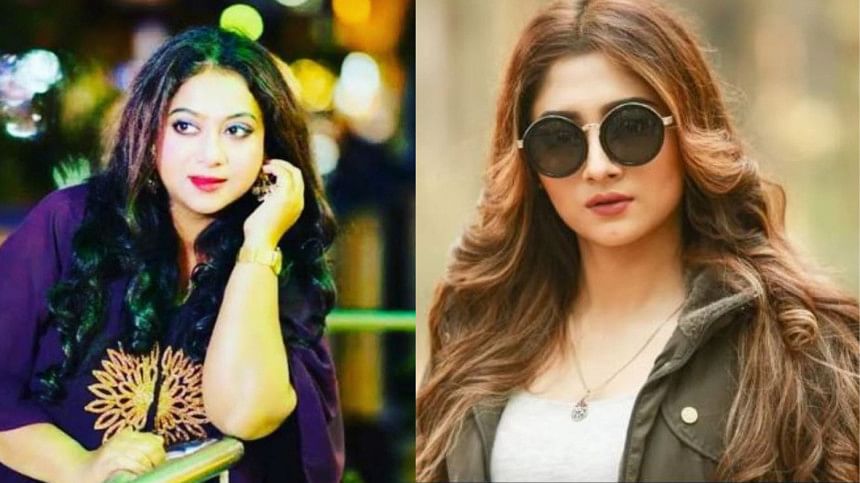 Shabnur has earned her place not only in the hearts of the audience, has molded herself into an icon for every actress who wishes to become a part of the industry.
Today marks the birthday of the much-loved actress of Dhallywood, Shabnur. On this occasion, Puja Chery, one of Shabnur's avid fans has shared about five favorite films of her idol.
The "Golui" actress is so fond of these five films of Shabnur, that she often watches them. Shabnur even praised Puja's acting in her debut film, "Poramon 2" which was released in 2018.
"Shabnur ma'am is a living legend in our film industry," Puja told The Daily Star. "One cannot end complementing her, or finish talking about her contributions towards the industry." Puja expressed her love for the actress which according to her, will remain forever. "I have always idolised Shabnur ma'am," shared Puja.
"Anondo Asru", "Dui Bodhu Ek Shami", "Shiri Farhad", "Chandni Raate", and "Jibon Juddho" are five of Puja's all-time favourites starring Shabnur. "While these are my most watched, and loved films featuring her, to me it's the treat to the eyes and soul, watching her on the screen."
On this day of 1979, Sharmin Nahid Nupur, popularly known by her stage name Shabnur, was born. She turned 43 today. She marked her silver screen debut in 1993, with eminent filmmaker Ehtesham's "Chandni Raate". She was introduced as Shabnur (stage name), since then.
Her onscreen chemistry with Salman Shah made them a popular pair, and together they appeared in 14 films, including the likes of— "Tumi Amar", "Shwapner Thikana", "Anondo Asru", "Tomake Chai", and "Sujan Sakhi" among others.
Actors like Manna, Riaz, Ferdous, and Shakib Khan have also shared the screen with her, and earned accolades as well. Shabnur received the National Film Award in 2005 for her performance in "Dui Noyoner Alo".
The Daily Star wishes her a Happy Birthday.