Exes Akshay Kumar, Raveena hug each other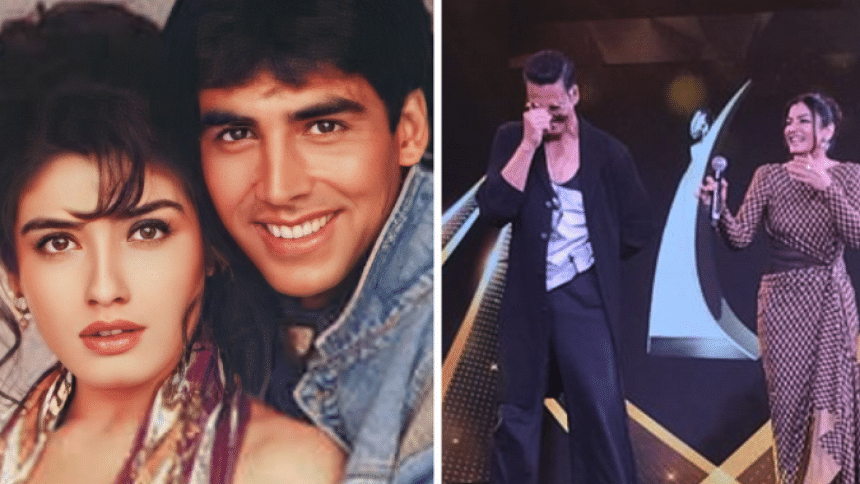 Old flames Akshay Kumar and Raveena Tandon ended their relationship on a bitter note, as their engagement was called off due to Akshay's multiple flings. He was apparently cheating on Raveena with Shilpa Shetty. 
Recently, the duo reunited on stage for a fashion event in Mumbai after 25 years. Raveena handed over the award to "Khiladi" actor and the both of them hugged each other and also mentioned about Shilpa Shetty in the programme. 
The pair were then joined by host Riteish Deshmukh, who inquired who the 'Malaika Arora' of the 1990's was. Raveena announced Shilpa Shetty's name and added that Malaika is incomparable. 
Earlier on, Raveena Tandon had talked about her connection with Akshay Kumar in interviews. 
"I believe loyalty meant a lot to me, but not so much to him. He expected me to forgive and accept him each time. I did that for three years, until the final round," revealed the actress. 
Raveena and Akshay started dating during the shooting of their film "Mohra." They were really serious about each other so much that their families were involved and pretty soon they were engaged. Raveena was even considering quitting the film industry for good upon Akshay's request but pretty soon their engagement was called off. 
While Raveena Tandon is blissfully married to Indian film distributor Anil Thadani and has four children (two with her spouse and two adopted), Akshay Kumar is married to Twinkle Khanna and has two children.