Chanchal Chowdhury enchants Kolkata audiences
People queue for two hours to watch 'Hawa'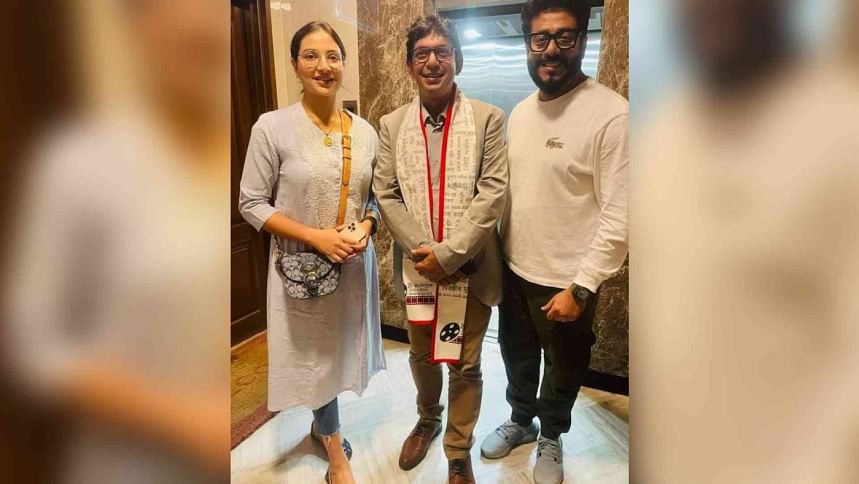 The enigmatic Chanchal Chowdhury cast an enchanting spell, as cinephiles of Kolkata cheered the actor at Nandan-1, yesterday. His immaculate acting and his charming personae attracted a huge queue to the film centre, as audiences rushed to see the critically acclaimed film "Hawa" for the first time, at the 4th Bangladesh Film Festival, which is taking place in Kolkata.
The Nandan hall, which has a capacity of only 1,100 people, was crowded with more than 2,000 people, as people piled on top of each other to watch the movie alongside Chanchal Chowdhury.
Actor Prosenjit Chatterjee was full of praise for his "Moner Manush" co-star, while Chanchal Chowdhury sung the iconic song "Shada Shada Kala Kala" with the audience.
Just a few months back, Chanchal had visited Kolkata for Hoichoi's event. However, this time around, the experience has literally etched a wonderful memory into the actor's heart, as thousands of people flocked to the cinema centre to catch a glimpse of him.
Celebrities like Raj Chakraborty and Subhashree Ganguly also came to watch the screening of "Hawa" on the first day, amidst the large crowds.
"I really can't put into words the warm welcome that the people of Kolkata have showered me with. This has been a surreal experience, and I don't think I will ever forget this experience," said Chanchal Chowdhury.
"The roaring reception in Kolkata is a big achievement for our films. Bangladeshi movies will soon rule over the world with its quality content," added the actor.
During the inaugural ceremony, two screenings of "Hawa" took place, the first at 1pm while the other was at 6 pm. Audiences began queueing in front of the gates from 10 am.
"Nandan has a limited seating capacity of 1,100. While some people were able to find seats, others watched the movie while sitting on the floor," noted Chanchal.
On the first day, the cinema centre authorities had to deploy police to control the crowd. After seeing the immense popularity and hype surrounding "Hawa", Nandan has increased the number of screenings for the movie.
"This is a recording breaking event in the history of Nandan, as they have never seen such a huge crowd. The authorities have also mentioned that this is the first time that they had to call the police to handle the crowd," said Chanchal.
Chanchal Chowdhury believes that the love of the audience is the greatest achievement for an artiste. "I remember one of the audience members telling me that they had travelled to Kolkata the previous day, just to catch a glimpse of me and watch 'Hawa'. I am overwhelmed by the love Kolkata has shown me," concluded the actor.
---
Translated by Rakshanda Rahman Misha