Bharateswari Homes is close to my heart: Aruna Biswas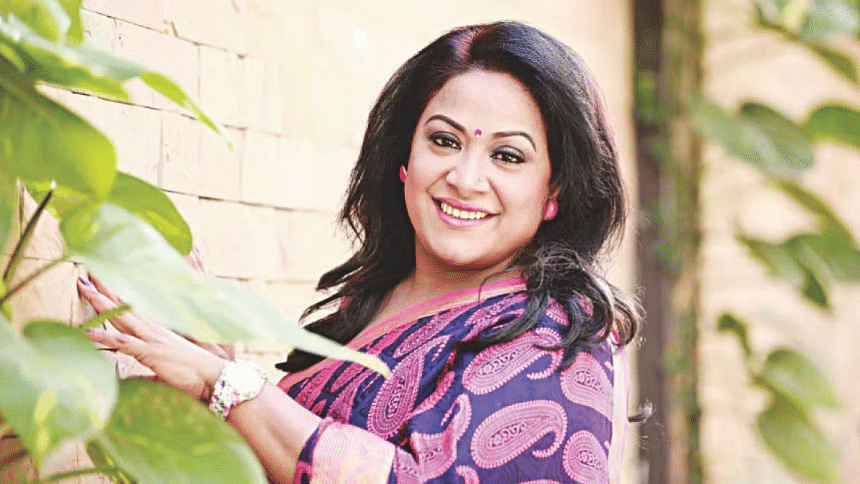 Recently, actress Aruna Biswas shared a reunion video where she visited her old school 'Bharateswari Homes'. The actress has spent quite wonderful memories in the beautiful institution and the actress recounted her fondest memories with The Daily Star.
I have the fondest memories with Bharateshwari Homes, as I studied there from KG 1 to SSC in Mirzapur, Tangail district. Those memories are still so fresh and vibrant that every time I remember it I become nostalgic.
Everything that is true and beautiful, I have learned from there. To be a good human being and to lead an honest life—these are the principles of our school, and that makes it different. My love for Bharateshwari Homes is such that it always brings me back here. Let it be Sharodiyo Puja or any other occasion, my heart always brings me back to school.
When I went to Bharateshwari Homes, I met with many juniors, seniors, and my batchmates. I had a wonderful time spending quality time with old friends and peers. It felt like I was back in the past and the surreal feelings can't be penned down in words.
I learned the art of dancing and singing from this notable institution. Previously, our hall was called Mirza Hall, now it has been changed to Ananodo Niketon. Most of my precious memories have been spent there and those memories have been printed in my heart.
I remember I was the captain then, and everybody used to love me a lot. I would only come home on holidays, apart from that I used to stay in Bharateshwari Homes most of the time. That's why this place is an integral part of my life.
I think Bharateshwari Homes has played a big role in living with good people and learning about cultural values. And thus, whenever my heart calls, I keep running towards it and get to relieve my fondest childhood memories.