Aamir Khan accused of being ''Anti-Hindu" ahead of 'Laal Singh Chaddha' release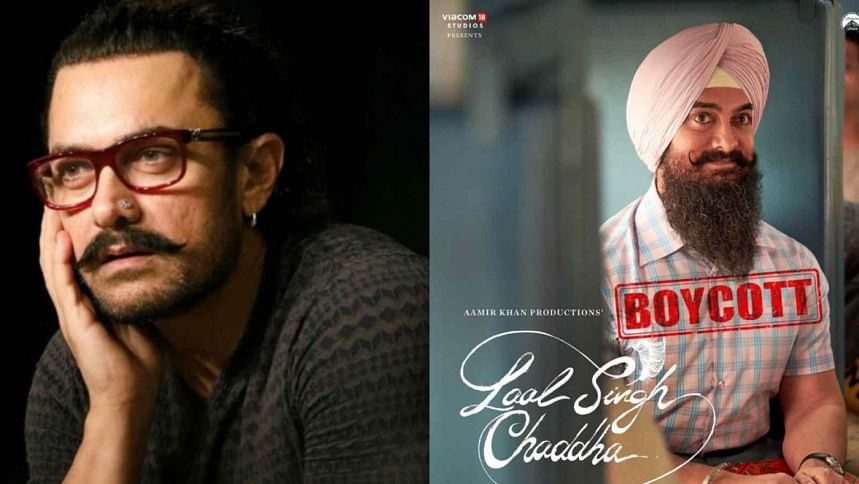 "Boycott Laal Singh Chaddha" is trending all over Twitter as people demand a ban on Bollywood superstar Aamir Khan, over his old controversial statement.
The actor is being termed "Anti-Hindu" and "Anti-National" for his 2015 comment on India's growing intolerance. Indians are resharing the news all over Twitter and are demanding a complete ban on the screening of his movie.
In an old interview, Aamir Khan stated that he and his former wife Kiran Rao feared for the safety of their children and were wondering whether they should move out of India or not. The controversial statement lead to major social media outrage at that time.
Aamir Khan had to later clarify that he didn't call "India intolerant". It's just he is afraid of people who might try to spread hatred in the name of religion.
#BoycottLaalSinghChaddha#LalSinghChaddha #amirkhhan#BoycottLalSinghChadha

Would you take selfies and eat food with pakistanis who want bad for your country? Can any indian?

Only a jihadi like amir khan would pic.twitter.com/cPWj0HUKEl

— rizwan ul haq/riz (@rizwanlotanooo) July 30, 2022
BJP MLA Parag Shah wrote on Twitter- "Aamir Khan said "India is intolerant & He wants to Leave India" Then let him leave India, why is he releasing his movie here????"
Never forget, never forgive

How can we watch movie of Anti-Hindu, Anti-Bharat, Pro-Turkey actor?

How can we watch movie of someone who named her sons #Taimur & #Jahangir the #Mughals Terrorists who killed Millions of Hindus? #BoycottLaalSinghChaddha pic.twitter.com/Mn6lb19Guh

— Kreately.in (@KreatelyMedia) July 30, 2022
"Laal Singh Chaddha" starring Aamir Khan and Kareena Kapoor is a remake of Tom Hanks' classic movie "Forrest Gump". The movie also stars Mona Singh and  Naga Chaitanya, in prominent roles. The film is slated to be released in theatres on August 11.