Welcoming life with rain at 6th Dhaka Art Summit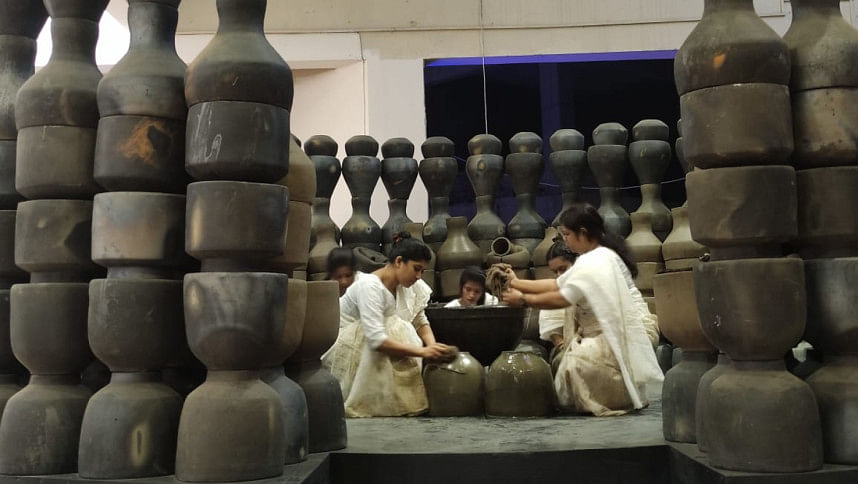 The sixth edition of Dhaka Art Summit (DAS) titled "Bonna", explores the theme of Bangladesh's climate, and how this has shaped the country's history, identity and culture.  "Bonna" explores the variety of connotations surrounding weather and water through the perspective of Bangladeshis, as both life givers and takers.
The artworks, installations, and performances similarly revolve around the theme of water, and its various forms. One brilliant example, Sumayya Vally's pavilion hosts a series of performances drawing on the traditions of rain-making and harvest. Her installation draws cultural comparisons between South Africa and Bangladesh, where rain is the primary driver of the nation's agricultural productivity.
Almost all cultures have a tradition of predicting the arrival of rain, and have different ways to welcome it. In several regions of Southern Africa, it was thought that royal ancestors had authority over the weather and other natural occurrences, and people performed rain-making rites in their honour. One of these extraordinary individuals was Moroka, from the Pedi tribe, who was a traditional rain-making healer.
Inspired by the IsiZulu proverb "Oletha imvula uletha ukuphila" (They who brings rain, brings life), the pavilion is a response to the local context and draws cultural parallels with the importance of rain in Bangladesh as the most important catalyst for agricultural production. The performers alter an architectural pavilion using water and sound rituals creating thunder, drawing inspiration from Southern African and South Asian rainmaking traditions. A series of fired and unfired clay vessels are assembled as a temporal space to hold gatherings, creating a sight to behold from the second floor staircase.
The sound has been created in collaboration with Shoummo Saha and the performance has been choreographed by Arpita Singha Lopa. The entire act has been co-curated by Diana Campbell and Sean Anderson as an overlay of "To Enter the Sky" on the 2nd floor of DAS. The performers include Tahera Tanzim Juthi, Ayesha Rahman, Rituporna Nodi, Krishna Biswas, Sumit Das, Sajib Ghosh, Shib Shankar Mondol, and Sajeb Mondol.
"Rain is closely intertwined with this year's theme, because it is directly related to the occurrence of floods in our country. Despite this, the arrival of rain is desirable and widely celebrated as it helps support our agriculture-dependent economy," Arpita concluded. "Our performance attempts to explore how rain is invited and perceived across two distinct cultures. There are several similarities, but there are stark differences too. The confluence, formed as a result, is what you witness throughout the 30 minutes."
Visiting the DAS on its fifth day, I had a wonderful experience of watching this performance live. While walking through the gallery, I was fascinated by the thunder noises and the soft sound of raindrops hitting the ground. It took me a while to find the pavilion, and by then there was a small group of visitors circling the performance.
It felt as if I was transferred into a new world, and could envision these white-saree clad performers as a part of a larger tribe who were celebrating the arrival of rain, a tradition slowly losing its value in our cultural context.