The books you will meet at Dhaka Art Summit 2023
Bonna—flood—forms the theme for this year's Dhaka Art Summit. The name contains a character, an action and an occurrence in one word, and it is this melding of stories into history, of literature and art, that reflects throughout the installations being exhibited at the Bangladesh Shilpakala Academy until Saturday, February 11. 
The literary minded will find almost all of the installations worth poring over, but for those who are especially interested in literature in book form, the first two floors of the exhibition hold treasures. 
Age of Coming
Daniel Stern's iconic self help book, Diary of A Baby (1992), seeks to  convey to adults the consciousness of a baby—in their own voice and with explanatory text. The first installation set up inside the DAS 23 premises projects an LED-constructed baby flickering on the wall. The baby stumbles through storms and sounds, mumbles songs of its existential conflicts, and innocently consumes—through four stages of the installation—a book, a chair, a gun, and an aeroplane. What is it ingesting? How much is too much? And what do we do with the intense sense of discomfort we feel while looking at the baby? 
Artist Matt Copson, who lives and works in Los Angeles, explores one pressing concern through this installation: "The baby wants it all; every color possible, to grow and grow and this is impossible. The laser projector is a mechanical device and the growing density of information eventually means that it can no longer even depict an image and becomes a barrage of spinning broken lines."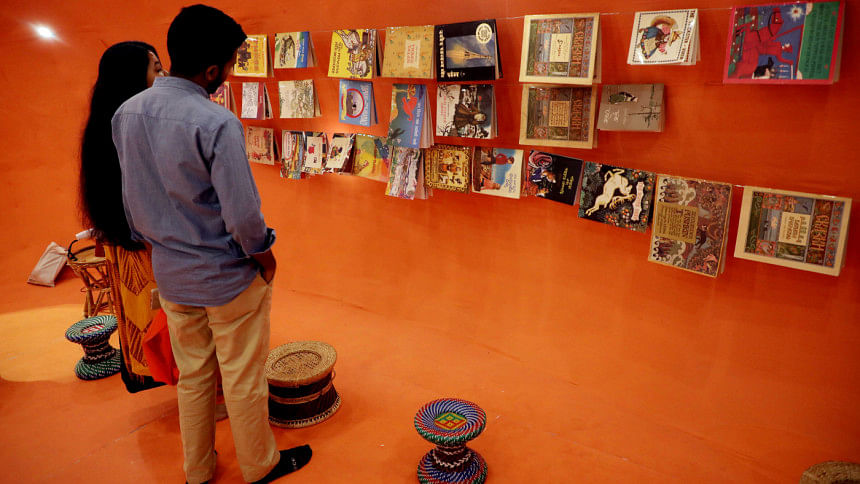 Inside the Belly of the Strange
Climb up to the first floor, and one meets a giant pink 'belly' held aloft by wooden planks resembling matchsticks. Its bright orange interior is meant to depict an entrance into a strange, colourful, lopsided world where stories float. Moras dot the floor space, where visitors can sit, read, and exchange stories. 
Such is the nature of oral storytelling traditions—they hang in the air, in and out of reach, surrounding those who want to engage with them. This installation by the New Education Group-Foundation for Innovative Research in Education mixes oral traditions with pedagogy through the book form. 
Indigenous children's access to books often happens through texts that are not in their own languages. The books strung up inside this belly contain visual stories, poems and short fiction for children who speak the indigenous languages of Konda Dhoras, Kui and Adivasi Odia, Baigani, Poraja and Gadaba. 
The stories were compiled from conversations held with tribal elders, government schools, primary teachers, drop-out youth and school students themselves. The hanging up of these stories from diverse languages and traditions alongside each other speaks to the inclusive potential of storytelling as artform, as well as to the potential for different cultures to coexist because of their differences and similarities.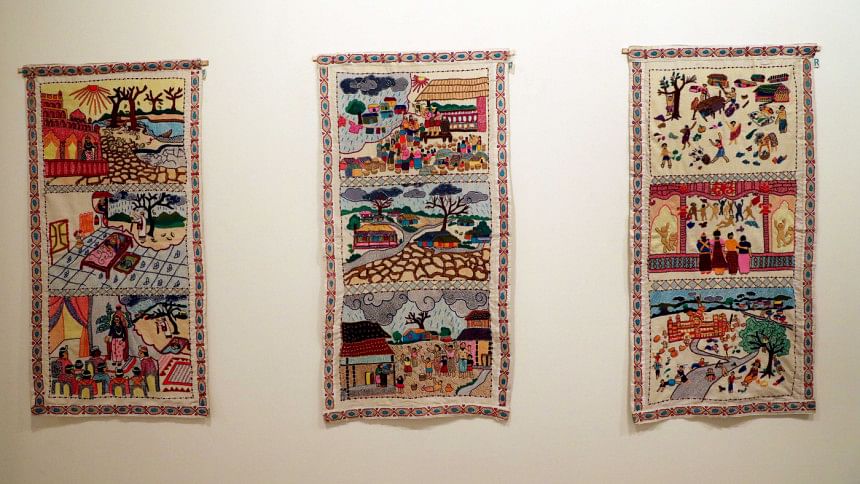 Raani'r uggo Khowab (A Queen's Dream) 
In its absence of a standardised written text, the Rohingya language, too, relies heavily on oral traditions. Skipping the step of having to write them down, the installation by Rohingya Cultural Memory Centre preserves the communities' folk tales through hand embroidered tapestries. 
Mohammed Rezuwan travelled through Cox's Bazar's Rohingya camps for seven months. From 35 elders, he collected and transcribed stories and folktales, and with the help of Alex Ebsary, his American collaborator, translated them to create the first ever English language book of Rohingya folk tales. Ten Rohingya and artists Enayet and Mayyu Khan embroidered some of these stories shared with them by Kosar Begum into the tapestries displayed at DAS—the tale of a powerful queen who dreams of a drought giving way to stormy rains. Drinking the rain will bring madness, yet no one hails the queen's warnings, until she herself gives in. 
"More than just stories, folktales are used to teach morals and lessons to the next generation, many of whom were born in the camps", the exhibition explains.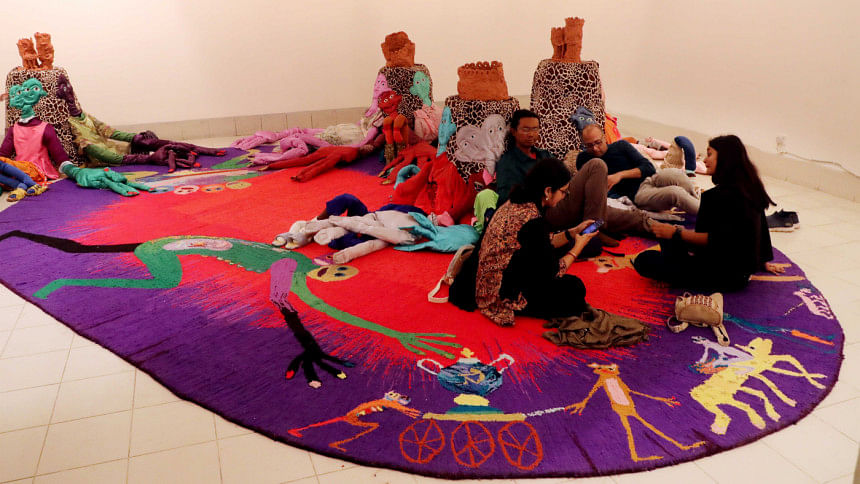 Poke Press Squeeze Clasp
The presence of fabric as literature continues in the installation by the Hague-based Afra Eisma, who stitches to soft, vibrant effect her rendition of characters conceived by Begum Rokeya, Audre Lorde, Ursula Le Guin and other favourite authors. 
Visitors are meant to continue this process of reimagination. They can sit or lie down on the textile arrangement, huddle up against the sculptures or stitched characters, and share their own stories. The experience is meant to be an interweaving of "sensuality with lightheartedness." 
Home
Circle back to the left end of Gallery 1, and a curtained archway welcomes the visitor into a room that promises to be home. Stories of Thakurmar Jhuli rest beside jars of achaar in Dhaka-based artist Yasmin Jahan Nupur's exhibit, where she unfurls in slow bodily movements in search of smells, trees, fruits, roads and people associated with childhood. 
The exhibit also saw book-reading sessions. 
Jungle Nama 
This concept of home is immediately threatened as one steps into the inner room, and confronts giant, floor-to-ceiling open books. Painted on their pages—which can be turned—are the ropey body of a Royal Bengal Tiger in Sundarban's waters, and silhouettes of forest-dwellers crouched on the grounds. 
These are scenes from Amitav Ghosh's verse rendition of the legend of Bon Bibi and her fight with Dokkhon Rai—myths from the Sundarban villages that have been illustrated by Pakistani-American artist Salman Toor, published in 2021 by HarperCollins India. The graphic novel's audiobook has been narrated by Ali Sethi. 
Shades of Flowers 
Meanwhile, Dhaka-based Sanjoy Chakraborty's experiments with the colour red continue in perhaps one of the most interesting installations on this floor. Making up a collage of the reality of childhood with its memory, Chakraborty pastes on the upper half of the wall archival prints of children's pages from three prominent pre-Liberation Bangladeshi newspapers—Daily Azad's "Mukul Mahfil", Daily Ittefaq's "Kochi Kachar Mela", Daily Sangbad's "Khelaghor". The news cuttings were collected from the National Archives. 
The lower half, vertical playground of sorts painted in a vivid red, lets the children visiting the Art Summit draw freely on the wall. 
"The older visitors will recall their memories of childhood, and the younger ones will create their memories of childhood", the artist tells Daily Star Books. "I have tried to create a space that will bridge the separation and alienation between our generations."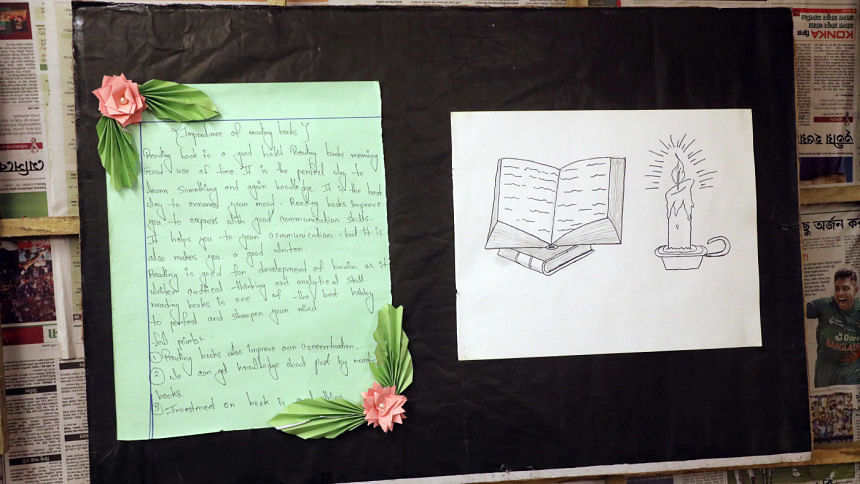 The Equilibrium Project 
Finally, perhaps the most touching message for book-lovers waits inside the village house constructed entirely out of newspaper and colour paper by 270 students of classes 6, 7, and 9. Compiled by Marzia Farhana, the exhibit shows children offering sharp solutions to urgent problems—from overpopulation and climate change to corruption. But a message pasted on the house's inner walls highlights the importance of reading books. 
"Reading is good for development of brain", the child artist writes, "as it [widens] critical thinking and analytical skill." 
Sarah Anjum Bari is Books and Literary Editor, The Daily Star.