Revisiting indigenous folktales at Dhaka Art Summit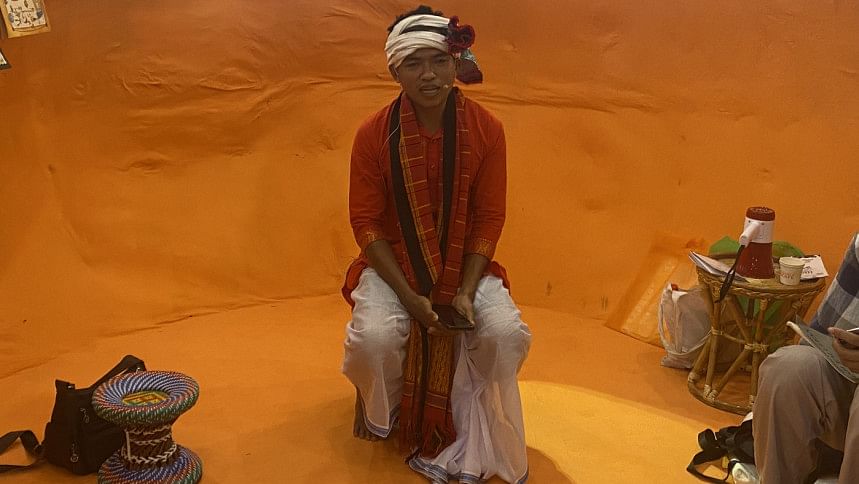 The Dhaka Art Summit (DAS), currently underway at Bangladesh Shilpakala Academy until February 11, has been diverse in its attempt towards promoting different cultures. Be it Joydeb Roaja's 'Submerged Dream-8', which portrays the plight of people who were forcefully evicted from their homes during the construction of a dam on Karnaphuli river, or a group of storytellers bringing folktales from the Chittagong Hill Tracts.
'Oral Stories from the Hills' was such a storytelling session, and was held on the third and fourth days of the summit. During these sessions, storytellers, translators and artists from the indigenous communities brought stories from their homeland, and presented them in an interactive way. It was hosted in the first floor's 'Belly of the Strange', an installation with bright orange inner walls which allows visitors to enter the belly of a strange creature only to find children's storybooks hung up inside. These books come from a variety of languages, and the place has been a favourite among young visitors.
The storytelling session was curated by Kanak Chanpa Chakma, who narrated the translated version of the stories shared on both days. "We wanted to share the story in our native language, just the way we heard it from our elders. These stories are intertwined not only with our childhood, but also with our culture and identity. With the folktales getting lost, it feels as if our identities are also traced away," she said. 
Kanak viewed the session as an attempt to bring these stories to the next generations. "It is not only to tell them about the bedtime magic we heard from our grandparents, but also to teach them about our culture and lifestyle in the hills," she explained. "Folktales from all languages face a threat of existence, and must be preserved. This responsibility should be taken by people who work closely with literature."
Sushil Bikash Chakma, who is a farmer by profession, narrated stories on both days. He dictated the folktales he grew up hearing from his grandmother. 
"Both of these stories are very close to my heart. By sharing them with the next generation, I want to keep these memories alive," he said. 
The first story is based on a myth tale involving a demoness and a warrior-son who saves the lives of his elder brothers. The second story revolved around a young girl who was taken away by a black kite, and held hostage on top of a hill. While these stories cannot be found in any book, Shushil believes that the stories can travel from generation to generation, and children can learn more about the way their forefathers lived. 
"We do not see a lot of things but hear about them in stories, like dheki—an agricultural tool used for threshing. It is crucial for children to know about this lifestyle, so they can get a sneak peek into our ancient history."
Maisha Islam Monamee is a student of IBA, DU, and a freelance journalist who likes reading, scribbling, and blogging. Follow @monameereads on Instagram.