Tareque Masud's birthday celebrated in Rajbari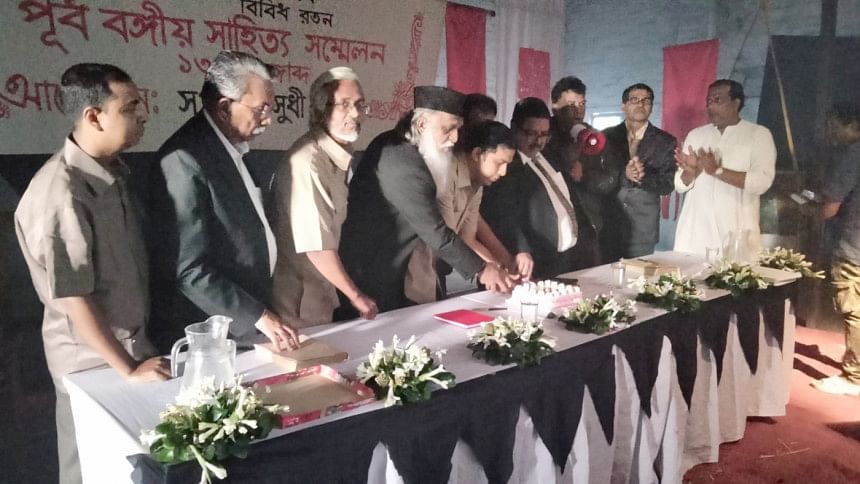 On Tuesday, December 6, the 66th birth anniversary of renowned filmmaker Tareque Masud was observed. The Tareque Masud Film Society (TMFS) celebrated the occasion by cutting a cake. The event was celebrated on the set of a film being directed by Habibul Islam Habib, at the Railway Hall of Rajbari Sadar.
Present at the event were film director Kazi Hayat; actor and film director Gazi Rakayet; director Habibul Islam Habib; actor Tanvir Hossain Probal; Vice President of TMFS, Liaquat Himu; General Secretary of TMFS, H M Mehedi Hasan and Sharif Khan, Treasurer of TMFS, among others, were present at the celebrations.
Speaking on the occasion, Director Kazi Hayat said, "Today we are remembering the legendary Tareque Masud, on his birthday. It is incredibly sad that we lost as creative a filmmaker as him. If he were still alive today, then we would have even more aesthetic and artistic films today. Even though he is not among us now, he is ever present through his work, and his legacy will continue to live on."
Gazi Rakayet also remembered the incredible filmmaker, noting, "Tareque Masud was an invaluable asset to Bengali cinema. In each of his films, he portrayed his own vision brilliantly. I am grateful to the Tareque Masud Film Society for continuing to keep Tareque Masud's vision for filmmaking alive and I will always support them in their efforts to do so."
Adding to the praise for Tareque Masud, film director Habibul Islam Habib said, "Tareque Masud's birthday and the shooting for the film 'Japito Jibon' coincidentally fell on the same day. I have a lot of memories with him, as we were part of the short film movement together. He had also gifted me a camera, back in the day. I am very happy to celebrate Tareque Masud's birth anniversary, sitting on the set of this upcoming film."
"Birthdays usually mean a day of joyous celebrations. But, when it comes to Tareque Masud's birthday, there is a lot of grief and pain, as it is difficult to accept his untimely demise. However, on this day, I think that wherever he is now, he is definitely doing well. Following in his footsteps, many people have joined the path of filmmaking. This will definitely play a factor in improving Bengali cinema in the future," chimed in Tanvir Hossain Probal.
Liaquat Himu, Vice President of TMFS, also added, "This is our first event in Rajbari. The participation of talented film directors and actors of our country has made this event worthwhile. We express our gratitude and thank everyone for coming here today."\
Tareque Masud was born on December 6, 1956 in Bhanga, Faridpur. The legendary director was killed in a road accident on August 13, 2011.