An inadvertent encounter with Buddha
Visiting "From Suffering to Liberation: Buddha of Bengal" at AFD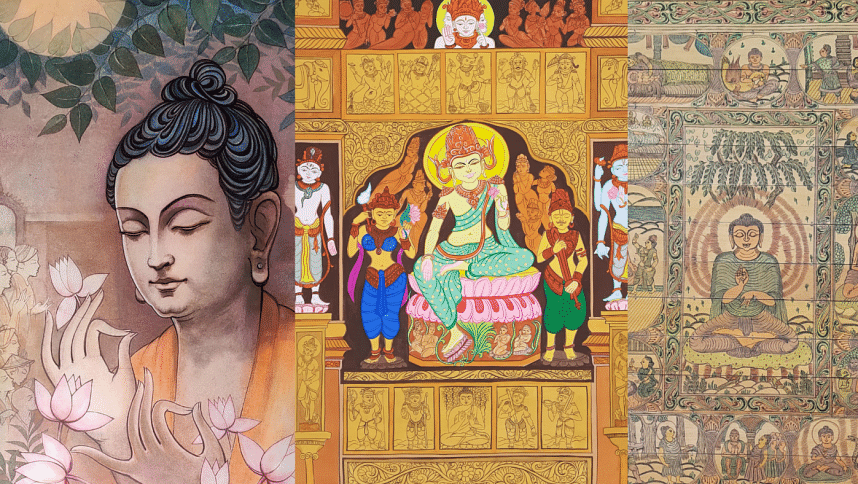 The Ukraine-Russia war, the earthquakes in Turkey, and the unrest in Sudan – the world seems descending into chaos. They affect not just the aforementioned countries, but the mind of every single netizen in the world. Amidst the chaos, the calming influence of Buddha and his teachings were much appreciated at Alliance Française de Dhaka (AFD) in the capital's Dhanmondi.
Treasuring the tranquility, philosophy, and beliefs of Buddha, the exhibition titled "From Suffering to Liberation: Buddha of Bengal" radiated a sense of ease presented in style.
Featuring works by around 52 artists hailing from different parts of Bangladesh and West Bengal in India, the exhibition was inaugurated on May 3 by the High Priest of Bouddho Bihar in Sylhet, Vante Sanghananda Mohathero, in the presence of Nilu Rowshon Murshed, chairperson of Abinta Gallery of Fine Arts, François Grosjean, director of AFD, and Dr Saymon Zakaria, Bangladeshi folk researcher and deputy director of Department of Culture, Bangla Academy, marking Buddha Purnima.
Staying true to oriental roots, the artworks on display, crafted on various eco-friendly mediums like ceramics, palm leaves, shital pati, copper, iron ore, stone, straw, acrylic, watercolour on paper, and fabric, communicate the journey and preaching of Siddhartha Gautama through their vivid intricate patterns.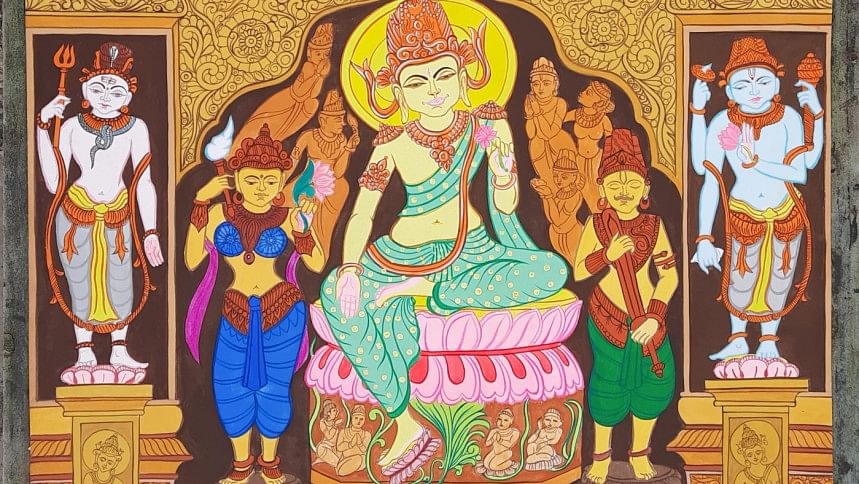 Nikhil Pal's "Life Sketches of Buddha", a Patachitra narrating the different experiences in the philosopher's (Buddha) life puts forward a vibrant display while Prasanta Maharana's piece on palm leaves, preserving the calmness in Buddha with light shades, is a delight to relish.
Sanjoy Chakraborty's "Theragatha" (acrylic on canvas) also stood out amongst the crowd with its crimson patterns complimenting its apple-white hand-woven canvas while Abdus Satter's "Spiritual Buddha" (acrylic on brown paper) stopped many curious eyes to take a better look at it while walking past the artwork.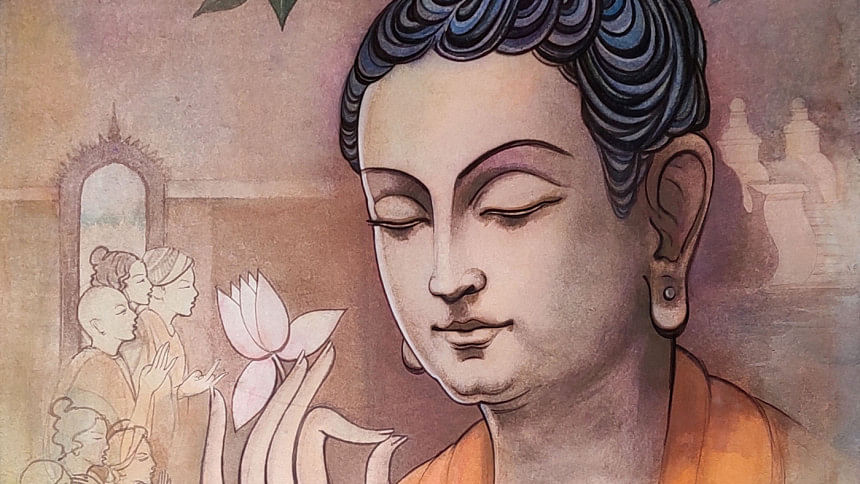 Dipak Rajan Sarker's "Free Bird" (metal), Nargis Poly's "Buddha" (green tea and coffee on canvas), and Namirah Farzana's "Auspicious Symbols of Buddha" (copper metal repousse) also demanded appreciation as they presented a unique understanding of Buddha's ideology and perception, vouching in favour of conserving nature while advocating for animal rights.
However, the showstopper for me was the centre piece – hand sketches voicing Buddha's life, starting from his birth to his coronation and quest to find peace to finally becoming the 'enlightened one'.
Created as a project by Amit Nandi in collaboration with five other promising artists, this piece is a monochrome treat to the eyes.
The event, organised by Oriental Painting Study Group, is open for all from 3 pm to 9 pm till May 15.