Edward Ted Kennedy Jr visits Bengal Foundation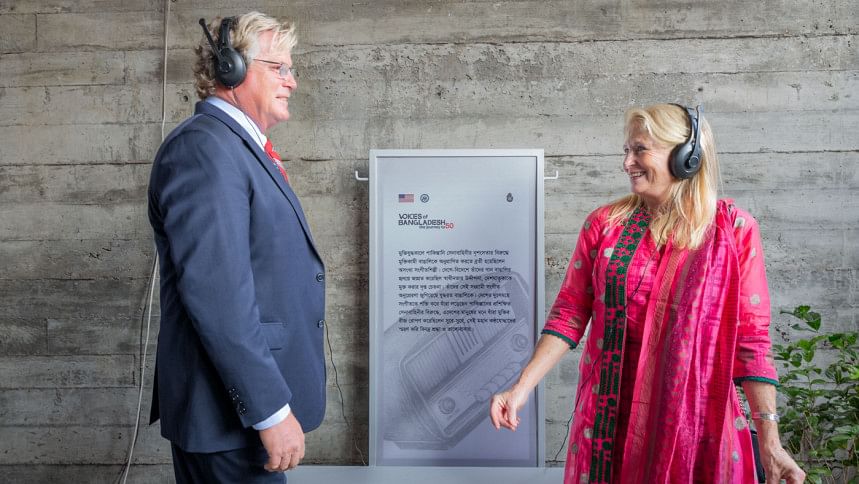 Edward Ted Kennedy Jr, son of late US senator Edward M Kennedy and nephew to former US President John F Kennedy, visited Bengal Shilpalaya today. He was accompanied by his wife, Katherine Kennedy; his daughter, son, niece and nephew. Also present with them were Helen LaFave, Deputy Chief of Mission, US Embassy in Bangladesh; Sean McIntosh, Public Affairs Counselor and Cultural Affairs Officer Sharlina Hussain-Morgan.  
Abul Khair Litu, Chairman of Bengal Foundation; Luva Nahid Chowdhury, Director General of Bengal Foundation; Zeenat Chowdhury, Director at Bengal Foundation; Nawshin Khair, Trustee of the foundation and Ahrar Ahmad, Professor Emeritus, Black Hills State University welcomed them on the premises of Bengal Shilpalaya.
After lunch, a traditional Bengali sarod performance was presented by students of Bengal's music programme before the members of the Kennedy family. Following this, they visited the ongoing mobile exhibition, "Voices of Bangladesh: The Journey to 50". Here a brief outline of the history of Bangladesh has been presented in the multimedia exhibition. The programme is a joint initiative of the US Embassy in Bangladesh and Bengal Foundation—who are the implementing partner.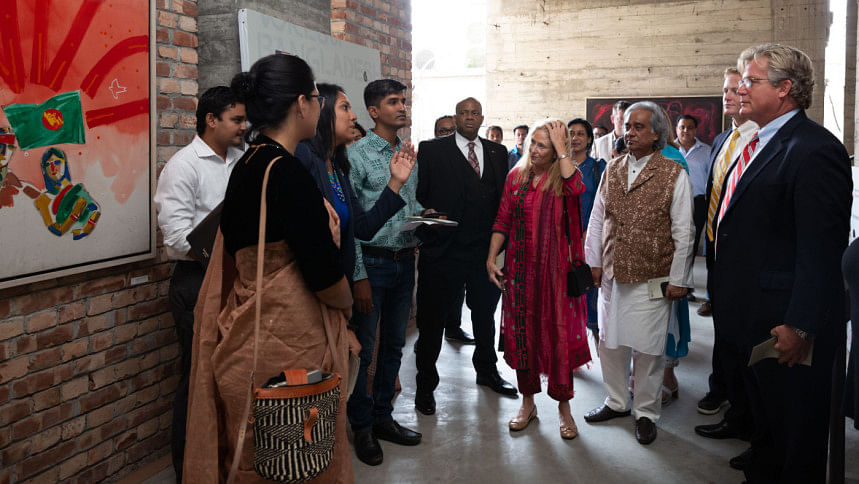 Edward Ted M. Kennedy Jr said, "Bangladesh earned their freedom by fighting in the Liberation War. I am glad to be able to see the participation of the people in this war of liberation and the subsequent stories of freedom at the 'Voices of Bangladesh' exhibition. My father was with the people of Bangladesh, in spirit, at the time of the war. As a member of his family, I am proud to see Bangladesh's sovereignty and progress."
The former Connecticut State Senate member also visited Kazi Ghiyasuddin's solo exhibition, "The Work of Creation 2" and Bengal books, saying afterwards, "Me and my family are overwhelmed to see Bengal Foundation's multi-dimensional approach to promote art, literature and culture."
Voices of Bangladesh: Journey to 50
The 'Voices of Bangladesh: The Journey to 50' programme will give the opportunity to participate from different communities across the country. This programme is moving forward with the aim of collecting all the stories about Bangladesh and its history that are not known or not told. As part of the programme, mobile exhibitions are being organized in five divisional areas of the country: Rajshahi, Khulna, Dhaka, Chattogram and Sylhet.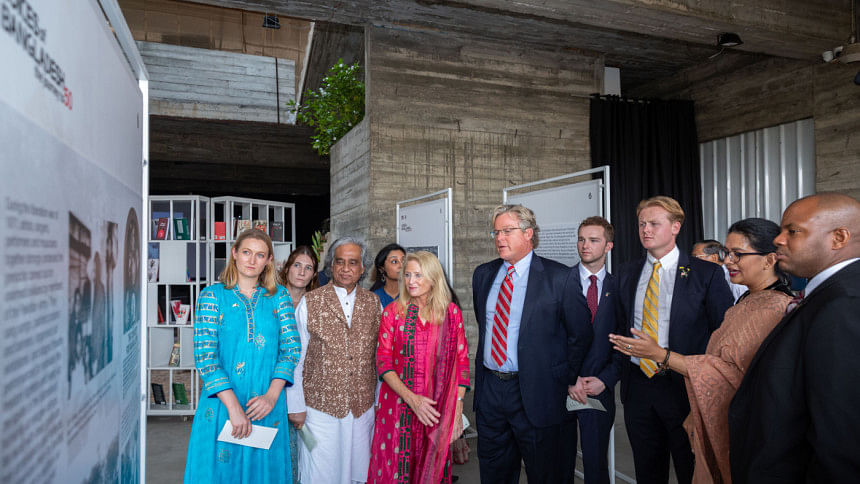 A brief outline of the history of Bangladesh has been presented in these multimedia exhibitions. Additionally, various information, pictures and audio-video content of Bangladesh's diplomatic relations with the US, from the last 50 years, has been presented in front of everyone. The history and story of the different regions of the country has bene captured in this programme.
'Voices of Bangladesh' activities are being carried out in collaboration with the US Embassy in Bangladesh. Bengal Foundation is the implementing partner of the programme. The project has been outlined by alumni participating in various cultural-education programmes in the US.