'Doob 2.0'- A plea to save the city's biodiversity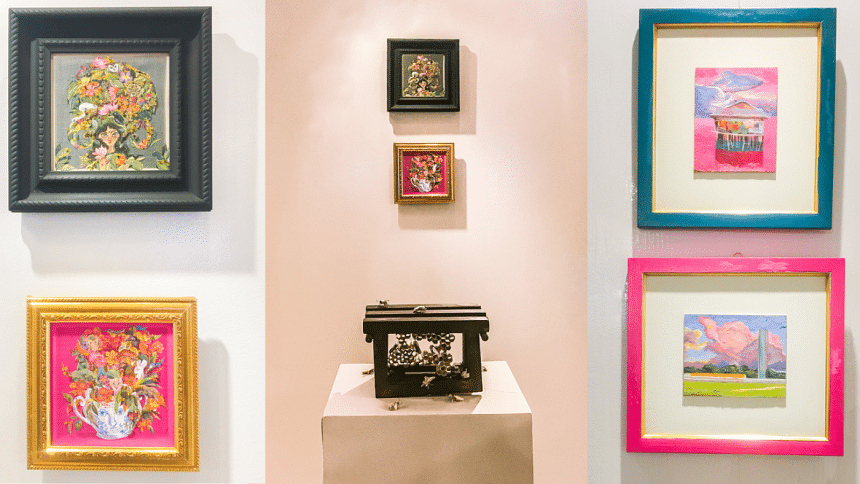 The inauguration of 'Doob 2.0- a miniaturesque art exhibition' took place at the EMK Center, Dhanmondi 27, on September 24, 2022. Initiated by Azizee Fawmi Khan, Doob 2.0 is an attempt to point out the changes in our biodiversity caused by gradual urbanisation.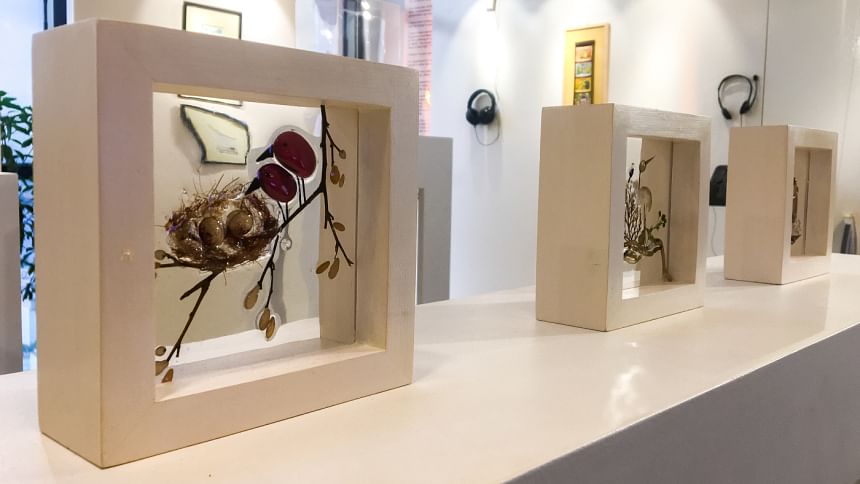 Back in the 20th century, Dhaka city was a flourishing place with birds and other animals, and more green spaces. But alas! Our greed for built spaces has destroyed the natural beauty of the city. All we can see around us is a concrete jungle. The water bodies, the green areas, the birds and other small animals- they are hardly to be seen. The artists of Doob 2.0 bring us the images of the previous version of Dhaka versus the current one, blended with nostalgia and undying yearning.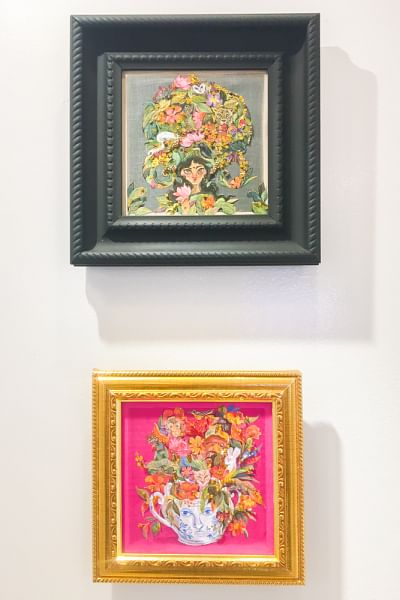 The miniaturesque pieces have filled the mini exhibition hall of EMK center. The first pair of artworks on the wall is called Leaf Story, Taniya Rahman Roshney's hand embroidery of houseplants on canvas, her fond memories of student life, and her friendship with nature. Mukta Mareeam Khan has used natural ingredients for her art piece, painting adorable frogs asking for rain on summer days. She was inspired by the folktales of her village and the folk song 'Ashare Golpo', that she sang herself.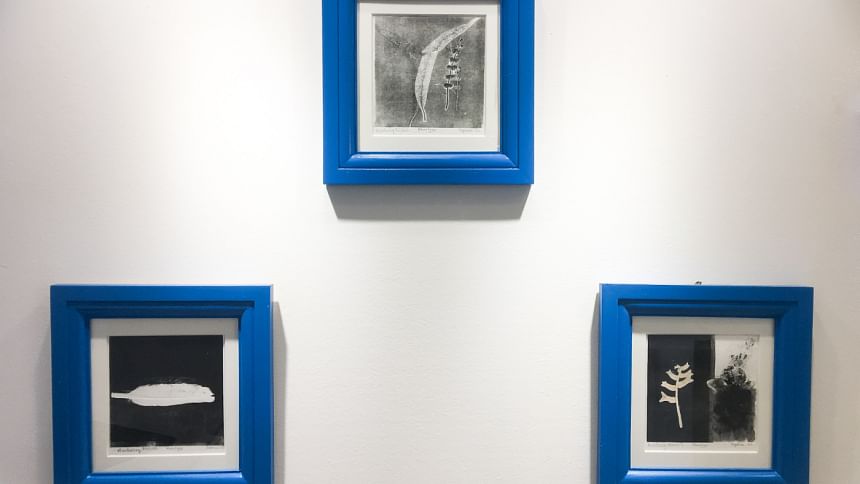 The cutest artwork I found was Arzina Ahasan's 'Unnoticed'. On her quest to frame unnoticed beauty of nature, the artist used grass, leaves, flowers, shells, and wooden scraps to recreate the biodiversity of her native village. Her work mainly focuses on portraying birds and plants, which she made permanent with resin.Another remarkable work is Nusrat Jahan Titly's 'Recreational Apiarist' is a memoir of her grandfather's love for bees.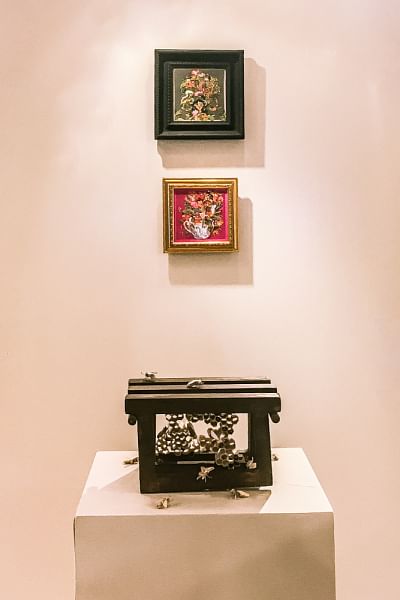 She wonders when was the last time a beehive formed naturally where she lives in. She used a wooden frame, recycles paper, and beads to form a beehive with intricate details. Sarah Jabin's 'Home Sweet Home' is a soap composite carving of columns from ancient civilisations, where she made little spaces to accommodate animals and birds.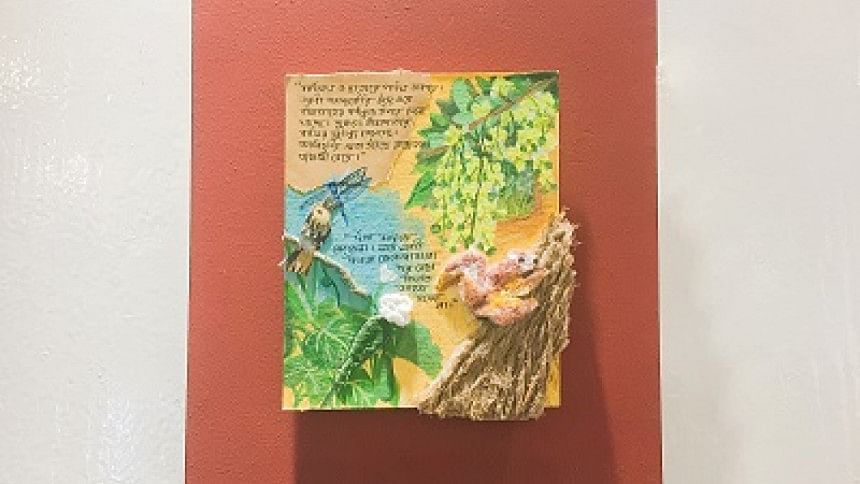 Afroza Hossain Sara used songs, drawing, and motions to hand-draw a digital animation of the cranes around Banani lake that, despite the pollution, population, and climate change. Ananya Mehpar Azad did a gorgeous portrayal of the goddess Dhakeshwari, the protector of Dhaka city, surrounded by her long lost rich biodiversity using fabric color and sequin embellishment on silk.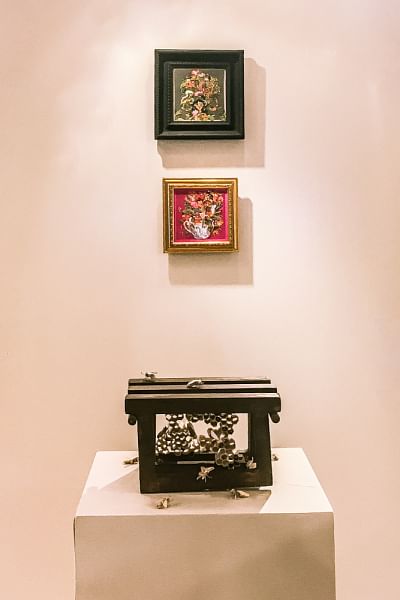 Aside from these, all the other artists have produced remarkable art pieces that represent a desperate call for the protection of nature, along with their charming aesthetics. EMK Center will run this exhibition till October 22, 2022.