Asaduzzaman Noor recites, Momotaz sings in Parliament in tribute to PM, Padma Bridge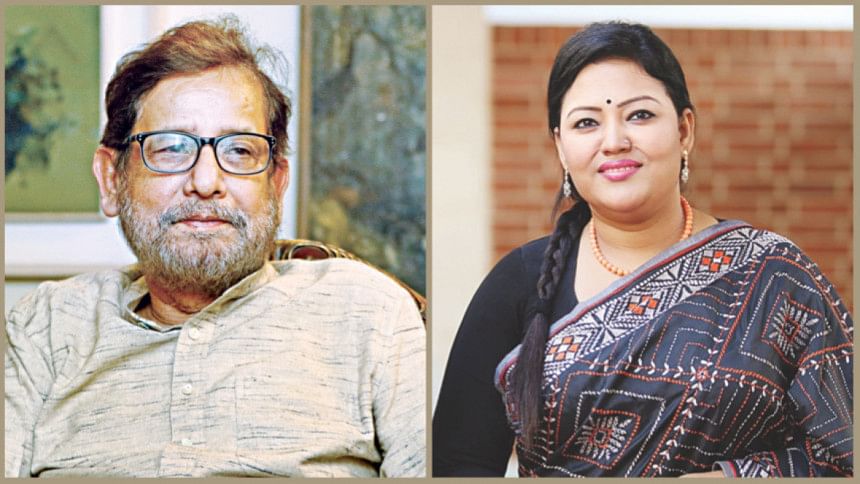 Two MPs of the ruling party commemorated the inauguration of the Padma Bridge in the National Assembly today, with songs and recitals.
Eminent actor Asaduzzaman Noor and noted folk singer Momotaz Begum paid their respective tributes amidst the general discussion on the budget today.
"My leader Sheikh Hasina who has no comparison", sang Momotaz along these lines. "Women don't want sari or jewelry nowadays." She further sang, "If you don't vote for Nouka, I'll return to my father's house."
Momotaz said that she had recently gone to Sydney and Melbourne in Australia to perform at the Bangabandhu Parishad.
"There was a girl  dancing beautifully to my song, 'Pankha Pankha'," narrated Momotaz. "When the girl came to take  a selfie with me after the show, I got to know that she was the daughter of Harunur Rashid Shaheb (BNP MP)."
Laughter resonated in the parliament. Prime Minister Sheikh Hasina was also seen smiling at the time.
Earlier, former Minister of Cultural Affairs Asaduzzaman Noor, at the end of his speech, recited some excerpts  from poet Kamal Chowdhury's poem "Padma Setu".
.