Kumar Bishwajit asks fans to pray for his son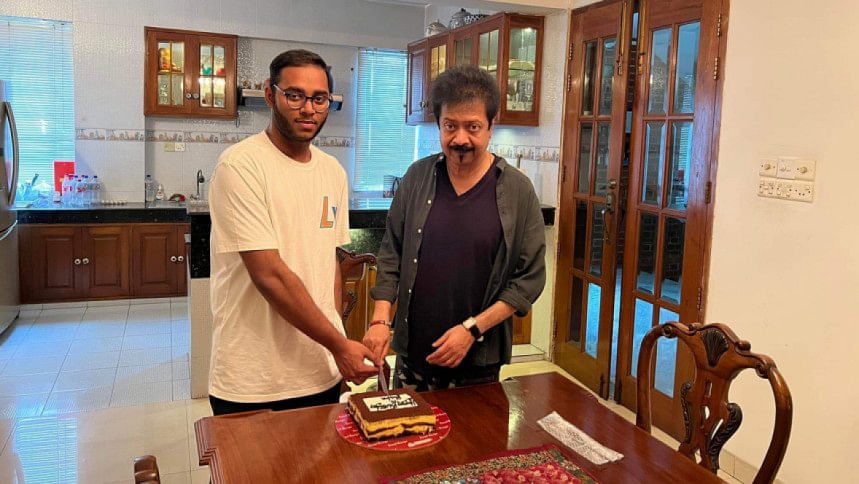 Today is the birthday of legendary singer Kumar Bishwajit. Usually, every year, there is a certain level of joy surrounding his birthday. However, this year it has been replaced by sadness.
The musician's only son, Kumar Nibir would usually surprise his father on his birthday. But this time, none of that is happening. Nibir was seriously injured in a road accident in Canada and has been undergoing treatment at St Michael's Hospital in Toronto for nearly five months now.  Everyone's favourite singer has been passing many a sad day and night with his son. Today, he requested the people of Bangladesh to send his son their love and prayers.
Kumar Bishwajit  was born on June 1, 1963, in Sitakunda, Chattogram. He was interested in music ever since he was a kid. He pursued that interest, going on to earn fame at the highest level in the world of music.
In 1977, he started his journey in the music industry by singing a song on a radio programme. After that, he performed for two years with a band called Rhythm 77. In 1979, he formed another band called Feelings.
Kumar Bishwajit first performed on BTV in the 1980s. However, it would be on a television show called "Shiulimala", where he spread his name with a performance of "Putuler Moto Kore". This song was a turning point in his musical career. However, it was the song, "Jekhane Shimanto Tomar", that won the hearts of the audience.
The artiste would make his first playback appearance in the 1982 film, "Inspector", on a song composed by Alauddin Ali. Since then, he has gone on to win the National Film Award for 'Best Singer' twice. Over the years, he has worked on 30 solo albums, numerous mixed albums and films.
Speaking to The Daily Star, Kumar Bishwajit said, "We need to continue to enrich Bengali music to take it to even greater heights. I've never chased money. Nor did I chase after the hope of my songs becoming hits. My vision, efforts and ideals were everything to me. I've never seen music through a commercial lens. Everything I have achieved is from music. I think if creative people had two more lives, they could achieve a lot more. These are the thoughts that are constantly in my head today."
The evergreen singer has been singing since the 1980s. Many of his songs have become timeless to Bengalis. Some of his timeless hits include, "Tumi Roj Bikele", "Jekhane Shimanto Tomar", "Putuler Moto Kore", "O Doctor", "Ekta Chaad Chara Raat" and "Chondona Go Raag Koro Na", among others.