'Hotath Daekha': Album launched for Nazrul-Rabindra birth anniversary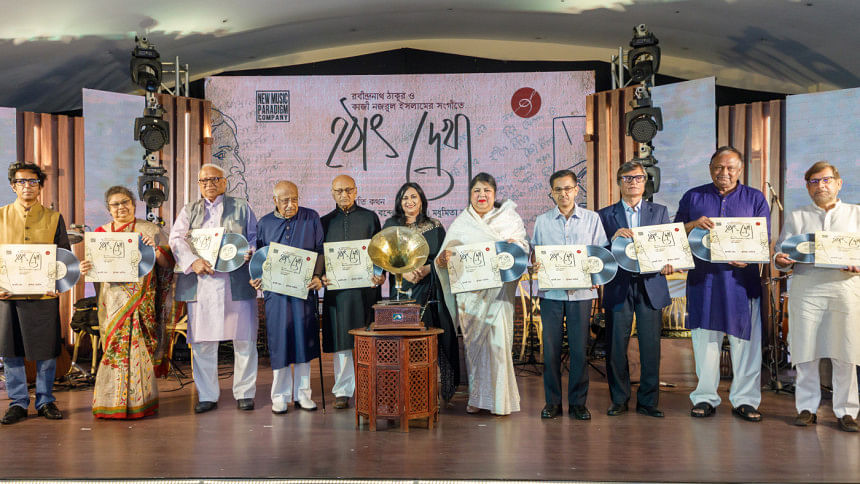 With a combination of Kazi Nazrul Islam's and Rabindranath Tagore's songs, Srabani Sen's and Shusmita Anis's new album was launched yesterday. Titled "Hotath Daekha", the album's music has been arranged by renowned singer and music director, Bappa Mazumder.  
The Honourable Speaker of Bangladesh National Parliament, Dr Shirin Sharmin Chaudhury, MP was present at the event as the chief guest. Also present were, His Excellency High Commissioner Pranay Verma of Indian High Commission as well as Professor Dr Muhammad Samad, Pro-Vice Chancellor of Dhaka University as special guests along with other esteemed individuals.
"The effort of artiste Shusmita Anis to tie Nazrul and Rabindra together to make this musical album is commendable", remarked Dr Shirin Sharmin Chaudhury.
"Hothat Daekha" album is thematically organized in four different genres–love, seasonal, devotional and motivational songs. The whole project is initiated and conceptualized by artiste Shusmita Anis bringing together artists and professionals of the two Bengals.
Speaking about that, Shusmita mentioned, "I have grown up with the music, literature and philosophy of these two great poets. They have had a tremendous influence in my life. I always wanted to make an album combining the artists from the two Bengals."
Artiste Shusmita Anis and Bappa Majumder performed live at the event and artiste Srabani Sen sang on special request. The album is available on Shusmita Anis's YouTube channel for streaming.