If Tagore were here to see…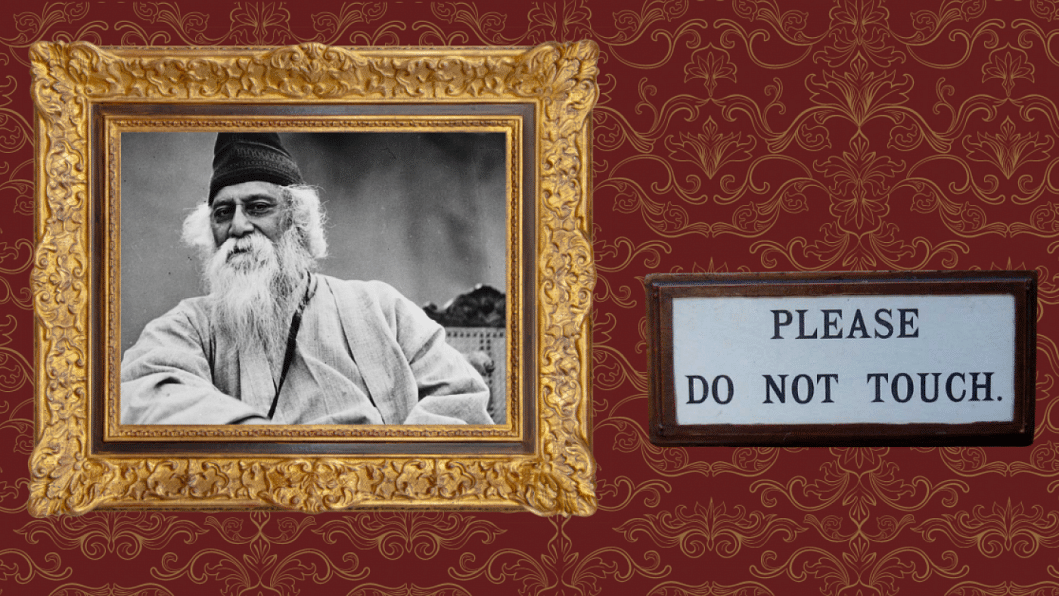 Every time there is a furore over an issue that relates to Rabindranath Tagore, I try to imagine: What would the biggest writer of the Bangla language think if he were here to see how he is caught up in debates that have more to do with the animosities between opposing cultural forces than his writing or music? Let's imagine a play in which Tagore has come back to the real world as a spirit, to observe how his writing is being received and studied in the 21st century. A rekindling of interest in his work, accompanied by quality translation and research, is likely to reassure him that his creations are still relevant and perhaps will always be. But how would he react to the situation here in Bangladesh? Would he be outraged at how often he is embroiled in mud-slinging, through which some people advance their own political agendas?
The latest occasion with a flurry of incidents was stirred up by Ashraful Alom Saeed. Also known as Hero Alom, he rendered an iconic Tagore song and uploaded it on YouTube, which set off a social media warfare, leading the Detective Branch of police to pick him up for interrogation on July 27 on the grounds that we are still struggling to understand. Not that police really need strong grounds to detain and interrogate singers or actors any more. The memories of how film director Anonno Mamun and actor Shaheen Mridha, Baul singer Rita Dewan, and actor Pori Moni were arrested are still fresh in our minds. They were targeted for reasons we could at least explain, no matter how flimsy those reasons were. But why target Hero Alom?
Alom's detention was the kind of moral policing that many thought would never occur in Bangladesh. We'd encountered another kind of moral policing during the Ekushey Book Fair in 2019 and 2020, when police teams were deployed to monitor stalls and check if any book was hurting religious sentiments. It was Hefazat-e-Islam – a Qawmi madrasa-based Islamist organisation whose influence over policies is becoming stronger by the day – that put pressure on the government to monitor books at the fair. Writers, publishers and activists vehemently opposed the decision to send police teams to the fair, calling such acts of policing a threat to our fundamental right to freedom of expression and thought.
If the book fair's moral policing was a threat to freedom of thought, how are we supposed to look at Alom's interrogation, during which he was asked demeaning questions about his skin colour and look? Worse still, he was released after he signed a bond declaring that he wouldn't render songs composed by Tagore and Kazi Nazrul Islam.
The religious impetus for moral policing is alarming, but equally alarming is the cultural impetus behind Alom's interrogation, which was provided by a social media explosion engineered by Tagore brigades. The Facebook ruckus has put Alom at the receiving end of a campaign through which he was, and still is, trolled mercilessly. The trolls have not gone unchallenged though. The counter-currents challenging the trolls include literary and cultural activists, journalists, and even Tagore fans, but they also include those from the anti-Tagore brigades who are known for their communally fuelled attacks on Tagore.
This is not the first time a singer has been brutally berated due to their rendition of Tagore songs. Rock singer Maqsood rendered a Tagore song more than two decades back. If my memory is serving me right, I believe by then he'd left the popular band Feedback and formed his own band, Dhaka, with which he embarked on a new journey of blending rock elements with Baul music. His performance, which was accompanied by electric guitars and drums, angered Tagore aficionados so much that the entertainment pages of many Bangla newspapers carried angry responses for weeks. The message was clear: No deviation from the original, in terms of composition, would be tolerated.
By the time Sahana Bajpaie released her debut album of Tagore songs in 2007, the scope for using compatible modern instruments broadened and her album was given a warm reception. In 2010, alternative rock band Shironamhin released its fourth album, which consisted entirely of Tagore songs. Shironamhin's renditions deviated from the original on many counts but were not met with the same angry responses that Maqsood's performance had been. Arnob's renditions of several Tagore songs were also warmly received.
Evidently, between Maqsood and Alom, the cultural climate has gone through a transition, becoming in the process more tolerant and welcoming towards experimentation with Tagore songs. What, then, caused this ruckus over Hero Alom? Well, one obvious reason is that while Maqsood, Sahana, Arnob and Tanzir Tuhin of Shironamhin are fabulous singers, Alom is not. When I say this, I am not judging him by my own standards. Singers from humble socioeconomic backgrounds, or singers popular among people from those backgrounds, can surely sing and in many instances, they do a better job. When they get the right opportunity, they make it big, like Momtaz, who was discovered by Hanif Sanket. There also are many local, folk and Baul singers who attach no importance to national platforms and are happy being where they are. They follow musical conventions, many of which are way richer than the modern or postmodern trends that we urban-educated people find sophisticated and palatable.
But Alom surely cannot sing. He is a terrible singer and he himself has no confusion about it. After Alom was released, he expressed his position vis-à-vis the whole situation in a Facebook post. In my rough translation, the relevant parts of his post appear like this:
"If you don't like my songs, don't listen to them. If you don't like my acting, don't watch my videos. But please don't conspire against me… I come from a poor family living in a small village, but I have confidence in myself. I am a hero to myself and an inspiration to hundreds of thousands of underprivileged people.
"I am not educated, I have no quality to speak of, I'm not a singer, I'm not an actor – are all these my crimes? I try my best and I will keep trying for my audience."
Nothing can explain the fundamental principles of freedom of expression better than Alom's emotionally charged Facebook post. By the same token, every Tagore fan has a right to express their opinion on Alom's performance. But if those responses are filled with hatred and if they assume a tone that goads the police on to harass him, then it starts smacking of a form of bigotry that we associate either with jingoism or religious fundamentalism. As a Tagore fan myself, I am certain that this is not what Tagore deserves. Tagore is our biggest writer not because of the size of his oeuvre; rather, he attained this position by virtue of his powerful writing and the sheer range of his thoughts, which do not have any space for bigotry. To put Tagore on an ideal pedestal, seeking to imbue his work with a sanctity that does not warrant any criticism of his work, can never open up new doors for illuminating studies of his work. Such an approach only strengthens the anti-Tagore brigades who seem ever poised to jump in with both feet and start levelling unfounded accusations at Tagore.
Idealising Tagore also creates a lot of confusion, encouraging wrong interpretations of Tagore's work, feeding the claim that Tagore's writing celebrates the middle-class sensibilities that the ruling clique uses to govern the masses. Nothing can be more prejudiced than this interpretation. If it applies to Tagore, it also applies, more effectively, to the songs written by Nazrul, DL Roy, Atul Prasad, and Rajanikant Sen.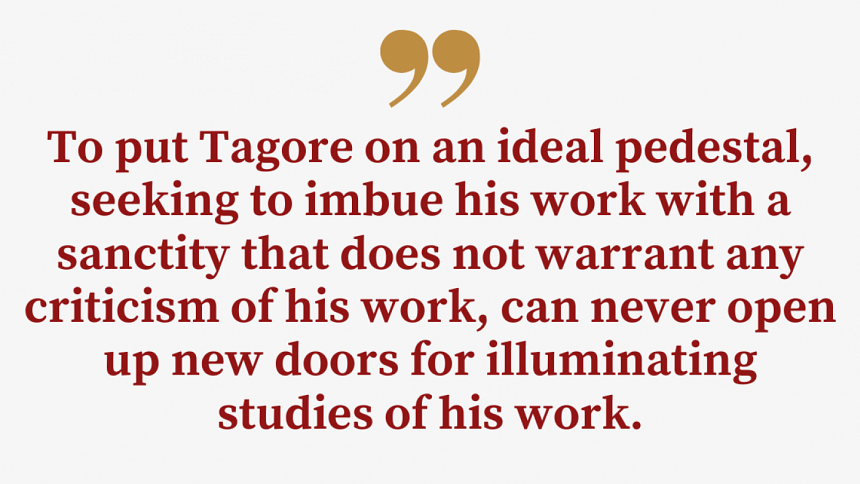 There is no denying the power of Nazrul's poems and songs. He has left numerous critics enamoured of his poetry and songs, just like Tagore has. Among Nazrul's critics are not only Serajul Islam Chowdhury and Jatin Sarker – both of them Marxists – but also modern scholars like Abdul Mannan Syed and Rafiqul Islam. But why does BNP, one of Bangladesh's main political parties, find an avatar in Nazrul? BNP never issues a press release on Tagore's birth or death anniversary but it almost regularly, if not religiously, organises events to celebrate Nazrul's birth anniversary. Nazrul is also loved by activists of Jamaat-e-Islami, Hefazat and Khelafat Majlis, among other Islamist parties and organisations, just like Tagore is loved and appropriated by many Hindutva activists in West Bengal, India. Are we to believe that BNP – the party that holds on to Nazrul – is devoid of people with middle-class sensibilities? Are we to believe that the BNP's ruling clique does not use middle-class ethos to govern the masses? In BNP's case, religion is the only trump card, one might quip. If middle-class sensibilities are replaced by religion, what we get is a bleaker picture, especially since Nazrul's writing is absolutely non-communal in spirit.
It is not easy to understand why one writer is appropriated by a political party or a section of a class but when they are, it does not mean a one-to-one correspondence between that party or class and the writer in question.
Getting back to the initial thread of Tagore's fictional appearance in a play, when faced with the circus around Hero Alom rendering one of his songs, is it possible that Tagore would say: Both the brigades across the literary spectrum should go to hell? Is it possible that he'd look at the whole thing from an entirely fresh angle, that he'd feel happy to see his songs cross the class divide and reach Alom? Well, it all depends on the playwright's vision and understanding of Tagore.
As I understand it, Tagore as a writer is so great that he does not require a brigade to protect the worth of his writing. Also, to stand up for Alom's right to render Tagore songs does not stand in contradiction to being a Tagore fan.
Rifat Munim is an editor, writer and journalist based in Dhaka. His Twitter handle is @munimrifat