Editorial
Sharp rise in Covid-19 cases
Urgent measures needed to curb the wave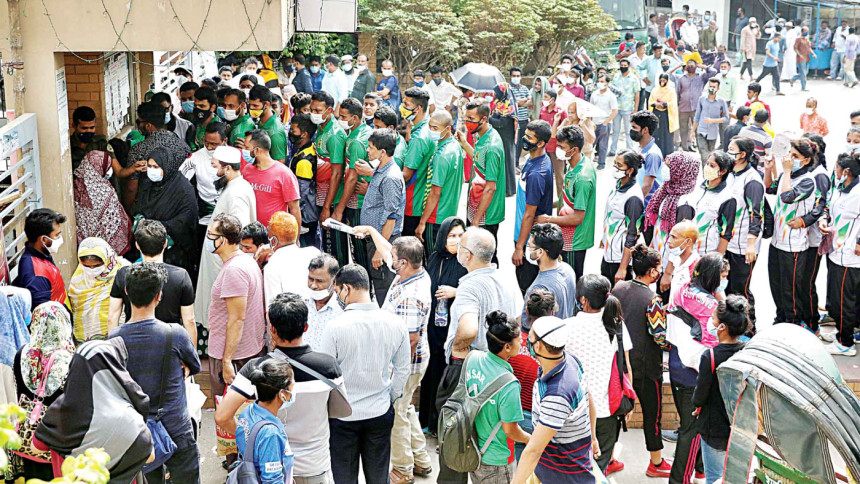 The fact that the rate of new Covid-19 cases has increased by 85 percent and the deaths by 42.5 percent in the last week highlight that this deadly infectious disease is on a fast moving upward trajectory again. A report published by The Daily Star on March 28, 2021 shows that a total of 39 people have died in a single day from Covid-19, which is the highest rate of casualties in the last three and a half months. Among the number of Covid-19 samples that were tested on March 27, 2021, 14.9 percent came out to be positive, which is also higher than the previous day's result.
According to data from the Directorate General of Health Services (DGHS), a total of 201 people have died in the last week while the number was 141 in the week before. Within the same timeframe, the new number of confirmed cases were 23,100, which is almost double that of the previous week. More shocking is that there are only 574 ICU beds scattered all over the country, among which, 291 are situated in Dhaka city. And among the ICUs' of Dhaka city, only 50 are vacant at present.
The aforementioned report mentions two health experts suggesting the same solution to the problem in discussion, which is maintenance of health safety guidelines. Also, just four days ago, another report published by the same daily mentioned a Bangladeshi-born British scientist claiming that the Oxford-Astrazeneca coronavirus vaccine name "Covishield" is completely safe, as it does not create blood clots in the human body after being injected. Thus a higher rate of vaccination is essential for infection rates to subside.
The government has to take up strict measures to make sure that people are abiding by the health safety guidelines at public places at all times and also, carry out awareness-raising campaigns so that people feel obliged to do the same once they return to their homes from outside. Also, the government has to invest highly in setting up new ICU facilities both in the capital and the outlying areas for emergency purposes. Most importantly, the concerned authorities have to ramp up their vaccination campaign, as in a country of over 160 million people, only 5 million have received the vaccine shots so far. The registration process must be more accessible and provisions must be made for those who do not have NIDs. The respective government agencies have to carry out the necessary activities to eradicate fear from the peoples' minds about the negative side-effects of the vaccine and persuade them to come forward to protect themselves by taking it.