Editorial
PM's appeal for free vaccines for all
Global leaders, donors must do more to ensure poorer nations have equitable access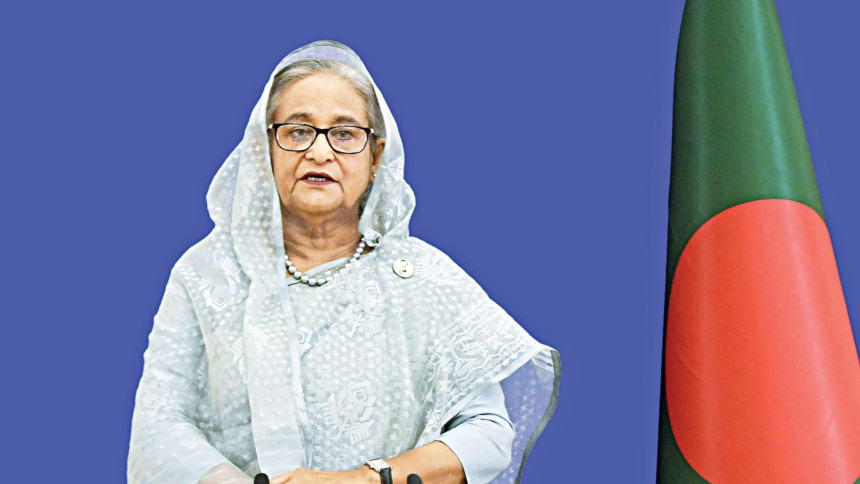 Prime Minister Sheikh Hasina has called for future Covid-19 vaccines to be made available free of cost to all countries, joining a growing chorus of voices urging global leaders and donors to ensure poorer nations have free, equitable access to any vaccine. "They (vaccines) must be made available for all countries, especially the LDCs and developing ones, free of cost. The rich countries, multilateral development banks and international financial institutions should come forward with generous support in this regard," she said while inaugurating the virtual 14th ASEM Finance Ministers' Meeting, of which Bangladesh was the host. It is only fair that poor countries, which have been disproportionately affected by the pandemic, have free vaccines as they may not be able to buy them on their own, without substantive measures to subsidise vaccine production, or beat off competition from richer countries. Since this is a global problem, as the PM has also stressed, any monopoly or "vaccine nationalism" means the virus remains in circulation, eventually prolonging the crisis for rich and poor countries alike.
Much has been said about the need for cheap or free vaccines for the worst-hit countries and communities. There have been several important initiatives and global agreements, like the WHO-led COVAX or the one by the World Bank which, in late September, announced plans for a USD-12-billion programme to allow poor countries to purchase Covid-19 vaccines to treat up to 2 billion people. But we need to be practical about what can be realistically achieved, and how soon. An effective vaccine remains elusive to this day. While interventions by global leaders to ensure low-income countries are not frozen out by wealthy nations are critical, poorer countries, including Bangladesh, should also have their own contingency plans. This includes making deals with respective vaccine-producing countries and pharmaceutical companies that could give them an edge over other countries. Also, let's face it: waiting for free vaccines without having backup plans for purchase and access may not get us far in the intense competition that is likely to ensue once a vaccine is finally available.
   For Bangladesh, while it calls for free and equitable access to vaccines—and justifiably so—it has failed to make testing free or widely available for its own citizens. The country's performance in detecting, testing, isolating and treating Covid-19 cases has been abysmal, to say the least. These failures extending over the last eight months have thrown the government's commitment in this regard into sharp relief. The government must do more to indicate its readiness and capability by showing visible progress in its existing Covid-19 response measures as well as in its preparations for getting and distributing a future vaccine. At the same time, global leaders and donors as well as financial institutions must do more to ensure poorer nations have equitable access to the vaccine.