Editorial
Collapse of banks' corporate governance
Sharp increase in NPLs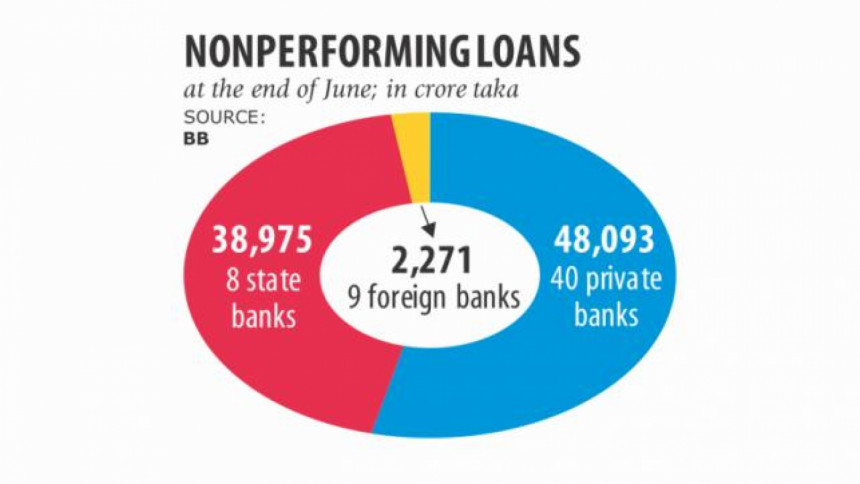 Nonperforming loans (NPLs) jumped by Tk 15,037 crore in the last six months alone bringing the total amount to Tk 89,340 crore in June of this year. This shows just how little control Bangladesh Bank (BB) actually exercises over state-owned banks and their management. The fear of banking experts is that this trend will grow further in the coming quarters because loan defaulters have been allowed to repeatedly reschedule their loans.
What we are witnessing today is a culture of giving out loans in breach of rules and regulations to parties that do not meet minimum standards that every bank should be following to ascertain their credit worthiness. The experience of the last one decade has taught us that established banking practices have been ignored wilfully by the management and the boards have gotten increasingly involved to give out loans worth thousands of crores of taka to dubious parties.
As per Bangladesh Bank data, the six state-owned banks' NPL amount stood at Tk 42,850 crore, which is nearly 50 percent of all NPLs, and this amount has increased by 14.8 percent in the last six months. Because the government has failed to bring to account those responsible for the several large-scale scams that have rocked the foundations of the banking sector, it has only encouraged others to default too. That the central bank remains powerless to remove a director of a state bank (many of whom are politically appointed) has basically negated BB's regulatory role. Unless the central bank is given sweeping powers to take to task corrupt officials in state-owned banks, we cannot expect any qualitative change in banking practices that allow for such loan defaults.