Editorial
Chemical warehouses still in Old Dhaka residential buildings
Meanwhile tragedies continue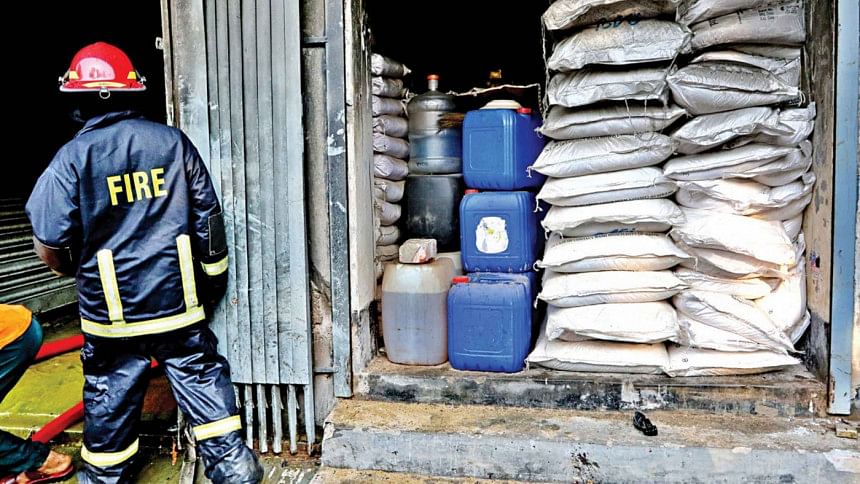 The fire at a building with a chemical warehouse in Armanitola that left four people dead and 25 others injured was a tragedy waiting to happen. This is because the government projects to relocate chemical, plastic, printing and electronics from Old Dhaka initiated in 2010 are far from being completed. They were initiated after the horrific Nimtoli fire caused by chemicals stored in a residential building that exploded and took 126 lives. So 11 years and another fire in Chawkbazar with another 80 people dead later, we are back to square one with another tragedy to haunt us.
Chemical traders say they are still waiting to be relocated to the Chemical Polli in Munshiganj as was agreed in an MoU with the government. Why are they still waiting we ask. We cannot understand why a project drafted in 2011 and scheduled to be completed in 2022 is still in its rudimentary stage with not even the work for raising the land at the site having started. This is according to an official of the implementing and evaluation body of such projects who could not get any satisfactory answer for the delay, according to a report. In fact, the official was baffled as to why project officials had rented an office in a shopping mall for Tk 78,000 per month without any of the work being done. Saying only 30 percent of the work has been done after about a decade is ludicrous. Projects to relocate other factories such as those producing plastic are also going at snail's pace. Even the temporary project to relocate 55 chemical warehouses in Tongi has faced delay due to the slow progress of constructing the seven one-storied structures to accommodate them.
   This continuous trend of government projects being run at a lackadaisical pace due mainly to bureaucratic tangles, inability to acquire land and frankly a total apathy towards getting things done on time and within the original budget, has had devastating consequences. In this case we are talking about people living in the most risky circumstances with the threat of fire and death looming over them all the time. It is appalling that there is so little value for human life that such risks have been taken. It is time now for the government to take responsibility and make sure all bottlenecks delaying the implementation of the projects are removed. It is already too late for many. Let it not be so for others.