Editorial
Bangladesh should look for new job markets
Check irregularities in the recruitment process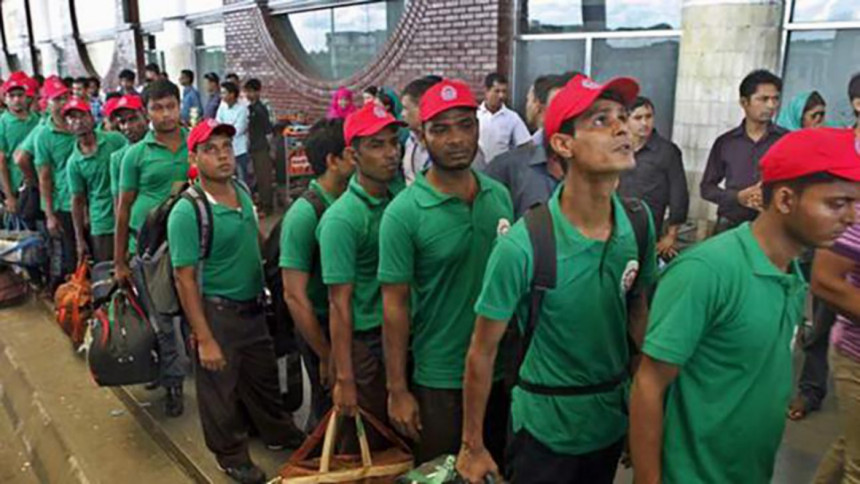 As the demand for foreign workers in the Gulf countries has been in decline due to various reasons, such as malpractices in the recruitment process, it is crucial for Bangladesh to look for new labour markets. Over the last few years, thousands of our workers have returned from the Gulf countries, including Saudi Arabia and United Arab Emirates, and from Malaysia. Malaysia, the third largest job market for Bangladesh, suspended recruiting Bangladeshis since September last year, and the UAE, the second largest job market for Bangladesh after Saudi Arabia, had imposed a ban on recruiting Bangladeshi workers since 2012. Besides, the number of workers who have gone to Lebanon, Jordan and Oman this year has decreased significantly. Apparently, corruption and malpractices of the recruitment agencies are the main reasons for the shrinking job markets.   
It is good to note that the Expatriates' Welfare and Overseas Employment Minister has pointed out the problems that have been affecting our labour markets abroad and sought coordination among all concerned to handle the issue. The issue of safety of female migrant workers in Saudi Arabia was also addressed by the minister. However, only discussing the problem will not help; action is urgently needed.
According to Brac, between 2016 and June this year, dead bodies of 311 women workers were sent to Bangladesh from the Gulf countries, mostly from Saudi Arabia. And 119 dead bodies of women workers have arrived home this year alone. Others have come back with horrific tales of torture at the hands of their employers. The government must immediately come to a decision regarding sending our female workers to the Gulf country immediately. Moreover, it needs to take action against the unruly recruiting agencies who have been luring women from remote corners of the country to go to Saudi Arabia with the promise of a good job.
Around one crore Bangladeshis working abroad had sent home around USD 15 billion in 2018. If the malpractices in recruitment can be checked and the migrant rights are ensured, the remittance would be much higher. We hope the government would consider all these issues and also explore new markets for our workers.