More suffering for hajj pilgrims
Mismanagement of operators to blame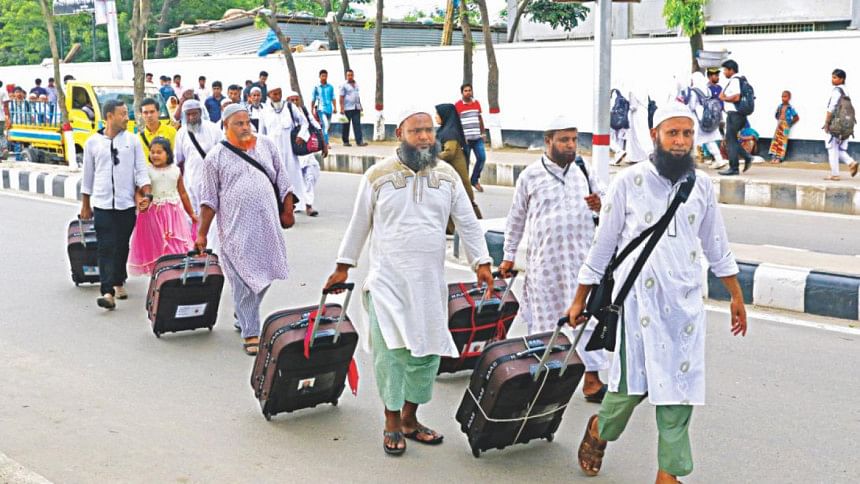 It is very inopportune that pilgrims, who perform hajj with so much hope, not to say spending so much money, have to suffer at every step during the journey due to mismanagement and irresponsibility. After the fiasco of changed flight schedules, and inadequacy of flights to take outbound passengers for hajj, now on the return journey, we hear of pilgrims who had to suffer due to flight delays. 
Biman officials and hajis have said that due to mismanagement of both the government and private hajj operators, the pilgrims were victims of long delays. One official even conceded that officials and guides are uncaring towards the pilgrims. On the first day of the return, the four return flights were delayed by 11 hours to 24 hours. From operators who manage these flights every year it is unacceptable that flights scheduled for 8:40pm should land at 3:00am. 
The problems, from what the officials and hajis tell us, are structural. Failing to get the pilgrims to the airport on time, getting them proper accommodation and food, inadequacy of flights all point towards negligence. Surely, the number of hajis is known by the operators from beforehand, and if handled carefully, there should be no reason for these untoward sufferings.
Many choose Biman and the government operators in hope for a better service. But, with the private operators, the government operators have been accused of irresponsibility and non-cooperation too. We hope that proper planning is ensured beforehand, so that we do not have to hear the same old problems when it comes to hajj next year. It is the duty of the operators to ensure that the process is smooth, not to add more suffering to the travails of pilgrims.