Dhaleshwari going the Buriganga way?
CETP in Savar tanneries still not complete!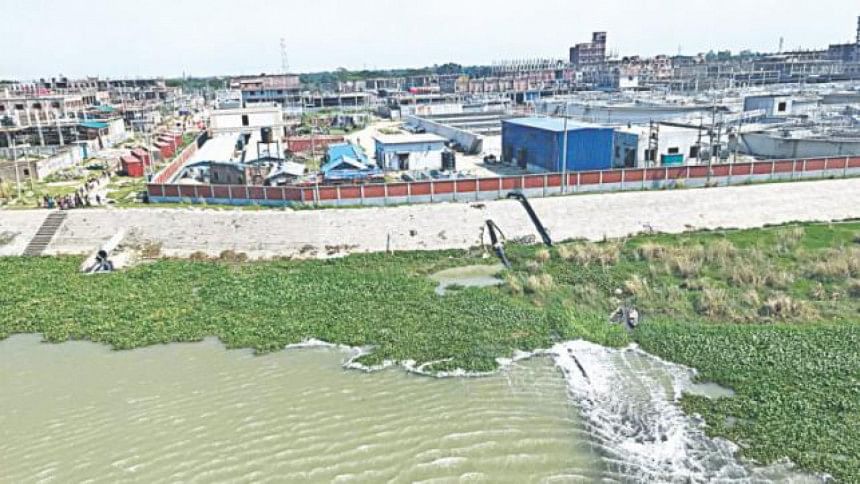 A picture in the backpage of this paper's Friday issue says it all. Untreated waste from a tannery in Savar's tannery estate, being dumped into the Dhaleshwari. This is because the much-promised central effluent treatment plant (ETP) that would treat waste materials has not been completed. A report in this daily states that although the construction of the ETP is almost done, work on the solid waste-dumping yard has not even started as per the plan. Yet tanneries have relocated from Hazaribagh and are operating in full swing, disposing toxic waste into the Dhaleshwari, threatening its ecological balance. 
This disturbingly resembles the way our Buriganga River has been rendered practically dead thanks to the indiscriminate dumping of toxic waste from the tanneries of Hazaribagh. Now it seems to be Dhaleshwari's turn. Despite court directives to build the central effluent plant in Savar, there has been unexplained dilly-dallying regarding its construction. Now that the main ETP is almost complete, we are mystified as to why the other crucial components that would make the waste treatment system operational, have not been finished. How much longer will this take? Until Dhaleshwari reaches a point of no return?
Even a simple instruction from the court asking the BSCIC authorities to run the ETP 24 hours a day and submit an hourly chart for the court to see whether it would function properly round the clock, has not been followed. 
We hope that the High Court's directive to complete all relevant structures including the central ETP within four weeks will be honoured and not ignored as in the past. The authorities must also ensure that all factories have salt removal devices as instructed by the court. Dhaleshwari must not be dumped with Buriganga's fate.