Another attack on Hindus
Dangerous escalation of bigotry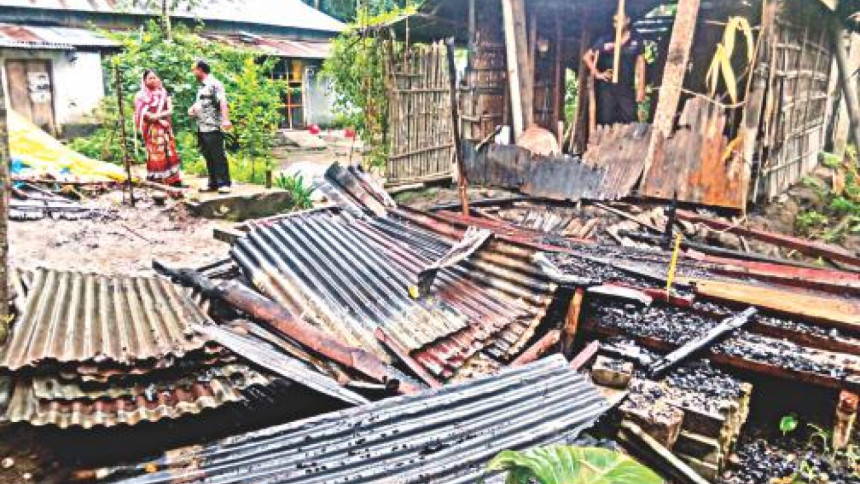 Only five days after the coordinated attack on Hindus in Brahmanbaria's Nasirnagar, five Hindu homes were again set on fire to the horror of the already frightened minority community. We strongly condemn what could possibly be another Ramu like incident that happened a few years ago, where a series of attacks on Buddhist monasteries took place following a planted Facebook post.
This time around, it was a post, allegedly by a member of the Hindu community, that sparked off the violence. The accused, a poor fisherman, however, said that he had nothing to do with the post indicating the possibility of sabotage. Such suspicions are strengthened further by the fact that the attacks seemed well organised and that the police, shockingly, did not come to the aid of the Hindus quick enough the first time and also, despite being present at Nasirnagar the second time, failed again to stop the violence.
Meanwhile, according to witness accounts, the attackers included affiliates of both the Awami League and the Bangladesh Nationalist Party. To rub salt into the wound, the Fisheries Minister, also a local Awami League MP, claimed that Sunday's attack was "not that serious" and that "only one or two incidents of looting took place". This attempt to downplay the violence against a minority community is totally unacceptable, as is the violence itself.
The entire episode, in fact, seems to have been purposefully perpetrated to disrupt communal harmony and attack Hindus. The authorities immediately need to prevent any further acts of aggression and ensure that the perpetrators and masterminds are severely punished. Political intervention in the dispensation of justice must also be avoided.