Why don't Bangladeshi books reach international award shelves?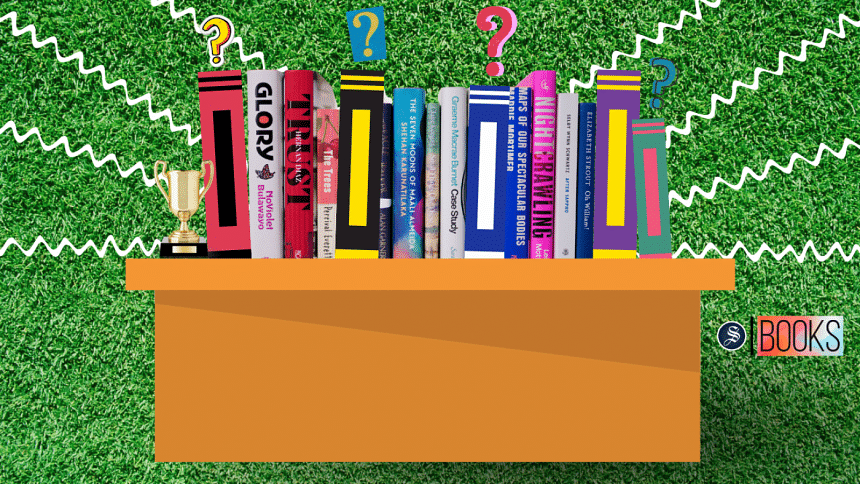 I was elated when Shehan Karunatilaka won the 2022 Booker Prize on October 18 for The Seven Moons of Maali Almeida (2020). It's been a momentous year for South Asian writing. The novel lays bare the complex politics, and tragedy of Sri Lankan turmoil. Additionally, Geetanjali Shree's Tomb of Sand served as the first Hindi language novel to bag the International Booker Prize, translated to English by Daisy Rockwell. The prizes felt like a long overdue recognition of the vibrant literature that the South Asian community has produced for decades. 
"But when can we see our household names winning these prizes?" I wondered. 
The Booker Prize, one of the most prestigious literary prizes, is awarded each year to the best novel written in English and published in the United Kingdom or Ireland. The long-listed books enjoy an immense power in increased international publicity and book sales—bringing focus on the author, the publisher, and the community being written about.  
When asked about the reasons for Bangladeshi titles not reaching these award longlists, Sudeep Chakravarti, a South Asian writer of both narrative nonfiction and fiction and visiting professor of South Asian Studies at University of Liberal Arts Bangladesh (ULAB), explained the technicalities behind these awards.
"Monica Ali's Brick Lane was shortlisted for the Booker Prize in 2003. Since then, Bangladeshi writers haven't made the cut. For both the Booker and International Booker, the books must be published in the UK and Ireland to qualify; it doesn't matter if it's with a big publisher or a tiny one. That immediately takes away a vast number of excellent writers.
"One could call it literary racism", he added, "considering the world of writing in English or translation into English has such a rich life beyond those cramped and overrated islands".
This puts us at a disadvantage when big publishers like Simon & Schuster, Penguin Random House, HarperCollins, or Hachette Book Group don't operate out of the country despite having a huge reader base. Their presence here or their buying rights to books published here would help distribute Bangladeshi books in other territories like the UK and Ireland to reach a larger audience, potentially making them eligible for international awards. However, the downside would be that local publishers would suffer a further loss due to the added competition.
Kaiser Haq, poet, critic, and Professor of English at ULAB, says, "I think the main reason for the lack of wider recognition of Bangladeshi books on the international prize circuit is that we do not produce a steady stream of titles. The chances of high quality books appearing would be greater if books were appearing in greater numbers".
He adds, "Given the relatively small size of our literary output in English, it is surely heartening that our writers have won a few prestigious awards or have been shortlisted. Adib Khan and Tahmima Anam won the Commonwealth Writers Prize; Monica Ali was shortlisted for the Booker; and Zia Haider Rahman won the highly prestigious James Tait Black Prize. [But] a serious lack in our anglophone literary sphere is in the size of the readership within the country; one could also mention the absence of stringent criticism". 
The number of works produced in Bangla is far higher than the titles published in English, especially when the Ekushey Boi Mela, the largest book event of the year, promotes mostly Bangla books. A serious lack of outlet demotivates the publishing of anglophone literature in our literary scene. But the situation isn't completely bleak. 
Publishers like The University Press Limited, Daily Star Books, Bengal Lights Books, ULAB Press, Bengal Books, Nymphea Publications, and writers ink have been publishing promising works of literature. The response to the Dhaka Lit Fest in recent years has shown that readers are interested in the anglophone literary scene. We just haven't been able to retain that market locally and grow it steadily. 
In recent years, Shabnam Nadiya has translated the works of Shaheen Akhtar (Beloved Rongomala), Mashiul Alam ("Milk", "The Meat Market") and Leesa Gazi (Hellfire) among others, effectively introducing these authors' works to the international community. Mashiul Alam's "Milk" won the 2019 Himal Southasian Prize, and the author is currently completing his stay as a writer-in-residence at the prestigious Iowa International Writing Program 2022. 
India's recent growth in translated works has also proven valuable, with Arunava Sinha translating Akhteruzzaman Elias's 1996 novel, Khwabnama, for Penguin India, and V Ramaswamy and Shahroza Nahrin translating the works of Shahidul Zahir (2022) for HarperCollins India. The latter have also published The Taxi Wallah and Other Short Stories (2021), a collection by Babu Bangladesh author, Numair Atif Chowdhury. In 2019, Nadeem Zaman was long-listed for the coveted DSC prize for South Asian Literature for In The Time of Others (2018). 
While many of these authors live abroad—some, like Monica Ali or Tahmima Anam, identifying as British-Bangladeshi authors—locally based authors including Saad Z Hossain, Shazia Omar, K. Anis Ahmed, Neamat Imam, and Farah Ghuznavi have presented their works of Bangladeshi literature to a broader set of English reading audiences. Critic, translator, and academic, Professor Niaz Zaman, has translated and anthologised several notable English collections of Bangladeshi short stories, with Sohana Manzoor, Assistant Professor of English at ULAB and Literary Editor at The Daily Star, bringing out the anthology, Our Many Longings  (Dhauli Books, 2021). 
"Bangladeshi writing in English is evolving rapidly but the potential is far from achieved. There are several reasons", Sudeep Chakravarti explains. 
"Bangladesh is largely Bangla-centric. That kept it away from growing with the advantage, say, provided by English being a link language as in India. In India, there has also been amazing growth in translations, both in quantity and quality, from Bangla and several other Indian languages". 
"Tomb of Sand (2018), which recently won the International Booker, was translated from Hindi into English. Translations into English routinely win top literary awards in India. There are excellent translations of Bangladeshi short stories and novels originally written in Bangla, but the numbers aren't yet what they could be", he says. 
Unless we retain a local market for these growing numbers of English readers in the new generation, we cannot supply a steady stream of quality literature and steadily grow an international reader base—ultimately carving our place and creating a demand in the international market. 
Usraat Fahmidah is a freelance journalist and writer. You can reach her on twitter @usraatfahmidah.