Mashiul Alam joins prestigious Iowa International Writing Program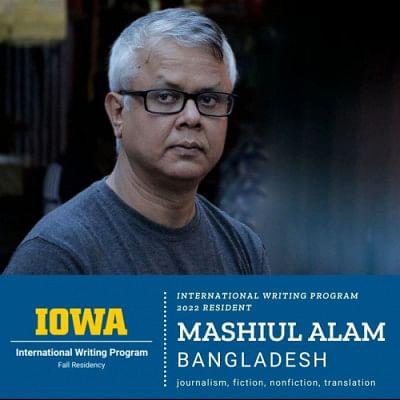 Journalist and author Mashiul Alam has been selected as a resident of the 2022 Iowa International Writing Program (IWP), among the world's most prestigious creative writing residencies. One of the most selective and eminent centres of creative writing in the world, the University of Iowa has hosted over 1500 writers from more than 150 countries since 1967.
Based in Dhaka and currently working as Senior Assistant Editor at Prothom Alo, Alam has written 12 novels and novellas and over 30 books of fiction and nonfiction. His short story, "Milk", translated to English by Shabnam Nadiya—an alumnus of the prestigious Iowa Writers' Workshop herself—won the Himal South Asian Short Story Competition 2019. "Dark comedy about contemporary Bangladesh" is often a central focus of Alam's fiction. 
"The IWP at the University of Iowa is excited to have in residence such a fine representative of the great tradition of Bangladeshi letters", Hugh Ferrer, Associate Director of the program, told The Daily Star. "Mashiul Alam is a well-established journalist and an award-winning fiction writer whose stories have long had an audience at home and are increasingly finding audiences abroad."
The IWP offers emerging and distinguished writers and translators the opportunity to produce literary work in the congenial setting of the university and the city of Iowa, the first UNESCO City of Literature. 
Residents offer lectures, readings, interviews, and talks, travel to other parts of the United States, and engage in literary activity alongside American writers in an effort to contribute to the network of world literature. The program is open to poets, fiction writers, dramatists, and nonfiction writers—who have ideally published at least one book—and is supported by the US Department of State. 
Alam is the only author from Bangladesh participating this year, alongside writers from Venezuela, Australia, Pakistan, Ethiopia, Barbados, Guinea-Bissau, New Zealand, Kazakhstan, Nicaragua, Mexico, and a host of other countries. Eight Bangladeshi authors have participated in the program in previous years, including Humayun Ahmed in 1990, Shihab Sarkar in 1991, and Anisul Hoque in 2010, among others. 
The fall residency will take place from August to October 2022.