'We want to be writers when we grow up': New sci-fi novella by sisters, fourth-graders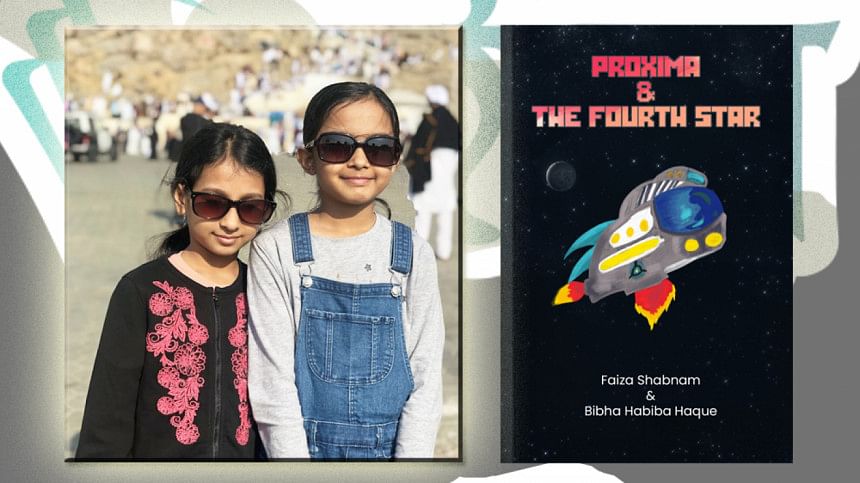 Cousins Faiza Shabnam and Bibha Habiba Haque, students of Class 4 in Dhaka's Scholastica school, have written a novella about three space travelling teenagers. 
The story of Proxima and the Fourth Star (Boighor, 2022) dates forward to the year 3058. A woman named Chang A has three children, Fei Fei, Mulan and Lia, whom she has sent into space in a spaceship called Proxima. The children have travelled this far in search of a better life in the Centaurus Proxima. What happens next?
"My cousin Bibha and I first read a book called Centaurus Eye in class, which we enjoyed very much. That book inspired us to write our story", co-author Faiza Shabnam said. "We had a lot of fun starting and finishing this book. We focused on the topics that we are most curious about!" 
"We want to be authors when we grow up and we hope this is our first step towards that journey", Bibha Habiba Haque said, sharing that it took the sisters three months to complete the story. "It was a wonderful time—we would sit down every evening to write."
Priced at BDT 20, Proxima and the Fourth Star is exclusively available as an ebook on the Boighor app. Various other words of classic and contemporary literature are available on Boighor. 
"Because of the digital platform, anyone across Bangladesh and abroad can read our story", Bibha said.