ULAB's 6th literary salon discusses the local publishing scene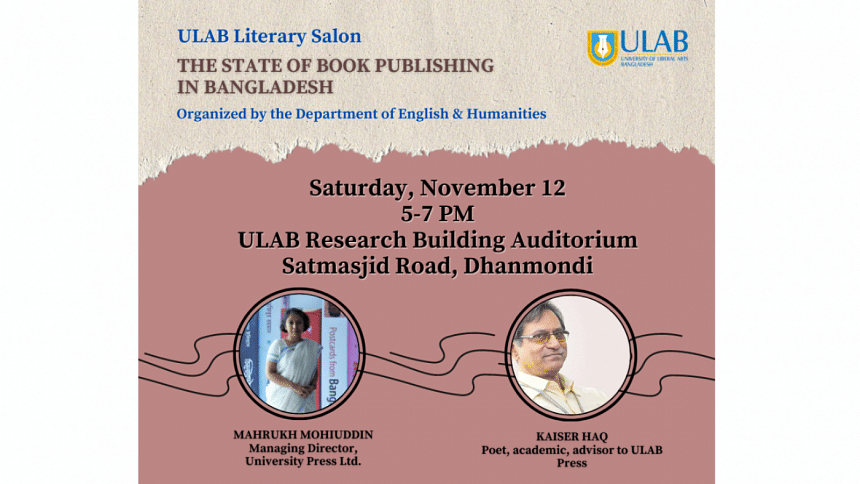 The 6th ULAB Literary Salon is being held today, November 12, to showcase a discussion on the current state and future trajectory of book publishing in both Bangla and English in Bangladesh. This subject addresses the very bedrock of literary, academic, and commercial publishing.
There is an urgent need to address the gaps in the publishing trade and seek support in this crucial industry that underpins the very aspect of education, awareness, and literary growth, and contributes handsomely to the social development of Bangladesh.
To discuss these issues, the 6th ULAB Lit Salon is bringing together experts to discuss everything from urgent policy reorientation to practical necessities required to revive Bangladesh's underpowered publishing business.
Mahrukh Mohiuddin, the Managing Director of The University Press Limited (UPL) and Bangladesh's publisher, and Professor Kaiser Haq, poet, academic, and advisor to ULAB Press, will discuss these matters with author and editor Sudeep Chakravarti.
The Lit Salon is an initiative of the Department of English and Humanities at University of Liberal Arts Bangladesh (ULAB). The Lit Salon is a first of its kind literary platform in Dhaka to bring together writers, readers, publishers, and thought leaders from Bangladesh and elsewhere in South Asia in an informal, engaging setting.
Once a month, each month, the ULAB Lit Salon offers Dhaka's literary minded a Saturday evening of book launches of leading authors, book readings, discussions, book signing, and sale of books at a discount by The Bookworm and ULAB Press—ULAB Lit Salon's partners.
Past Lit Salons have covered a wide range of genres and themes from poetry, short stories, and novels to the Partition and freedom of expression. It has hosted as speakers several prominent names, including Khushi Kabir, coordinator of Nijera Kori, Trustee of the Centre for Policy Dialogue and among Bangladesh's best-known advocates for human rights; noted academic, editor, and writer Professor Niaz Zaman; noted anthropologist and author Professor Sayeed Ferdous; Zafar Sobhan, Editor of Dhaka Tribune; Himanjali Sankar, Editorial Director of Simon and Schuster in India/South Asia; Prof. Rituparna Roy, founder-trustee of Kolkata Partition Museum, and Aanchal Malhotra, among South Asia's best known young writers on Partition.
The Lit Salon also hosted the Bangladesh launch of Cyber Mage, the globally acclaimed novel by Saad Z Hossain, which was published here by ULAB Press.
The event is being hosted today, November 12, between 5 and 7 pm at The Auditorium, 6th Floor of ULAB Research Building, House 56, Road 4/A Dhanmondi. It is open for all.