Surviving in a stagnant industry: What are emerging publishers doing differently?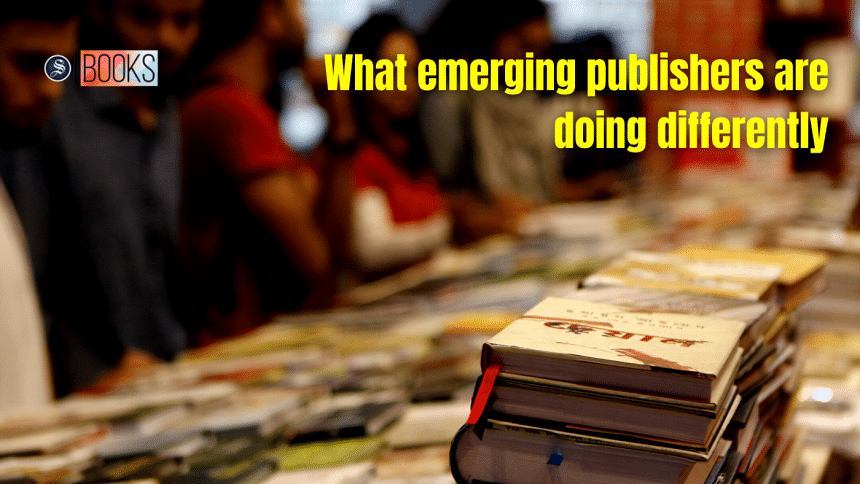 With the recent emergence of Artificial Intelligence-run writing platforms, there comes the growing fear of work in the publishing industry becoming obsolete–an industry already becoming increasingly stagnated in Bangladesh. Preexisting publishers are struggling to sustain in the market since the Covid-19 and the recent rise in paper prices. How are smaller and emerging publishers faring? 
Rumman Tarshfiq, publisher of Pendulum Books, shares that from 2020 to 2021, when the demand for books dropped drastically, producing 50 books still yielded the same costs as producing 300, considering the price of papers, plates, and other materials.
"Each print has a separate cost", she explained. "The price of paper has increased threefold compared to even a few years ago, so the paper which I was buying at BDT 1,600, was now costing me BDT 3,700." It was hard to ensure how many books would sell to help them break even. 
"We decided to buy a POD machine." Tarshfiq explains that adapting to the print-on-demand system secured for her the leeway to produce smaller quantities of a book in a catered way, depending on market demand. 
"By doing some research, I saw which books were doing better in the market and could easily send those specific ones to print. I did not need to stick to the fixed [volume of] 300 to 500 books. It allowed me to minimise cost, which ultimately helped me survive in the industry."
Modhupok, in that vein, comes with a different approach and goal. Editor and Publisher AKM Atikuzzaman shares that their vision is to become a 360-degree solution—providing editing, translating and writing assistance to other publishers and individuals. Their repertoire of publications is not vast, having produced only nine books until last year. Two fresh titles by Professor Salimullah Khan and a collection of writings by globetrotter Ramnath Biswas will be released in Boi Mela this year. How are they managing to cope alongside bigger publishing houses?
Atikuzzaman stated that the practice of editing has not yet developed in our publishing industry; most publishers do not have their own editorial teams. "As a result, the quality of a significant portion of books produced in the country—in terms of proofreading, fact checking, and other seemingly small but crucial details that make a book fool-proof and communicable to a reader—go unnoticed and fail to meet international standards."
He also spoke about providing writing assistance for individuals such as cricketers, film stars, etc., who have important contributions to our society and culture but do not necessarily have writing expertise. "This is a practice that has recently become quite popular in India", the editor added. Notably, this also bridges two big gaps in the publishing industry: one, by elevating the quality of publication and two, creating jobs for aspiring writers, designers and editors.
Rabi Ahmed, publisher of Puthi Puran, which is a subsidiary of Montage publishing house, produces books focusing on films. "This time we have done a different kind of book where film students, currently studying in different universities of Bangladesh, have written articles", he shares. Puthi Puran has also published Feluda Pastiche (2022) ahead of the Boi Mela, which collates under one book two separate Feluda stories, each progressing simultaneously from the front and back ends of the book. Ahmed said, "We campaigned our books [on film] in various university campuses. We also use Facebook boosting [for other publications]."
While online promotions are a usual practice across industries, it is often one of the few avenues in our country that publishers can employ due to a severe lack of other options. On top of that, the advent of Artificial Intelligence in writing and designing has induced fears of machines taking over for human labour.
"[But] we can look at it from the avenue of possibilities", Modhupok's publisher says. 
Atikuzzaman explains, "We need to think about how one medium can help another medium and make the exchange between humans and machines a symbiotic one." 
For example, we might be selling 300 print books now instead of 500 because of audiobooks. "However, if we sell 500 ebooks on top of the 300 printed books and another 300 in audiobooks, we are ultimately selling 1,100 books, which is benefiting us", he explains. "Should we, in that case, keep holding onto the idea of merely selling prints, or should we utilise these alternative means to deliver books to our readers?"
Echoing this sentiment, Rabi Ahmed of Puthi Puran said, "Rohossho Romancho (2022) is a thriller and horror story collection where we have used AI generated illustrations, but commands were still given by humans and the writing itself was done by writers. AI can never maintain the originality of an artist."
Maisha Syeda is a writer, painter, and the sub-editor of Daily Star Books.