'Sisters in the mirror': Elora Shehabuddin's response to the West's idea of feminism
The book is especially relevant in the context of Bangalee women's life because usually while talking about Islam and women, the West fails to take the South Asian Bangalee women into account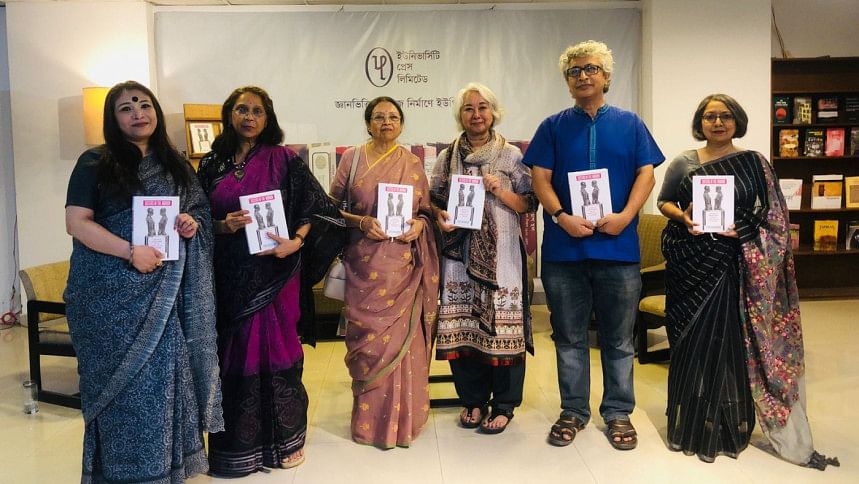 On July 21, The University Press Limited organised an inauguration ceremony for Professor Elora Shehabuddin's book, Sisters in the Mirror: A History of Muslim Women and the Global Politics of Feminism. The discussion was hosted at UPL's central office in the capital's Green Road area, and was live-streamed from their Facebook page. 
Elora Shehabuddin is a professor of Gender & Women's Studies and Global Studies at the University of California, Berkeley. Before moving to Berkeley, she was a Professor Emerita of Transnational Asian Studies at Rice University. Receiving her AB in Social Studies from Harvard University and her PhD in Politics from Princeton University, she has recently been awarded the prestigious 2023 Coomaraswamy Book Prize award by the Association for Asian Studies for this book.
In her opening remarks, the managing director of The University Press Limited, Mahrukh Mohiuddin, thanked Professor Shehabuddin for initiating the attempt to publish the book from Bangladesh, specifically for South Asian readers. Originally published by the University of California Press in 2021, books such as these are often not available at the local markets. This publication from UPL changes that, she mentioned. 
Professor Shehabuddin started her speech by describing where the inspiration for the book came from. She noticed how, after 9/11, a huge number of books were published where the West (broadly speaking) were pushing the narrative that they needed to "save the Muslim women" from the oppression Islam brings upon them. She addressed that like any other community, there are traces of oppression targeted towards women in the Muslim community. However, that does not mean Muslim women are not empowered or that they lack autonomy and authority over their own lives. In many bestselling accounts of such one-dimensional narratives, Muslim men, like fathers and brothers, are portrayed as oppressors.
Professor Shehabuddin attempts to reconstruct this idea by bringing out examples of prominent South Asian female scholars beginning from the early 19th century. The book is especially relevant in the context of Bangalee women's life because usually while talking about Islam and women, the West fails to take the South Asian Bangalee women into account. While focusing mainly on feminism, this book touches on other crucial topics such as global conflicts, Orientalism and colonialism. The book's cover art titled "Mirror" was done by Bangladeshi artist Tayeba Begum Lipi.
In the discussion session that followed Professor Shehabuddin's introductory remarks, Dr Rezwana Karim Snigdha, Associate Professor of Anthropology of Jahangirnagar University remarked that, "the West has this tendency to put Muslim women against them. Like an 'Us vs Them'. They like to think Muslim marriages are polygamous and oppressive. During the colonial period, British law gave women no right to inherit while Muslim women had the right to own land and divorce if they wished." She talked about the ways in which the British tried to "civilise" Muslims because they associated Muslim women with their own superficial understandings of harems and prostitution. She went in depth to explain how criminalising such actions was deeply political and was in fact, done for their own gain. She further praised this book for its historical reconstruction from "Munni Begum to Taslima Nasreen". 
Following that, Dr Sonia Nishat Amin, former professor at the Department of History at the University of Dhaka said the book is nothing short of monumental for the way it started with Ibn Battuta and ended with 21st century feminism. She added, "the West likes to think they invented feminism. This book is an important response to that argument. There is no white or black in this global history, rather, it is an entangled history. It's reciprocal."
She went on to talk about secularism in our country and said she did not think such a beautiful word should be so maligned. She offered how this book is a piece of history where Professor Shehabuddin seamlessly panned out as they do in a film, from Mary Wollstonecraft to Rokeya Sakhawat Hossain. Professor Amin concluded by saying, "Despite the fight between the West and the East, what is most important is we ensure no woman is a victim of atrocity for her gender."
Dr Mohammad Tanzimuddin Khan, Professor at the Department of International Relations at the University of Dhaka remarked, "I initially thought I was a misfit for this discussion as feminism was not my sector. So, I read this book as a reader, not as a scholar. Upon reading the book I now have a better understanding of feminist global politics. East Bengal often lags behind when it comes to writing about history. The author revolutionised this sector with this refined piece of historical document."
The discussion was followed by an engaging Q/A session. Dr Parveen Hasan, Vice-chancellor of Central Women's University, ended the discussion with a heartfelt note: "The author has taken us through the path of history. This book should inspire us all to not only think about our women, but about every woman in the world. There should be no 'us or them'. We are all united and should be one. We can hope to start many conversations from this book."
Sisters in the Mirror: A History of Muslim Women and the Global Politics of Feminism is now available for purchase at UPL.
Puja Chakraborty is a contributor.