Revisiting German and Bengali folklore in 'Myth Bridge'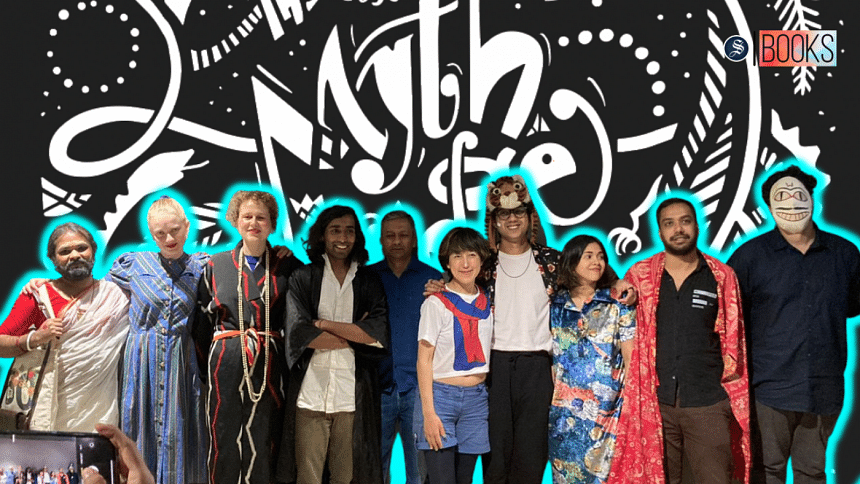 Myth Bridge, launched at the Dhaka Lit Fest this year by HerStory Publications, brings together nine German and Bengali folklore characters, including Bibi Ma, Rapunzel, Bon Bibi, Fix, Snow White, Chader Buri, Behula, and Frau Perchta, across space and time to create a cross-cultural myth. The story was written during a four-day Dungeons and Dragons campaign played at the Goethe-Institut, Dhaka, and this unique storytelling method established that the participants of the game took on the roles of the different characters of their traditions. 
In an attempt to present folklore with a modern twist, the characters have been placed in a parallel setting while co-existing in a form readers had never witnessed before. "We had a lot of fun creating this book. It is a result of unparalleled chaos and utmost dedication", shared Katerina Don, creative director and co-founder of HerStory Foundation.
Writers and illustrators of this project include science fiction writer Saad Z Hossain (Bibi Ma), illustrator Sayeef Mahmud (Bon Bibi), illustrator and co-founder of The Milkshake Collective Kazi Istela Imam (Chader Buri), trans-disciplinary artist, author and journalist Akramul Momen (Behula), mural artist, architect and storyteller Salzar Rahman (The Fox), graphic artist Lina Ehrentraut (Brunhilde), artist and illustrator Maki Shimizu (Rapunzel), visual artist Mia Sophie Oberländer (Frau Prechta), and artist Malwine Stauss (Snow White). The game sessions, held from May 12 to 15, were directed by the Game Master—writer, actor, filmmaker and game developer Wasi Noor Azam.
In this book, legends and folklore are passed down through the generations and are manifested as different worlds. Each world made in the Myth Bridge is its own story, and the more the stories are told, the more bridges it needs to create to link to the other worlds. Therefore, it presents an alternate reality where all these diverse stories come to life. Here, Rapunzel, Hercules, Bon Bibi, and King Solomon might be having a gala time over tea, or fighting their own battles.
The story is set in an universe where our favourite lore heroines have been framed for the destruction of the Castle of Ladyland, a utopian society inhabited by women. They are unable to return to their homeworlds since they are on the run and are all throughout the universe branded as criminals. In order to save themselves, their only support comes from one another. And, in order to get back home, they must defeat the persistent appearance of evil creatures from Germanic and Bangladeshi myths and tales.
The journey behind creating this book was just as interesting as the plot, and is a beautiful attempt towards preserving local lore characters in modern fairytales. "The female characters of this book have been redesigned for young readers, based on our modern behaviour. It was really fun seeing them come together in one room, and the result is some really cool retellings", shared Wasi, the Game Master.
"We have grown up hearing stories about these characters, and associate them with these fictional stories. This book presents our familiar favourites as new characters and we learn to see their world in a new light", Katerina explained. She also spoke about the cultural infusion opportunity of this book, and how it blends Bangladeshi and German lore into a perfect symphony. "This is also our chance of bringing these characters back to life, to see what parts of them are authentic and what are constructed", she concluded.
The readers' response they received at Dhaka Lit Fest was very promising and the creators look forward to hearing their feedback. They also plan to translate the book to Bangla, in order to make it more accessible for readers. 
Maisha Islam Monamee is a student of IBA, DU, and a freelance journalist who likes reading, scribbling, and blogging. Follow @monameereads on Instagram.