'Praner Prodip Jwaliye': Prime Minister's 75th birthday celebration at Bangla Academy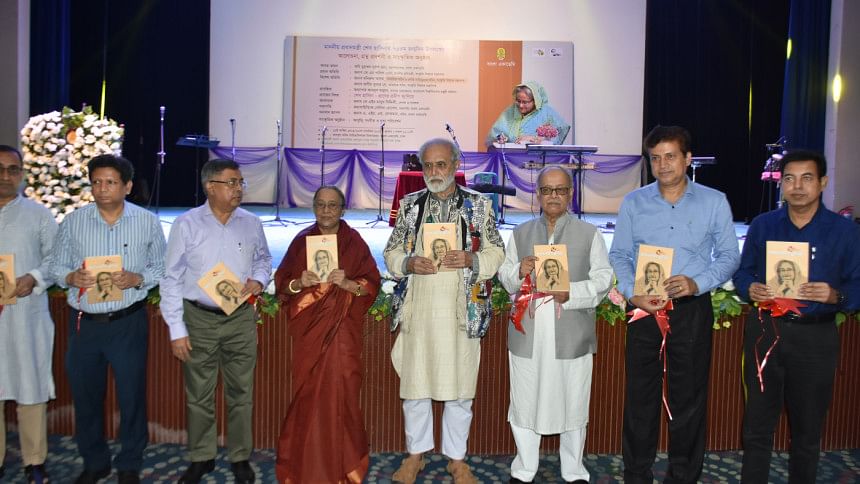 The morning of September 28 started with celebrating Prime Minister Sheikh Hasina's 75th birthday at Dr Muhammad Shahidullah Hall's Auditorium of Bangla Academy. The program was presided over by the author and President of Bangla Academy, Selina Hossain. The honourable chief guest and special guest of this event were, KM Khalid, State Minister for Cultural Affairs (who could not attend); Monirul Alam, Additional Secretary of the Ministry of Cultural Affairs; and the Deputy Secretary at Ministry of Cultural Affairs, Ashim Kumar Dey. 
The opening speech of the event was given by the Director General of Bangla Academy and poet, Mohammad Nurul Huda. He thanked all the guests for joining both in person and online. 
Divided into two parts, the first part was dedicated to launching the book titled, Praner Prodip Jwaliye (Bangla Academy, 2022). It is a collection of poetry and rhymes written for the Prime Minister's 75th birth anniversary and were composed by celebrated personalities like Anwara Syed Haq, Mahadeb Saha, Nirmalendu Goon, Mohammad Nurul Huda, and many more. The book was compiled and edited under the supervision of poet Mohammad Nurul Huda.
Additionally, an essay titled, 'Sheikh Hasina: Praner Prodip Jwaliye', that was written by the ex-Chairman of University Grants Commission of Bangladesh and essayist, Professor Abdul Mannan, was read out to the audience at the event. In it, he talks about some well known as well as lesser known information about the PM's life: after the infamous dark night of 1975, she spent six years in exile and returned to Bangladesh in 1981. In her words, as the author notes, she came back for her people, for her country, and to fulfil the dreams of Bangabandhu, the father of the nation.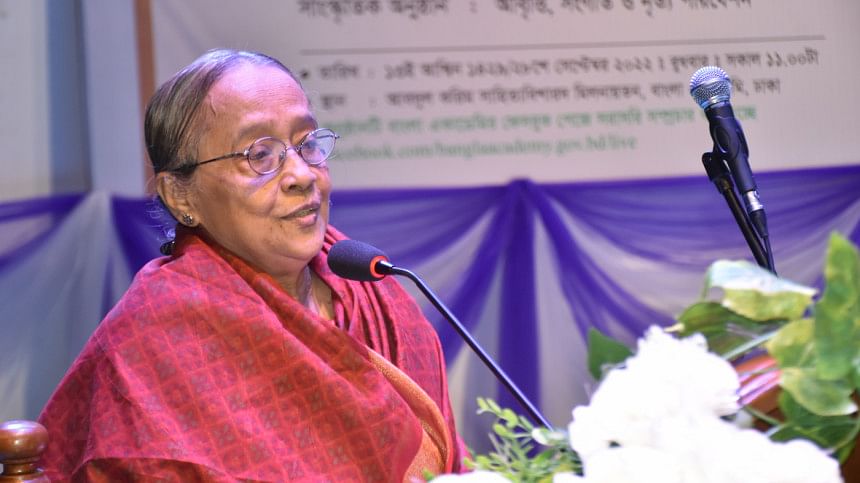 Discussions were held about the evolution of Sheikh Hasina as a leader: from a daughter, a sister, a housewife and a mother, to how she became the Prime Minister of Bangladesh.
The second part of the program saw the arrangements of a cultural event put together by Bangla Academy. Poems from the book  were recited by Ahkam Ullah; a group dance was performed by Anandita, Urmi and Shormi; and songs were sung by Dr Rezaur Rahman, Farhana Nipa, Manik Rahman, Biman Chandra, and Shanjeeb.
The program ended on the note of wishing Prime Minister Sheikh Hasina a long and healthy life by reciting a few lines from her favourite poem—which she often quotes—'Stopping by Woods on a Snowy Evening' by Robert Frost:
The woods are lovely, dark and deep,   
But I have promises to keep,   
And miles to go before I sleep,
And miles to go before I sleep.
Maliha Huq is a contributor to Daily Star Books.