Law not the same for two politicians from different parties?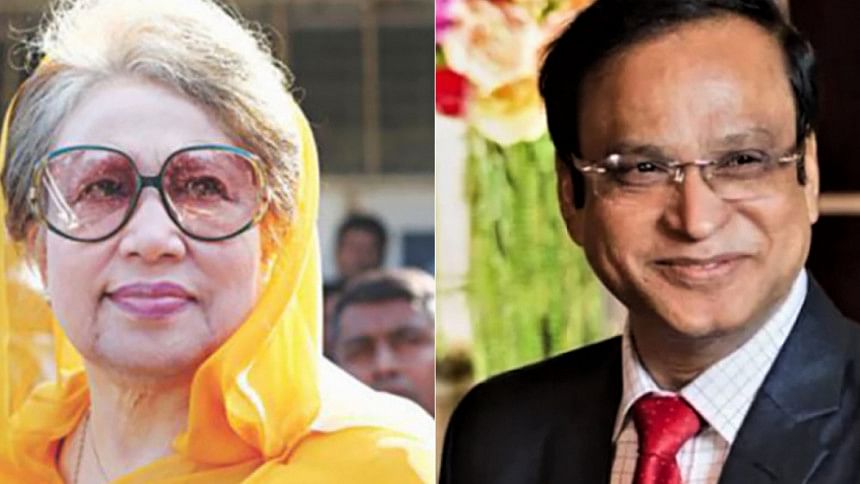 Awami League lawmaker Haji Mohammad Salim, who was convicted with a 10-year sentence in a corruption case, has left the country for Bangkok.
Salim, an advisory council member of Dhaka City (South) unit of Awami League, left Bangladesh on Saturday (April 30, 2022), reportedly for better treatment.
Public representatives can go abroad for treatment and there is no scope to raise questions about it.
But what if the public representative is a convict? A convicted person has no chance to go abroad.
In 2008, a Dhaka court convicted Haji Salim of corruption and sentenced him to 10 years in jail with a Tk 10 lakh fine in the case filed by the Anti-Corruption Commission.
The graft watchdog accused the lawmaker of accumulating wealth worth Tk 14.65 crore beyond known sources of his income.
On March 9 last year the High Court upheld a lower court's verdict that convicted and sentenced Haji Salim to 10 years in prison.
The HC in its verdict also ordered the AL leader to surrender before the trial court concerned in 30 days. It said if he fails to do so within the given time, the Dhaka court can issue an arrest warrant for him.
According to the constitution, Haji Salim should have lost his parliament membership following the HC verdict.
Article 66 of the constitution reads: "A person shall be disqualified for election as, or for being, a member of parliament who has been, on conviction for a criminal offence involving moral turpitude, sentenced to imprisonment for a term of not less than two years, unless a period of five years has elapsed since his release."
He is still an MP – his lawyer Ahmed Raza had previously told The Daily Star his client's parliamentary membership will stay as the issue will be settled by the apex court.
The story, however, was different for another politician from a different party.
Two-time prime minister of the country and BNP Chairperson Khaleda Zia was not allowed to go abroad for treatment.
She was handed a five-year rigorous jail term in the Zia Orphanage Trust corruption case on February 8, 2018.
She was sent to jail immediately after she was sentenced to five years' imprisonment. Later in the year, the HC raised the jail term to 10 years.
Khaleda Zia spent 776 days in jail.
Amid the coronavirus pandemic, the 76-year-old former prime minister, who is suffering from chronic kidney and liver diseases along with other complications, was released from jail temporarily on certain conditions on March 25, 2020.
The major condition was that she will stay at home in Dhaka and not leave the country.
Last year, BNP demanded that party Chairperson Khaleda Zia be released immediately and sent abroad for better treatment. The demand got louder when she was admitted at the capital's Evercare Hospital in critical condition. But the government didn't respond to the call.
The law ministry has refused to allow BNP Chairperson Khaleda Zia to go abroad for treatment.
Citing provision of CrPC, Law Minister Anisul Huq said, "Khaleda Zia's jail sentence has been suspended as per section 401 of the Code of Criminal Procedure (CrPC), on condition that she cannot go abroad. Now, there is no scope to relax this condition. Therefore, she cannot go abroad for treatment."
The law minister's legal clarification is not the same for two politicians of the country, raising a question: Is law taking its own course? Or, is law different for different political parties?
Haji Salim also got another scope. Salim was convicted 14 years ago, but he didn't have to go to jail while Khelda Zia was sent to jail immediately after announcement of the verdict.
Allowing one convicted person to leave the country while denying this privilege to another raised serious questions of equality regarding how law is applied in Bangladesh. How can the same law have two different applications just because one belongs to the ruling party and the other to the opposition?