Hasina's birthday today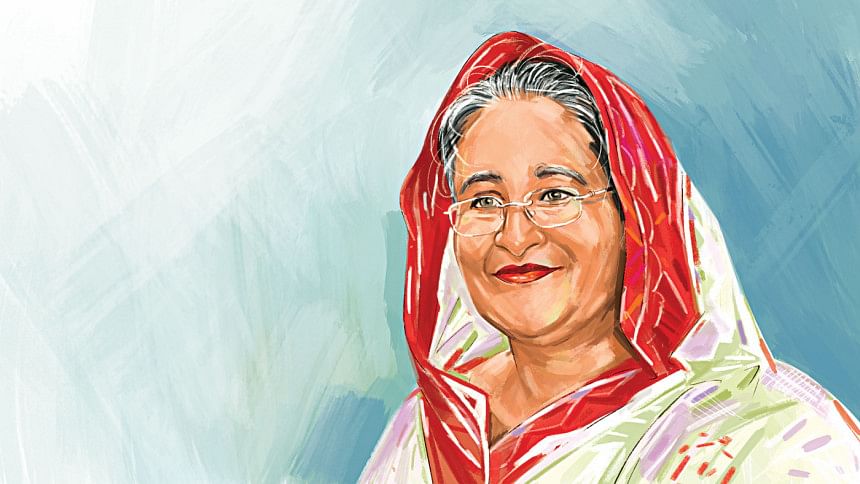 Sheikh Hasina, the longest-serving prime minister of the country and also the Awami League president, turns 77 today.
The eldest among the five children of Bangabandhu Sheikh Mujibur Rahman and Sheikh Fazilatunnesa Mujib, Hasina was born in Tungipara of Gopalganj on September 28, 1947.
After Bangladesh's independence, Bangabandhu along with most of his family members was brutally killed in a coup by some army personnel on August 15, 1975. Hasina and her younger sister Sheikh Rehana had been abroad at that time.
The torchbearer for her father's ideals, the AL chief survived many attempts on her life, including the grisly grenade attack on August 21, 2004.
After 1975, when the AL plunged into a crisis due to rifts within the party and a lack of enthusiasm among its grassroots, Hasina emerged as a symbol of party unity. She was elected unanimously as the AL president while living in exile in New Delhi.
On her return home on May 17, 1981, Hasina was greeted by a mammoth crowd in the capital. She addressed a public rally.
The leaders and activists of the party were invigorated upon her return to the country.
Hasina, who then focused on reorganising the party, made numerous visits to the rural areas, talked to the grassroots leaders, and encouraged them to be united.
She also waged a movement against the then autocratic government to restore democracy in the country.
With hard work and perseverance, Hasina helped the party assume power. She became the prime minister for the first time in 1996.
Hasina is now serving a fourth term as the PM. She has been the prime minister for three consecutive terms since 2009.
Despite her many achievements, some controversies and initiatives take some shine off the PM's glorious legacy. She faces the biggest criticism over the growing lack of public trust in the electoral system and rule of law. The weakening of the country's democratic institutions and enactment of laws shrinking the freedom of expression and the media have also been criticised.
Hasina is now in the USA. She had left the country on September 17 to join the 78th United Nations General Assembly in New York.
In her absence, the AL and its associate and front organisations, including Chhatra League, have drawn up elaborate programmes to observe the day.
The AL will organise a milad and dua mahfil marking the premier's birthday and Eid-e-Miladunnabi at the party headquarters on the capital's Bangabandhu Avenue today.
Special prayers will be held at mosques across the country, including the Baitul Mukarram national mosque, and other places of worship seeking good health and long life of the PM.
Marking the occasion, a discussion will be held at the Bangabandhu International Conference Centre at 3:00pm tomorrow.
Meanwhile, President Mohammed Shahabuddin yesterday in a message wished sound health, long life, peace, progress and continued wellbeing of PM Hasina on the occasion of her 77th birthday anniversary, reports BSS.