Piracy a main reason for New Market's Zeenat bookstore closing down
Zeenat Book Supply, a New Market staple for book lovers since 1963, will close shop on May 1, 2023
Zeenat Book Supply, a New Market staple for book lovers since 1963, will close shop on May 1, 2023. 
"There were few other forms of entertainment when my father opened this shop in 1963. Radio and Bangladesh Television eventually arrived, but even that was limited. I still remember the days when we would arrive at the bookstore each morning to find huge lines waiting outside the shop," says Syeed Faisal, who took charge of the bookstore after Syed Abdul Malek, his father and the bookstore's founder, passed away in 1994. 
Faisal, 67, has spent 47 years looking after the bookstore. Over these decades and in the last few years in particular, he has seen the bookstore sell in three months what it used to sell in a day. Of its 25 registered importers, Zeenat has had to maintain trade with just one—all caused by the fall in demand for textbooks and leisure reading.
"The coronavirus made it especially worse, once students became used to online classes and reading books digitally," he said. 
Faisal explains that piracy is among the main reasons behind their decision to close Zeenat Book Supply. 
All of the store's books are imported original copies. While the pressure of taxes continues to inflate the prices of these books in Bangladesh, readers want to pay lower prices. Though taxes should not apply to some of these imports, the time and financial costs of navigating court cases far outweigh the revenues they would have earned from the books. The books themselves get damaged in stock during this time-consuming process.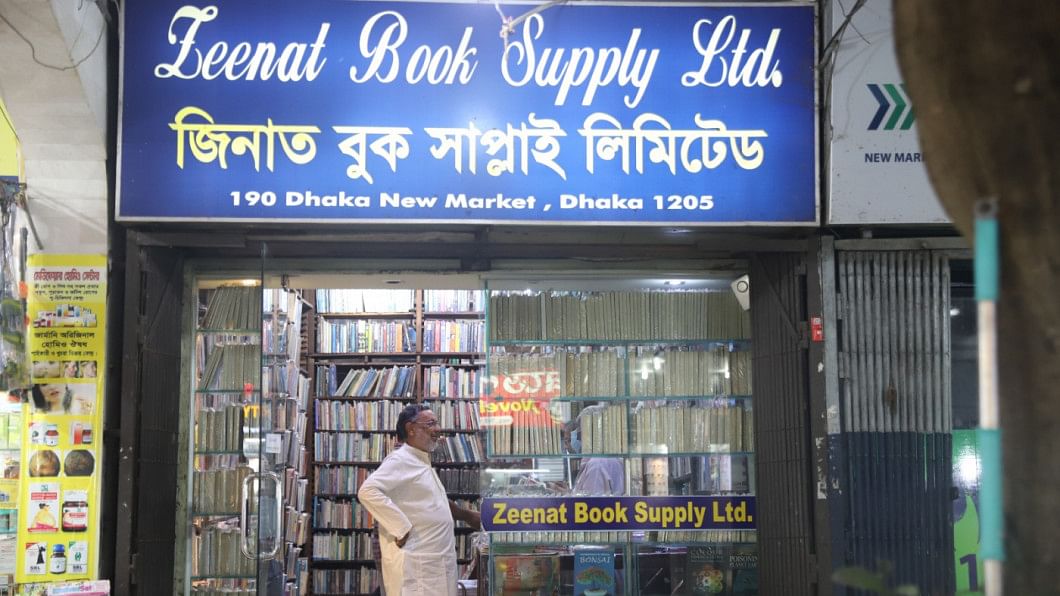 In the meantime, most of these books end up getting pirated and sold at lower prices. Few, if any, customers want to buy the original prices from stores like Zeenat which do not have the financial backing of larger bookstores or the technical expertise of younger staff to compete with digital promotions and online orders. 
"Our staff have been here for over 31 years, they're comfortable selling books face to face. I cannot let them go to make our operations more digitally savvy. Even if I did, I could run the store for six or seven more years at most," Faisal said. 
"I have incurred losses of Tk 29 lakh in the last nine years. Every month brings in losses of Tk 50,000-70,000. These are huge amounts for a small operation such as ours—selling books is our main business", he explains.
In his experience, it is readers aged 60 and above who continue to be loyal to reading. The bookseller has noticed a significant dip in reading among the youth.  
Readers, however, have expressed immense grief over the news of Zeenat Book Supply closing down. 
"Zeenat Bookstore was a part of our lives for so long," activist Khushi Kabir has posted on social media. 
Bookworm Bangladesh echoes, "One of the first original bookstores of Dhaka located in the heart of New Market…we will never forget the magic of entering New Market and finding our way to Zeenat soon. When a bookstore closes something dies for all of us." 
Iffat Sumaiya, another regular visitor, posted, "Zeenat is where I got my taste for Steinbeck, Tennessee Williams, bell hooks, and so many more. It is a place to stop on a summer's day for a chat and a warm smile. It's now slowly fading before my eyes, before I'm ready to let go." 
Before closing down on May 1, Zeenat Book Supply are holding one last sale, with books being sold at a conversion rate of 60 taka per 100 Indian rupees.