"Pettiness, Prejudice, and Pets with Panache"
Review of Anastasia Ryan's 'You Should Smile More' (Sourcebooks Casablanca, 2023)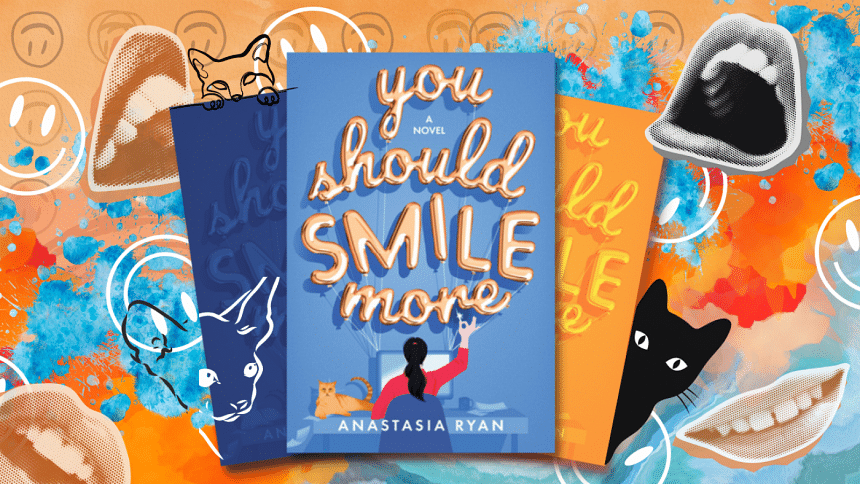 I first came across Anastasia Ryan's work through my Instagram wanderings and was instantly intrigued by the sound of her recently released novel. Not least by its title, You Should Smile More.
Anyone familiar with casual social interactions will have come across this phrase—or at least, many women will have—because it's a very common, unsolicited comment from the men who actually think it's acceptable to give such "advice" to women they often don't even know. You would usually hear this on the street or from someone on a bus—or perhaps even, rather inappropriately, in a workplace scenario.
And speaking of offices, Vanessa, Jane and Trisha work as telemarketers in an organisation where the workplace policies are… unorthodox, to say the least. The problem is that they all, for different reasons, need the job. Jane still lives with her parents; Trisha is a single mother to a four-year-old girl; and the protagonist, Vanessa, volunteers at an animal rescue centre. She is also, for the moment, financially supporting an entire tribe of calico kittens, who are being prepared for fostering.
Their gross boss Xavier insists on coming to office barefoot and using fictitious terms like "coheesing" to the general confusion, and widespread despair, of all (sane people) within hearing distance. And that's without even going into his ideas for how swivel chairs should be used for the "Office Olympics".
Nobody—other than Xavier's two henchmen, Bobbert and Gary—make any active attempt to interact with him. Quite the contrary.
Not that this saves Vanessa, or Jane, who lose their jobs—in the case of the former, for having "the wrong kind of face" and the latter, for having a laugh that's not acceptable. So clearly, women shouldn't just smile more, they should smile THE RIGHT WAY!
Meanwhile, Trish narrowly escapes the same fate by cooperating with management's absurd demands to write a letter apologising for keeping company with such bad influences as Jane and Vanessa (who has now become understandably self-conscious about her face).
While the other two are picking themselves up off the floor, Trish goes ahead with implementing the "6 Step Plan" the trio had rather creatively dream up one night. And the most delicious hilarity ensues.
The plan itself is sheer genius—if, perhaps, not altogether legal. Among other things, it involves bugging Xavier's office and listening to his conversations with his henchmen. However, what starts out as a bit of a joke turns into the discovery that Xavier's attitude to human resources policies is not the only thing off about his management style.
This book is laugh-out-loud funny even as it holds up a mirror to the toxic work culture that is prevalent in too many offices today. I've had a few experiences of my own which may not quite match the evil of Xavier, but trust me, came uncomfortably close.
Like the time a racist foreign manager invited all of us in the work group to join him for lunch except me. When he was asked why, he said, "Because she's Bangladeshi, obviously." This too, in a Dhaka-based office, where my other work group colleagues were European and American. So, using a parallel to this book, I guess I had the wrong degree of melatonin-enrichment?!
Cat-lovers will also be delighted to know that Vanessa's foster kittens have a very important role to play in this story, alongside Haiku the hairless pedigreed cat whom Xavier kidnaps (cat-naps?) for reasons explained in the book. But unlike the puny humans traumatised by their boss's vile shenanigans, Haiku enacts his revenge on his kidnapper in more immediate and highly effective ways.
Anastasia Ryan is a terrific writer, one whose other works I will be looking out for, and I recommend this book highly if you need to read something light-hearted which nevertheless ensures that everyone gets their just desserts! As a bonus, the story also offers some serious social commentary about work culture that is cloaked in humour, misbehaving kittycats and a very relatable revenge fantasy. Don't miss this one, or you'll be the one missing out.
Farah Ghuznavi is a writer, translator and development worker. Her work has been published in 11 countries across Asia, Africa, Europe and the USA. Writer in Residence with Commonwealth Writers, she published a short story collection titled Fragments of Riversong (Daily Star Books, 2013), and edited the Lifelines anthology (Zubaan Books, 2012). She is currently working on her new short story collection and is on Instagram @farahghuznavi.