What we readers want from Zoya Akhtar's 'The Archies'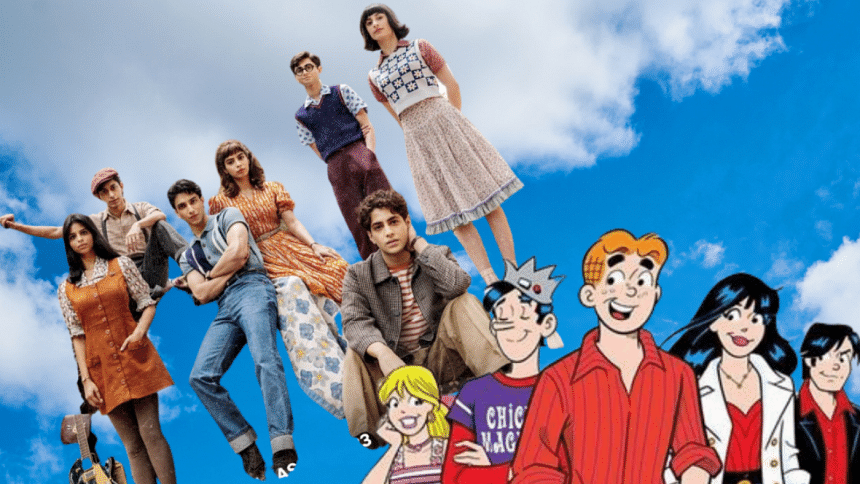 Growing up, I remember hoarding Archie Double Digest (Archie Comic Publications, 1941) by the dozen. I remember scribbling my name inside the front cover, a heart dotting the 'i' of 'Maisha'. The stacks touched the roof of my cupboards, shelves were lined with those vibrant images of the old-timey comic books. Like most pre-teens and teenagers, I, too, was obsessed with the love-triangle between Archie, Betty, and Veronica, and as I grew up the comics—having sat in my cupboard for years, collecting dust and cockroaches—were thrown out by my mother.
If the maths is correct, I, Sarah, came to Archie years before Maisha did—another fan of the comics but a surreptitious reader. I read it from the stack of books and magazines in my then teenage aunt's bathroom. Too young to be consuming a high school love triangle, I wedged my way into Riverdale in secret (as I did into Sweet Valley and Central Perk), sneaking in hours inside that bathroom, glued to just how happy and free and grown up Archie and his friends' lives seemed.
From the United States all the way to South Asia, across households and generations, Archie thus managed to gather readers in one space in the same way that it gathered the scattered paraphernalia of the popular American culture of its time. Both of us loved indulging in the bright colours and freshness of Riverdale's stories. We loved the crystallised hope of every crisis, every disaster finding its solution by a panel's end. But we loved, also, the adverts of Hubba Bubba and Tootsie Rolls pasted alongside the stories; the boxes of Captain Crunch; the invitation to write to our favourite characters even though we'd never hear back.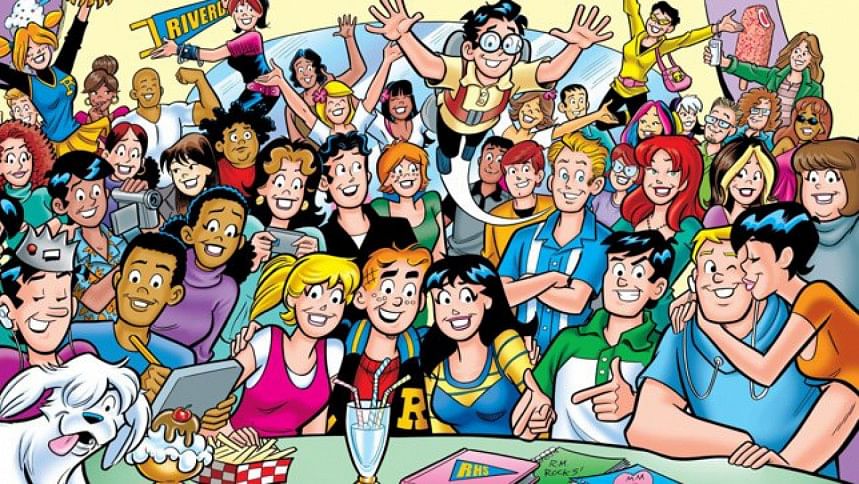 We began loving the Archie comics for their wholesomeness even though darker undertones always lurked in the artwork and the storylines. What did we know of the complications of a love-triangle between best friends? And of Mr Lodge's condescension for a lower-class Archie? How long till we would notice the silhouettes of the female characters drawn to cater to a male gaze, white lace peeking from beneath their clothing? How long till we grew up?
Deviating significantly from all this was the 2017 Netflix original, Riverdale, which included Jughead and Cheryl in the set of main characters alongside Archie, Betty, and Veronica, and turned the upbeat high school comedy-romance into a crime-thriller-drama.
Indian film director Zoya Akhtar has recently released her rendition of the Archie universe, a Netflix film by the name of The Archies. With an elaborate cast launching Dot., Suhana Khan, Agastya Nanda, Khushi Kapoor, Yuvraj Menda, and Vedang Raina, the 1960s-themed teaser seems closer to the tone of the comic books—just a bunch of friends having fun.
From the trailer it looks like Akhtar's Archies has a wider cast of main characters too, but what we want to see is the original comics' innocence revisited. We want to see Veronica boss Archie around and him being the goofy teenager, not really knowing what to do with the high-maintenance but caring Veronica. We don't even mind seeing Betty pining over her crush on Archie and his obliviousness to it, as long as the adaptation steers clear of typical Bollywood drama.
We're hopeful because Zoya Akhtar has been known to dissect seemingly glossy yet problematic social dynamics—as seen in Dil Dhadakne Do, Zindagi Na Milegi Dobara, and Amazon Prime's Made In Heaven—with a refreshingly light touch, with humour and empathy and a sharp eye for character building. And what is Archie if not a study of loveable characters with technicolour flaws?
But there is also a potential weakness and it is that everything about the movie as of now looks immensely whitewashed. Is there the risk of it becoming unrelatable to a South Asian audience? Was it their attire? The hairstyles? Is the film set in South Asia? If so, why do the characters look more from the sets of California Girls (1985) than anywhere in India?
Sarah Anjum Bari is the editor of Daily Star Books. Reach her at [email protected] or @wordsinteal on Instagram and Twitter.
Maisha Syeda is a writer, painter, and a graduate of English Literature and Writing. She is the sub editor of Daily Star Books.