Netflix's 'Persuasion' misunderstands Jane Austen's novel entirely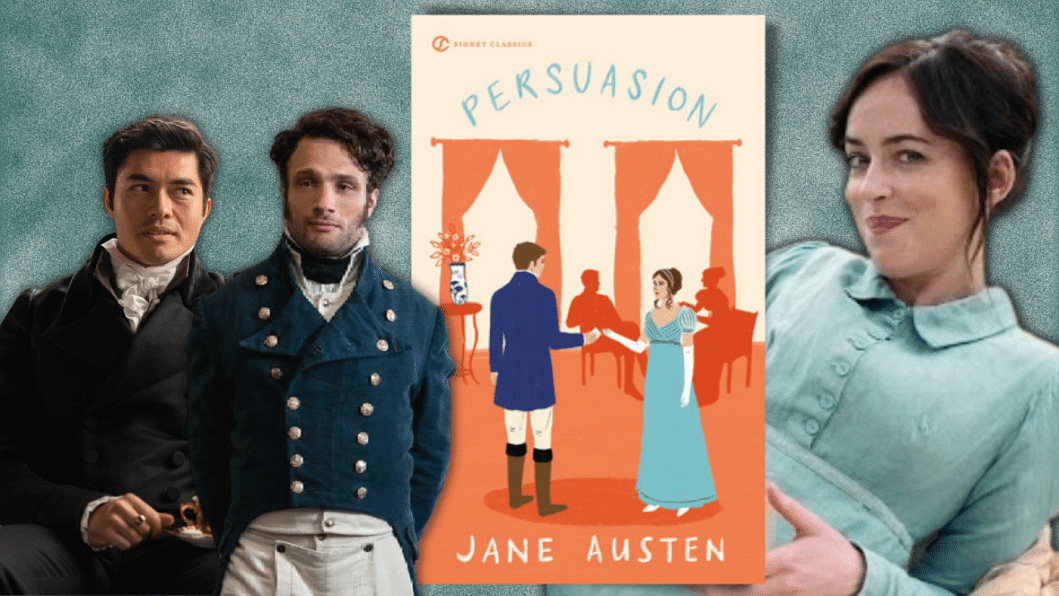 Netflix has released their adaptation of Jane Austen's posthumous 1817 novel Persuasion with Dakota Johnson playing Anne Elliot, a lonely wallflower who has seen her best years pass her by. Largely ignored by her vain father and her arrogant sisters, Anne has accepted that she is meant to suffer in silence—that is, until the arrival of Frederick Wentworth (Cosmo Jarvis), a man with whom Anne had fallen deeply in love, only to be persuaded by her family friend to reject his proposal because of his low status.
Both the book and the film are set in the 1800s. 
Persuasion is a novel about desperately wishing you could go back in time and fix the worst mistake of your life, centered on a quiet, soft-spoken woman who tries to wrangle the courage and stand up for what she wants, despite enormous pressure from others. 
Melancholy transcends Anne's life. The death of her mother during her youth and the loss of her true love leave their mark on her.  She is resigned to living as the person in charge of the welfare of her family. In the novel, we see that without anyone worrying about her, she is disregarded with time, and this leaves her vulnerable. "...but Anne, with an elegance of mind and sweetness of character, which must have placed her high with any people with real understanding, was nobody with either father or sister: her word had no weight; her convenience was always to give way, she was only Anne ". Family opposition and indifference leave her even more alone.
We inhabit Anne's regrets, low spirits and unrequited love. But she allows herself the luxury of being sad, and not hiding it from others. Through the character, Austen explores the lingering ache of lost love to portray a self-reflective, dignified woman who learns to find love again, against all odds.
The film, directed by Carrie Cracknell and with a script from Ron Bass and Alice Victoria Winslow, largely misses the point of the source material. Instead of a sombre, melancholic story about a woman's reassertion of her self-worth, Cracknell gives audiences a quirky romantic comedy loaded with quips, eyerolls, and giggles. The film features scenes of its protagonist chugging glasses of wine and characters spouting lines like, "It's often said if you're a 5 in London, you're a 10 in Bath."
Breaking the fourth wall, Anne cheekily addresses the audience, making eye contact after comments from her family members, and even owning her own clumsiness after spilling jam on herself. 
The film confuses self-reflective for self-pitying, as Anne claims to the camera she's "single and thriving",  before it cuts to her crying in the bathtub. It even veers into slapstick comedy, with Anne falling flat on her face after hearing a particularly scathing criticism. 
Allowing Anne to have her own outlet with the audience provides her the opportunity to give them a glimpse of her true self and interiority—the one still hopelessly in love with Wentworth. However, Johnson plays the sequences with a smugness that would not sit well with loyal fans of Jane Austen. Turning Anne into a comic character, the makers undermine all that makes her great. 
Her re-characterisation points to the lack of industry trust in the ability of sad, introverted, complicated women to engage an audience's affection. Do all heroines have to be "vivacious" and "sassy" to be palatable?
Studios and streaming services have been releasing a wide range of revisionist Austen adaptations for decades. In Clueless (1995), Beverly Hills princess Cher Horowitz had all of Emma Woodhouse's privileges and blind spots. While Anne-Taylor Joy's Emma. (2020) was highly stylised and colourful, it retained the clever wit of the novel's original dialogue. The recent Hulu hit Fire Island (2022) transforms the Bennet sisters into a found family of gay men struggling to find love within a catty, superficial world. The spirits of Austen's characters remain intact, proving the universality of her storytelling brilliance. Persuasion, meanwhile, uses terms like "playlist" and "exes". 
The problem with Netflix's adaptation of Persuasion is that it doesn't know what it wants to be. It cannot decide whether it is a bold, modern take on Austen with progressive colourblind casting and cute, contemporary slang or a sentimental period romance meant to overflow with longing. The result is a half-hearted attempt at both—as though mistaking Anne for Emma—leaving the audience perplexed as to why the makers felt compelled to portray the setting so faithfully, but put so little trust in the actual text. 
Shababa Iqbal is a contributor to Daily Star Books. Email: [email protected].