FIND US AT DHAKA LIT FEST THIS WEEK!
Is A Book Worth Reading? Who Decides?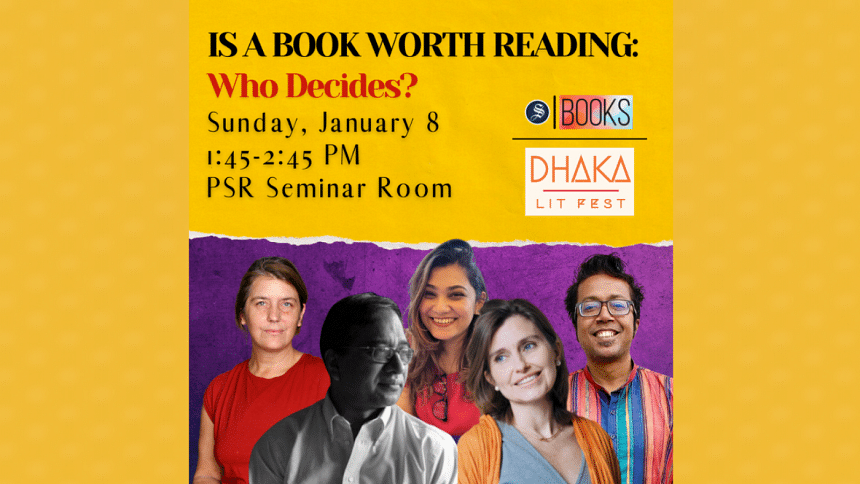 Day 4, Sunday, January 8 at 1:45 PM in the PSR Seminar Room.
The books we read form an intimate part of our ideas and the conversations we have. We believe we choose the authors and stories that best reflect our interests. But reality differs—even before the interaction of the reader and the book comes a process of curation. Publishers, agents, critics, and media platforms decide which books readers will even reach. 
Media platforms that critique literature are, therefore, at the heart of the book ecosystem. They shape a book's public perception and can bolster (or destroy) sales.
How do writers, editors, critics—the gatekeepers of literature—engage with this loaded responsibility? How do we decide which stories deserve to evolve into books, which books make it to recommendation lists and reviews? Why do we read reviews, and have we mastered the art of writing them with objectivity and creativity? Does book criticism truly help the flow and business of literature within and across national borders? 
Our session at the Dhaka Lit Fest will unpack all this and more. Moderated by myself, the discussion will include: Professor Fakrul Alam, director of Sheikh Mujib Research Institute for Peace and Liberty, Supernumerary professor, Department of English, University of Dhaka, and former Literary Editor, The Daily Star; Annette Köhn, a graphic designer, illustrator and founder of publishing house Jaja based in Berlin; Mashrur Shahid Hossain, professor of English at Jahangirnagar University, Dhaka, who is presently working on a monograph on 'Violence Against Men in Film and Literature' and co-editing a book on South Asian Comparative Literature; and Florence Noiville, a French author, journalist and literary critic who writes for Le Monde and is editor of foreign fiction for Le Monde des Livres, its literary supplement.
And finally, find all Daily Star Books publications at the DS Books stall at the Dhaka Lit Fest!