Dhaka Art Summit for young visitors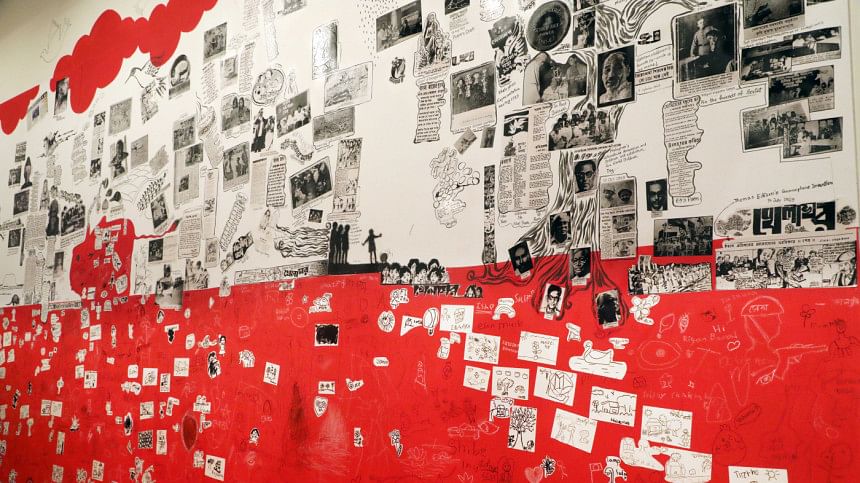 The Dhaka Art Summit (DAS) 2023, which ends today after a successful nine-day run, has gained immense popularity this year for catering to a diverse range of audiences, from toddlers to adults. A significant portion of the pavilions and performances cater to the interests of children, from a giant laser baby welcoming visitors to swings children can ride with their friends.  
'Very Small Feelings', an exhibit on the first floor, has been co-curated by Diana Campbell, Akansha Rastagi, and Ruxmini Choudhury. The works on display attempt to connect audiences with their childhood selves through a variety of immersive experiences. While they are meant for visitors of all ages, most of them welcome children to be their most playful and cheerful selves and inspire them to challenge the society's limits on their freedom of expression. 
One of the works under this exhibit, Ahmet Ögüt's 'Jump Up!', is a series of trampolines where visitors need to jump to view the artworks. These artworks, created by Benodebehari Mukherjee, are hung above normal eye-level, being just outside of reach to fully take in. Usually, museums and galleries assume the average height of a viewer to determine how they will exhibit the artworks, thereby making many works inaccessible for children and adults of shorter heights. The way Ahmet chose to hang these artworks contributes to a sense of a distorted horizon. Viewers become performers. 
Just near this installation is Neha Choksi and Rachelle Rojany's 'Swing for Friends', where multiple participants swing together in a circular swing set. 
Nobody Knows for Certain' by Afrah Shafiq, is an interactive fiction and archival game that creates a surreal experience for young visitors. During the game, participants can play both as a Soviet Tsarina and an Indian tailless kitten. The game draws inspiration from world history and Russian folklore, presenting a rich dose of literary history for young minds. The pavilion here becomes a dark, cosy, welcoming space, inviting people from all age groups to enjoy the show.
On the same floor, Sanjoy Chakraborty's 'Shades of Flowers' invites children to draw on a red wall. The red colour signifies a communal space without restrictions, and children are free to express whatever they feel like saying. While strolling across the wall, visitors get a small glimpse into these free minds and the work is not just limited to scribbling and quotes. The upper half of the wall is a collage of archival prints of children's pages from prominent pre-Liberation Bangladeshi newspapers—Daily Azad's "Mukul Mahfil", Daily Ittefaq's "Kochi Kachar Mela", and Daily Sangbad's "Khelaghor". The artist intended for the exhibit to be a collage of childhood experiences now, and childhood revisited for those who have left it behind. 
Right beside this lies a fascinating small hut which holds Marzia Farhana's 'The Equilibrium Project'. The pavilion showcases 270 student artworks and invites children inside the small school-like enclosure where they are free to express themselves on a blackboard. The craft items made from discarded materials have been created by underprivileged students from the project. The newspaper used to cover the hut has also been collected by these children, who worked equally as artists while creating this set-up. In addition to interacting with feminist writers, Farhana's work with children is a reflection of her studies into the historical schools founded by SM Sultan and other modernist painters. 
At this year's DAS, Simon Fujiwara also brought the 'Who the Baer' fairytale universe to Dhaka, portraying a character as an image that struggles to find their own identity in a sea of other pictures. With a film of an identity-less and ungendered bear, the portraits on display at the first floor are a playful reinterpretation of Winnie the Pooh based on some well-known paintings by Edvard Munch and Vincent van Gogh.
One of the most visited spots includes the 'Belly of the Strange', which provides a cosy setting with a collection of books in indigenous languages. There were several other installations that focused on educational materials. For example, there are screens that play BTV recordings of the 1990's era Bangla-language children's cartoon Meena, and Mostafa Monwar's puppet shows of the '90s. 
Other pavilions present works of art with children as central characters. These include Anpu Varkey's Summer's Children and Satyajit Ray's Two: A Film Fable. In Varkey's beautifully illustrated comic novel, common activities like two boys wandering across fields, watching ant hills, swimming in rivers, picking leaves, and climbing trees are represented as forgotten joys. On the other hand, Ray's movie draws on the distinctions between the lifestyles and luxury of children from lower and higher social backgrounds. 
In terms of performance-based art, Yasmin Jahan Nupur's 'Home' takes visitors to lost places of childhood through forgotten Bangla fairytales. While interactions with the house members provide a unique firsthand experience of being a part of art, the performance also includes Thakurmar Jhuli stories narrated by an old grandmother. Children have been enjoying these storytelling sessions, while adults found a tinge of nostalgia as they sat in the house with the warmth of homely love enveloping the site.
On the second floor of the premises is an exhibit of two walls filled with drawings of children from classes 6 to 8. The corridor features over a thousand pictures of dream houses, as imagined by these children. The young artists are students of Jaago Foundation schools who present some brilliant ideas of what the future could look like, free of today's social issues, such as pollution, climate change, violence, and more. 
Young visitors can relax and rewind their art experiences by interacting with the colourful fabric dolls in the installation by Afra Eisma. The vibrant installation invites people to reimagine and share their stories with their textile friends. Irrespective of the interaction, this was one of the most fun parts from the summit this year. In the next gallery, visitors can get their name marked on a white wall, marking their height. 
Finally, the same gallery hosts the infamous anthill and the mascot of the summit this year. Entering this anthill is a different experience altogether—for a small minute, it blurs one's imagination and forces them to think like an ant, bending now and then, and being careful of each step.
DAS this year is not only witnessing conversations from artists around the world but also from young children, who may not be experts in art, but are early learners. The summit is more like a festival for these happy visitors who are often accompanied by parents or school teachers, and are experiencing art in what is supposedly one of its biggest exhibitions.
Maisha Islam Monamee is a student of IBA, DU, and a freelance journalist who likes reading, scribbling, and blogging. Follow @monameereads on Instagram.