BOOK REVIEW: CHILDREN'S LITERATURE
Around the world with Tilmund and the travel bug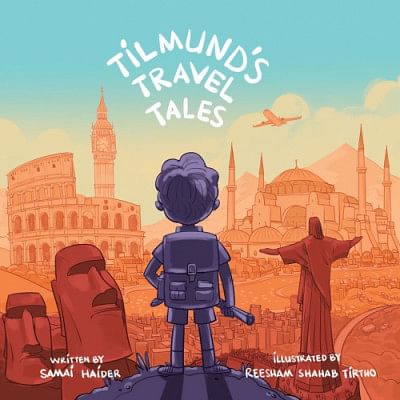 Samai Haider's Tilmund's Travel Tales (Guba Books, 2020) is a story about a little boy named Tilmund who has a great wish to follow in his grandfather's footsteps and travel the world. Unfortunately, Tilmund finds that he is lacking in courage when it comes to venturing outside of his comfort zone. That is, until he gets bitten by a backpack-wearing, map-carrying travel bug! With a little help from this unlikely new friend, Tilmund dares to pursue his dream. He grabs his passport, packs his bags, and sets off for new and exciting places. He visits the Sahara atop a camel, stares in wonder at the Colosseum in Rome, races kangaroos in the flat lands of Australia, sails in the burbling rivers of Bangladesh, and plays football in the golden beaches of Rio. The travels leave Tilmund a little braver, more confident, and a lot happier, with a nascent taste for adventure and a new understanding of the world.
Samai Haider, who is a passionate traveler and travel writer herself, reinforces the benefits of travel for young children (and adults!). A mother of two, Samai loves to be on the move with her family and believes in human connections that transcend barriers of language, race, and geography. As a fellow parent, I couldn't agree more. Children are keen observers and are quick to pick up human biases that are prevalent around them. For these impressionable little minds, travel can be a juggernaut for positive change and deep understanding of how the world works—a means for them to curb prejudice and make their own judgments free of bias.
The first and the last page of the book open to identical world maps, the latter charting Tilmund's wonderful journey around the globe. These maps show famous landmarks, both manmade and natural, which present a fun geography lesson for readers. It is a great way to teach children about the distribution of land and water around the globe and give them a general idea about the locations of other countries relative to our own.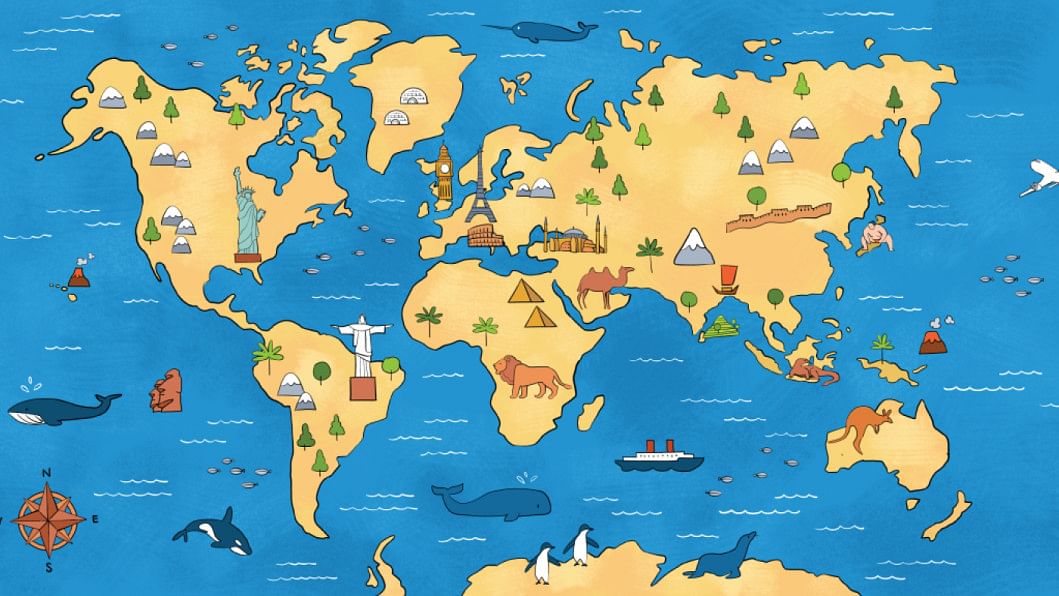 What is special about this book is that one can open it to any random page and be transported to a new, exciting destination with stunning imagery showcasing landmarks and scenery that are native to that region—a feature that makes Tilmund's Travel Tales a perfect companion for children who have short attention spans. The images and the tone of the accompanying text are upbeat and fun. The illustrations of artist Reesham Shahab Tirtho, who has recently published his own children's books with the Babuibela series, do a brilliant job of enshrining Tilmund's (and Samai's!) love for travel in every image.
Personally, what got me excited about this book is the colour of Tilmund's complexion. He has a warm, bronzed skin tone similar to people of our subcontinent, a colour that was hardly featured in children's books during my childhood. My first reaction was delight followed by appreciation—delight for my son who will get to experience a story told by someone who looks like him, and appreciation for the author for adding this small detail that will undoubtedly have a huge impact on brown representation in children's books.
Tilmund's Travel Tales is a sincere translation of Samai Haider's passion for travel and adventure. I would highly recommend this book to parents of young children for its overarching themes of personal growth, overcoming one's fears, and of embracing chance. For our children, the future is filled with boundless possibilities; I personally believe that adaptability, open-mindedness, and self-guided improvement are key for fulfillment and success in life. Tilmund strives to achieve all three in his journey and shows us that all it takes is a little bit of faith in yourself.
Sameirah Nasrin Ahsan is a mechanical engineer and aspiring author. Instagram: @booksnher.