Can Bangladeshi manga make it to Japan? We asked 'Source?'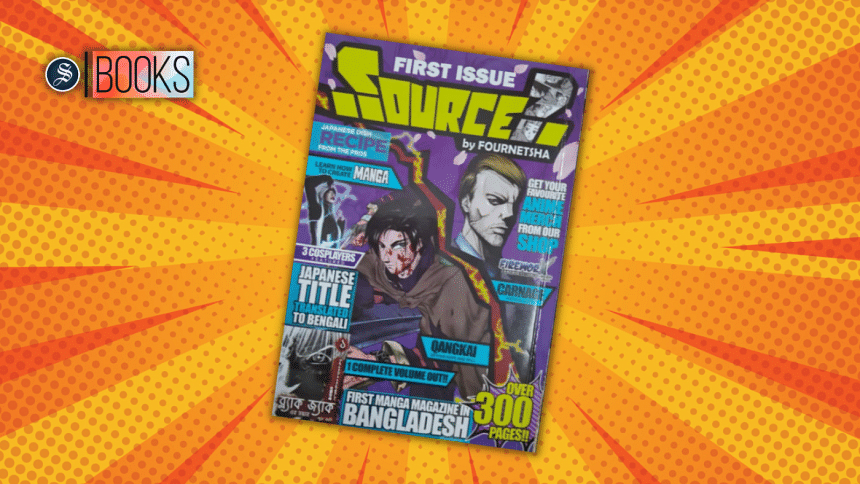 Ever since manga (Japanese comics) gained global popularity and transcended borders into the West, readers in Bangladesh have mostly been able to access them through pirated means. Since they were not directly published or redistributed in our country before, even single volumes cost a large sum of money. Despite the barriers, the number of people getting into works of Japanese fiction only increased over the years.
Realising this immense cult following in our country, Fournetsha Bangladesh Limited, the latest manga publishing company in our country, launched Source?, a pioneering Bangladeshi manga magazine. Fournetsha, the largest bookbinding company in Japan, launched its operations in Bangladesh with an aim to disseminate and promote manga culture throughout the country. They also promise to give local writers and artists a platform to showcase their talents.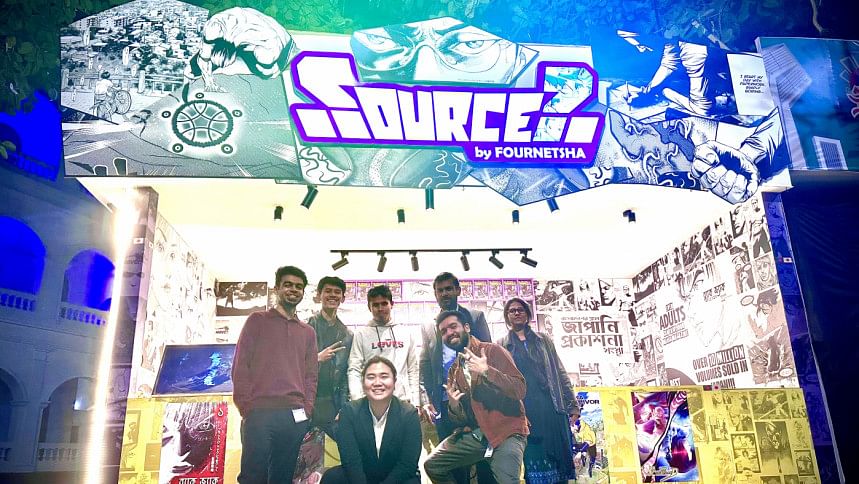 Source? is a seasonal magazine that will release new issues once every three months. The first issue, which hit the shelves on February 1, features over 300 pages' worth of exclusive content, including two original manga titles by Bangladeshi artists, a volume of a popular Japanese title translated into Bangla, and several other corners dedicated to highlighting Japanese culture.
The two original titles include Qangkai by Oindrojol and Carnage by Hasin Raihan Dhrubo and Fatin Raihan Arco. Both stories laid a solid foundation for their continuity and created a cloud of anticipation for the upcoming chapters in the next issue.
According to Faiaz Ishrak, Editor in Chief of Source?, the magazine has been well-received by young people throughout the country.
"Within just two weeks of the launch, we sold almost 500 copies. We've received amazing organic reach on social media, and the numbers continue to speak for themselves," Faiaz told The Daily Star.
A large part of the reception they've received can be accredited to their stall in this year's Ekushey Boi Mela. With unique black and white manga panel cutouts and a bright neon sign, the Source? stall (Stall No. 856-857) has turned a lot of heads and attracted large crowds. 
However, as the first Japanese-centric publication in the national book fair, securing a stall was anything but simple.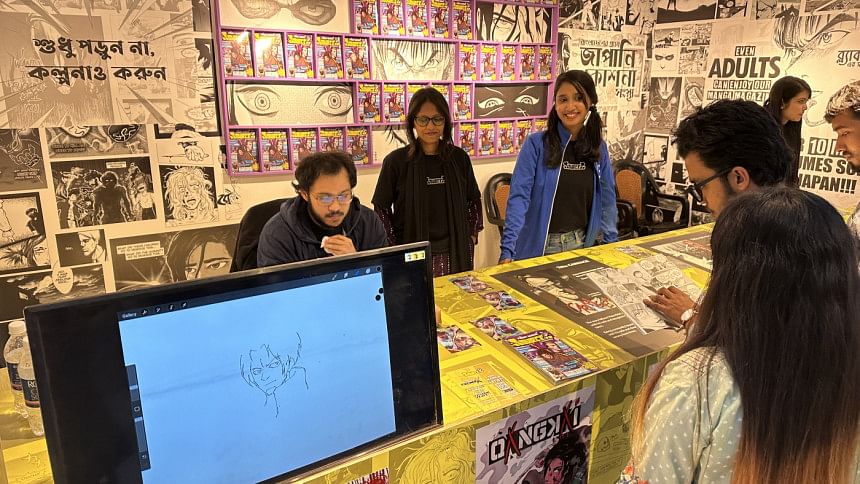 Rafi Md Fahim Shiam, Head of Marketing at Source?, shared, "It was a massive challenge to outline our product and explain the technicalities of manga to the authorities. Eventually, we got the green light from Bangla Academy, but only had about four days to design, build, and promote our physical stall."
Despite the hurdles, Source? managed to push their sales while racking up popularity points by arranging various public meets and spreading the word online. 
One cannot overlook the price tag set on the first issue. Priced at only 450 BDT, it marks the first time a manga magazine in Bangladesh can be bought at such a relatively affordable cost.
Konosuke Takahashi, CEO and Chairman of Fournetsha Bangladesh Limited, shared their point of view on the affordable price tag and how it impacted their printing process. 
"The audience for our magazine in Bangladesh is accustomed to reading comics and manga through pirated channels, so we take that into consideration when setting the price," he said. "Although it takes a serious toll on our profit margin, this decision made the most sense, logistically speaking, in order to reach a wider audience."
As the curtains slowly draw on the first issue of Source?, heaps of fans are already lying in wait for the May issue to grace bookshelves and wrap up all the loose threads from the previous instalment. Consequently, there has been speculation about the global release of the magazine and the possibilities of Bangladeshi manga making its way into Japan through Source?.
In reply to that, Konosuke shared, "Previously in Japan, only major publishers like Shueisha and Kodansha could publish big titles under their belt. However, the landscape has shifted tremendously since then, and there are a lot of manga publishing platforms now, all of which have the potential to grow immensely if the PR is done right. So, yes, we absolutely have plans to publish our original titles globally after they gain popularity in our nation first."
Faiaz further highlighted all the promising possibilities involved with Source? moving forward: "Everything you saw with the first issue was haphazardly done in the span of just six months. Give us a few more years and you'll forget about the likes of Weekly Shonen Jump magazine in Japan altogether."
Ayaan Shams Siddiquee is a contributor at SHOUT and a self-proclaimed connoisseur of sports anime. Reach out to him at [email protected]