First impressions of the "Source?" manga magazine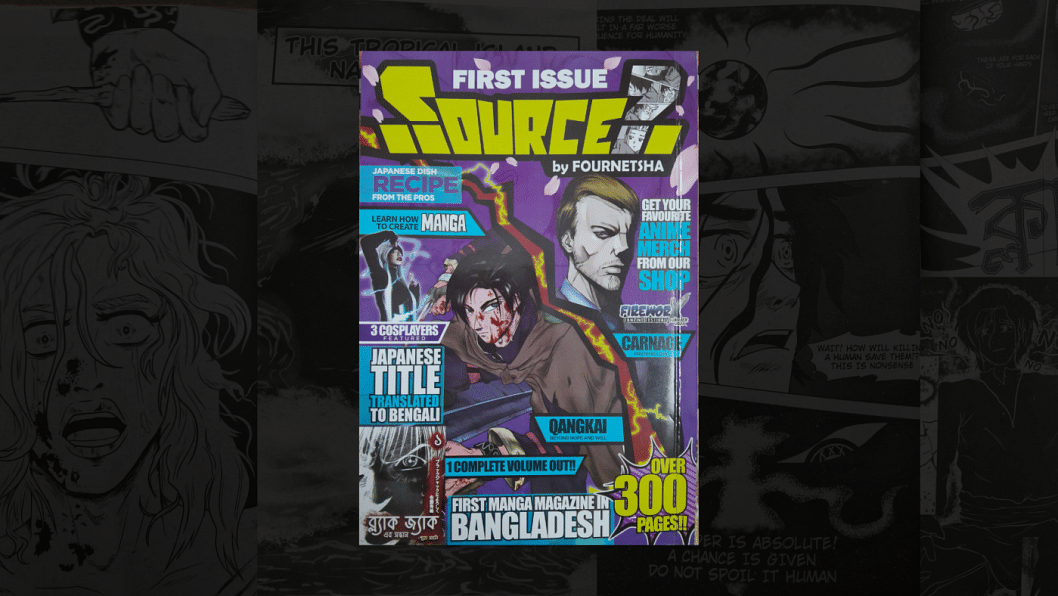 With an aim to establish and promote manga culture in Bangladesh while giving local artists a platform to showcase their comics, Fournetsha Bangladesh Limited launched "Source?" – a new manga magazine in Bangladesh.
The first issue of Source? released on February 1 following a pre-order campaign. The 300-page-long magazine, which can be bought online and currently at the Amar Ekushey Boi Mela, features a wide selection of content, from original manga titles by Bangladeshi artists to different sections dedicated to Japanese culture and more.
Anime and manga fans will immediately be drawn towards the first issue's cover, as it bears similarity to highly sought-after Japanese magazines, such as Weekly Shonen Jump.
The first issue starts off with a cosplay corner, which features three different cosplayers who go by the names Pastel Senpai, Sifatiha, and Sugas Girl. They shed light on the stories behind how they got into the craft alongside some of their previous cosplays.
The cosplay corner is followed by the original manga, titled Qankai. Written and drawn by Oindrojol, Qankai follows Kaal, a 17-year-old, as he navigates life in a world where most of humanity was wiped out after the emergence of a supernatural deity.
Even though only two chapters were published, Qankai left a massive first impression with its breathtaking art and captivating storytelling. The details that went into the characters' visual expressions and anatomy, coupled with the double-page spreads, elevated the story and left me wanting more.
The second manga features Hasin Raihan Dhrubo and Fatin Raihan Arco's original psycho-thriller story, Carnage. Without delving into spoiler territory, the first chapter ended on a major cliffhanger after outlining the mysterious and shrewd main character. Despite being a short read, Carnage left lots of room for interpretation and anticipation for the coming chapters.
The final read is the first volume of Black Jack, a popular manga by Shuho Sato, that has been translated into Bangla. It tells the story of Saitou, a newly graduated intern doctor, who slowly starts to discover the history behind Japan's corrupted medical sphere.
After thoroughly reading the entire issue, I can safely say that it is a very fun and intriguing read, laden with tidbits of Japanese culture. The production quality is extremely high, so manga fans should definitely take notice.
Ayaan immerses himself in dinosaur comics and poorly-written manga. Recommend your least favourite reads at [email protected]